Sonicxtacy02
Hardware Review: 2010 Xenarc 1020TSV 10.2
by
, 01-26-2010 at 05:53 PM (5514 Views)

What is it?

The Xenarc 1020TSV is a 10-Inch 16:9 Widescreen VGA monitor with 5-wire resistive touch panel.

The Verdict:

The Xenarc 1020TSV is a work of art when compared to rival car PC monitors. Its aluminum bezel and new features stand alone in the market. However I just don't feel the 1020TSV was meant to be customized to the point of installing permanently in a vehicle.

See this product on the mp3Car Store HERE.


What's in the box?




The 1020TSV comes with an instruction manual, VESA mount, desktop stand, an attachable stylus pointer, and a single-loom wire which includes connectors for USB, VGA input, 2 composite inputs, and an audio cable which connects to the built-in speaker. Also included are a home power supply, car cigarette lighter power supply, full function remote, and the touchscreen driver CD.

Description:

The 1020TSV is Xenarc's latest entry in the 10-inch touch screen market. The company has an outstanding reputation for building high-quality displays, and the 1020TSV is no exception. Upon opening the packaging I was immediately in awe of this monitor. It has a huge screen, an absolutely stunning brushed, anodized aluminum front bezel, and fascinating display quality. All this backed by a company who's been building monitors for our hobby reliably since the very beginning. The rear of the 1020TSV is constructed from ABS plastic, and features the same cable locking design of the smaller 700TSV. Both power and input cable are forcibly held into place, up and out of the way for fabricators.




The 1020TSV has all the standard car PC monitor connections. There is a VGA connector, 2 audio/video composite connectors, and an audio connector which allows installers to run pc audio directly to the built-in speaker in the Xenarc. The speaker is around 3 inches, so do not expect full-range audio, however it would be nice to be able to route GPS guidance prompts separate from your music. Like the 700TSV, the 1020TSV does not have a DVI connection, something that should be common for all new monitors in today's world. The 1020TSV does have auto-switch sensors built into the composite input 1.

The 1020TSV has the same Advanced Image Scaling and Sharpness (AISS) feature has the 7-inch 700TSV. This, coupled with the native-resolution of 1024x600 means with the 1020TSV you get a big, bold, beautiful display. With competing monitors it's often the case that you can see individual pixel differences in an image. AISS fixes this problem and processes both static and moving images with extreme clarity.




The size of the screen becomes even handier when coupled with the new Picture-in-Picture mode. This mode allows for an auxiliary input to be displayed while VGA is still displayed. Either composite input can be displayed in small-window mode or split-screen with a press of the button on the remote, and each screen is swappable. This could come in handy with say a backup sensor or rear seat camera.




The 1020TSV has a new ambient light sensor on its front bezel. This allows the monitor to automatically dim based on the amount of available light. The automatic dim works well, but like the 700TSV, the 1020 doesn't dim nearly enough to make it work well at night without manual adjustments. The buttons on the front bezel are backlit blue and take quite the amount of force to use when compared to other monitors of its kind.

When looked at as a whole, the 1020 sure seems like a lead competitor in the big-boy screen department. But upon closer analysis, you may come to realize this monitor really wasn't made to be mated to a car PC. Why? Well for starters, it's heavy. At 3.3lbs, its going to take more than just bondo to get this fabricated into a vehicle. And that beautiful brushed aluminum bezel is not made to be cut, which means you must have an awful lot of space in your dash to make this your display. My Dodge Caravan is a rather large vehicle, but there's simply no way the 1020TSV is going to fit the dash in its current form.




Here is a photo comparing the actual bezel size difference between the 1020TSV and the 7"inch 700TSV.




Even if you have the space, you have to factor in that this monitor is not transflective. The instructions indicate there is an anti-glare film applied to its 5-wire resistive touch screen, but in my testing I noticed no improvement over Xenarc 10-inch screens from years ago. The simple fact of the matter is more screen size means more room for glare, and while driving around with the 1020TSV as my monitor for a partly cloudy day it was a chore to navigate my front end.




All these things as a whole make me believe the Xenarc 1020TSV was not made to be used in a vehicle at all. It seems at its best when it's a secondary display, sitting on a desk and able to show its stunning visuals without having to worry about glare.

The Positive:

• Top-notch display quality delivered from AISS
• Installation-friendly wiring design
• Composite Input auto-switch
• Picture in Picture with easy controls
• 500:1 Contrast Ratio
• Native resolution of 1024x600
• Auto-power on when VGA signal is detected
• Solid build, outstanding quality reputation
• Built-in ambient light sensor

The Negative:

• No DVI input
• Only 1 composite connection can auto-switch
• Below average sunlight-readability
• Only 300nits brightness
• Aluminum bezel must be accounted for in fabrication

The Verdict:

The Xenarc 1020TSV is a work of art when compared to rival car PC monitors. Its aluminum bezel and new features stand alone in the market. However I just don't feel the 1020TSV was meant to be customized to the point of installing permanently in a vehicle.

Specifications:

Aspect Ratio: 16:9
Screen Size: 10.2" Diagonal
Colors: 18-bit (262, 144 Colors)
Native Resolution: 1024x600px
VGA Modes: 640x480 to 1600x1200
Viewing Angle 160° Horizontal, 140° Vertical
Contrast: 500:1
Inputs: VGA, 2 x Composite Video Optional, 1 x PC audio
Touch Panel: Resistive 5 wires.
Power Consumption: <20W
Dimensions: 10.4W x 7.3H x 1.4D
Weight: 3.3Lbs
Operation Temperature:-4°F to 158°F

See this product on the mp3Car Store HERE.
Comments
Leave Comment
Last 3 Posts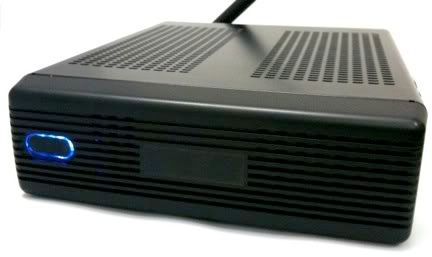 What is it?
The Toughbox 14 is a small yet powerful Micro-ITX computer system built and sold by the Mp3car store. The Mp3car store allows full customization of the Toughbox 14, and the price for a self-installed Toughbox 14 system starts at only $234.99.
The Verdict:
The Toughbox 14 is the absolute easiest way to add a powerful, efficient, and genuine car PC to any automobile. It was carefully designed to be everything you could want a car PC to be right out of the box. Couple that with the fact it's built and backed by Mp3car and you have an absolute winner.
See this product on the mp3Car Store
HERE
.
What's in the box?
You decide. The base ToughBox 14 system consists of a Mini-Box 350 case, an Intel D945GSEJT motherboard with an integrated Intel Atom N270 processor, 512 MHz of DDR2 ram, and a 160GB laptop grade hard drive. Optionally, Mp3car allows expansion of the ToughBox 14 by adding a 2 port USB module, 2GHz of DDR 2 Ram, an Intel 80GB solid-state hard drive, and an internal PCI-E Intel 802.11 Wifi Card with externally mounted Wifi antenna. To further aid in the installation process Mp3car will optionally install Windows 7 Professional operating system, add a Carnetix P2140 vehicle power supply, and assemble and test the ToughBox prior to shipping. The total price for the Toughbox 14 with all included options is $979.91.
Description:
The ToughBox 14 is an absolute fantastic option for hobbyist looking for a fully-built computing solution. In its complete form its ready out-of-the-box to handle anything a car PC needs to do. The ToughBox 14 is extremely lightweight and powerful, yet quiet due to the fact that only passive cooling is used. That's right; the Intel atom N270 processor allows this compact computer to run silently, and also allows the computer to simply sip energy.
As a whole, the ToughBox 14 is a near flawless design, which was very well thought out by mp3Car. There are little to no sacrifices. My first point of skepticism when starting to review the product is just how well would it perform with some CPU-intensive processes. I plugged the ToughBox 14 directly into a 12v home wall plug (more on this later), and installed Centrafuse 3 from Flux Media. Even on the high profile for visual effects, the ToughBox 14 had absolutely no problems handling the CPU-intensive front end. Music and Video played with no hitches or stutters, and opening navigation did not seem to stop the Atom N270 in its tracks like with some other smaller processors.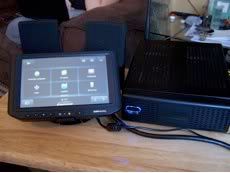 There's no question to me that the ToughBox 14 at its best is car PC ready. But I wasn't quite ready to say the bundle was powerful enough to handle
everything
. To fully push the ToughBox 14 to its limits I decided to hook up an external USB hard drive with some high-definition .h264 encoded video. My current home theater PC, an aging Dell 3Ghz P4 with an NVidia Video card just simply can't handle playing my copy of Disney UP. The movie is simply way to processor-intense even with the 512 MHz video card in play. So I decided to try playing UP on the ToughBox 14. The Atom processor to my surprise handled the full HD video, albeit at 80-90% CPU usage. Now in my mind there is no question the ToughBox 14 is ready for not only Car PC usage, but some HTPC usage as well.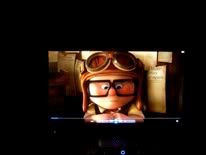 Now it was time to open up the M350 case and see what makes the ToughBox 14 tick. Removing the front panel revealed a hidden 2-port USB hub.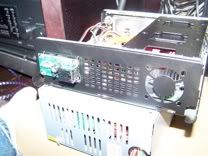 Being that it's concealed when the case is fully-assembled, this 2-port extension would be perfect for a small Bluetooth dongle or 3G card. The USB hub is connected to the same board which houses the power button and corresponding blue LED. There is a jumper on the front board which allows users to disable the power button entirely, or set the motherboard to automatically turn on upon loss of power.
Removing 1 small screw on the back of the case allowed full exposure to the components inside the case.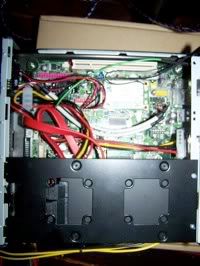 The 2.5" Intel 80GB solid-state hard drive is suspended on top black support. The drive is directly over the north-bridge and processor heat sink, but during my testing this did not cause any problem at all. The advantages of the solid-state drive over a standard 2.5-inch laptop drive are tremendous. Solid-state drives have a better resistance to temperature changes. Also, a solid-state drive has no moving parts; this allows an improvement not only in shock protection, but also faster read/write speeds. The speed of the drive impacts the time to access data and load or resume an operating system. The operating system of choice on the ToughBox 14 full bundle is Windows 7 Professional, and Windows 7 has built-in optimizations for solid-state drives, further enhancing the capabilities of the ToughBox 14. Windows 7 also has better control of the computers hibernate/resume routine, ensuring that not only are hibernations faster, but resume have far less errors.
Upon removing the hard drive mechanism we can see the single-chip 2Ghz DDR 2 module. The Intel 945GSEJT uses a laptop memory module installed on its side for space saving. Also installed is the Intel Wireless WifiLink 4965AGN PCI-E 802.11 device. Like the Ram module, the PCI-E device sits on its side. A small gauge cable is run from the WifiLink to the externally mounted Wifi antenna which is plugged into the back of the M350 case. With the onset of wireless 3G devices it might seem redundant to carry an 802.11 device in the car, but there are two clear advantages. First, there is no monthly charge for wifi use, and wifi hotspots are becoming more and more abundant with time. The second and perhaps greater advantage is the ability to automatically sync up with your home computers upon being in range of your home wifi device. This allows music, documents, and photos to seamlessly install to your car PC without much user input.
The Intel 945GSEJT has internal connections for a single slim IDE channel, dual SATA connectors, and an analog HD Audio header. What's missing from the motherboard is your standard 20-24pin ATX power connector. This is because the board is built to be plugged into any standard 12v 5amp power source. This greatly adds to the ease of installation because the power supply doesn't need to be cluttering up the case. In fact, the Carnetix 2140 power supply packaged with the ToughBox 14 only takes two small sets of wires to connect to the rear of the case; the 12volt power line, and a smaller line which connects the Carnetix to the motherboard's power switch. Having installed many car PCs and be
The remaining connectors on the rear are nicely spaced apart and allow for a clean computer installation. There's a standard VGA connector, a DVI video connection, 3 USB ports, an Ethernet port, and a single audio out connector.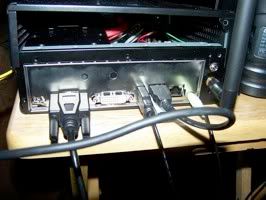 So basically, the ToughBox 14 full bundle is made from the case up to be user-friendly as a car pc. Installation in the vehicle is as straight forward as it gets. As with all vehicle power supplies, you must run wires for 12v, ACC, and GND to the wires that come with the Carnetix 2140. Then connect the two output wires from the 2140 to the appropriate inputs on the rear of the M350 case. Connect the VGA out from your monitor and touchscreen cable, and you've got a powerful and efficient car PC.
The only real drawbacks are not specific to the ToughBox 14, but all pre-built car PC systems in general. First, there's limited room for external accessories with only 5 USB ports. Of course, nearly anyone is capable of installing USB hubs that will allow expansion, but there are complexities in getting a reliable USB hub in the automotive environment. The second drawback is the price when compared to a self sourced computer. You could certainly build something similar for less, but knowing that you're getting a reliable ready-made PC tested and backed by the Mp3car store should certainly be looked at as invaluable.
The Positive:
• Built and tested ready for use in the automotive environment
• Customizable to individual user needs
• Performance and reliability of the Intel Atom dual-core product
• Energy efficient design
• Built specifically for car PC use
• Small form factor which allows for multiple mounting options
• Simple to use and customizable Intelligent power supply
The Negative:
• Limited room for expansion
• Use of more than 2 channel audio requires an additional header connection
• Cost when compared to self-built self-sourced system
The Verdict:
The ToughBox 14 is the absolute easiest way to add a powerful, efficient, and genuine car PC to any automobile. It was carefully designed to be everything you could want a car PC to be right out of the box. Couple that with the fact it's built and backed by Mp3car and you have an absolute winner.
See this product on the mp3Car Store
HERE
.