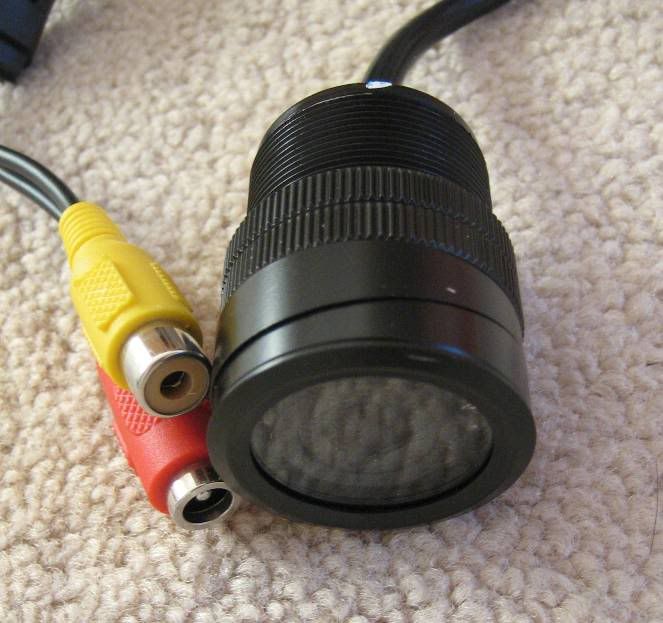 What is it?
This is a CMOS night vision camera sold by MP3Car. Night vision is through the front mounted IR LEDs. It's advertised purpose is mostly for surveillance, but as we will see in the review later on, this camera is actually better suited as a parking cam. The store's heading for this product advertises it to be a CCD camera, but the specifications mention that it is a CMOS (which is what this camera actually is). The camera runs on 12v and is waterproof.


The Verdict
This low cost CMOS camera is best suited for use as a parking camera. The reversed image and on-screen trapezoid for judging distance is an indication of this. Video quality is comparable to a higher quality CCD camera in the daytime, but at night, images are fuzzy.
Forum Member Feedback
Mp3Car forum member, Deric,
says
, "Good review! I've been looking for a low cost backup camera and may give this one a shot when I rebuild my system over the winter.
Mp3Car forum member, Larzfromarz,
says
, "Thanks- i bought one but have not installed yet. Intend to use as you state, actually a trailer hook up camera. I can see I'd rather have a ccd but for $40..."
See this product on the mp3Car Store
here
.


In the box
Here is a picture of the box and what's in it:
Very basic stuff. You get an RCA cable, a sliced power cable, a sheet of paper as the manual, and of course the camera itself. The manual is written in chinglish with obvious grammar mistakes, but it's not that bad and completely understandable.


Description
First of all, I'd like to comment on the difference between a CMOS and a CCD camera. CCD is better quality and more expensive than a CMOS. The benefits of CCD technology over CMOS is that they are better under low light situations and overall better picture quality from lower noise. This infrared camera that I am reviewing is CMOS based and Ill be comparing it to a Sony CCD camera that I bought off eBay a while ago and have been using in my car's surveillance system. Although this camera is advertised to be a surveillance camera, I actually think it would be best suited as a parking cam instead. If you look at the video footage below, you'll see there is actually some sort of permanent trapezoid shape on the video output of the camera which I am assuming is to help you judge distance.
IMPORTANT POINT #1: the manual recommends running it off a 12v regulated source. Im assuming the camera has no internal voltage regulation, so you probably do not want to plug it straight into the car's electrical system. It probably would work fine, but who knows what long term effects all those voltage irregularities will have on the camera. To play it safe, I'll be running the camera on 12v regulated. This shouldnt be a problem for more CarPC'ers as you can just easily tap into the +12v of your PSU.
IMPORTANT POINT #2: If you look at my video footage (it looks like I am driving on the wrong side of the road), you will see that the image from the camera is actually REVERSED. For this reason, I do not recommend using the camera as surveillance or as a front mounted dash cam. It's only really suited to be used as a parking camera. Here is some video of the CMOS camera:
CMOS Camera in daytime:
CMOS Camera at night:
and as comparison, here is some sample video footage from my Sony CCD camera. Note that at the end of the night-time video, I am driving in a completely pitch dark construction zone. There is no lighting other than my headlights. You can see me playing around with the different headlight settings on my car in 0:36. In pitch dark conditions illuminated by only my headlights, I was unable to see anything with the CMOS camera, it was just all noise and fuzz. Interesting thing to note, I actually found myself glancing down on my screen when driving down this pitch black road because my Sony CCD provided better night vision than what my human eyes can see.
Sony CCD camera at night:
Sony CCD camera in the daytime:
Although the MP3Car camera has IR illumination, they are practically useless in far range situations. The reason is that the CMOS image detector itself is not as sensitive as CCDs and the IR illuminators simply are not powerful enough to illuminate far distances. As a parking camera, your rear tail-lights will probably provide more illumination than the IR LEDs. Night time driving shots are decent enough, and in fact, this camera is much better than my previous CMOS camera in low light conditions. However, the CCD camera is much better for low light situations. If low light quality is important, then I would recommend using the camera only in closer distances where the IR illumination actually has any effect. The CMOS camera is actually usable in pitch black conditions, but of course, only when the surroundings are close enough to be lit up. Just to give you guys an idea of how bright the IR LEDs are on the CMOS camera, here is a picture I took with my digital camera (in case you guys dont know, most digital cameras can "see" into the infrared region). The lights on the left are from the camera and the single light is a standard TV remote. You can see that they are pretty much similar in brightness.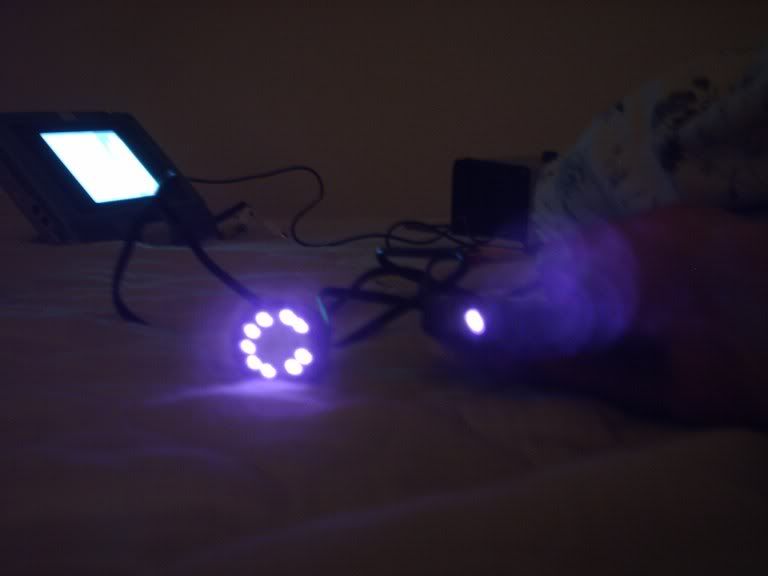 The IR on this camera is controlled by a small photoelectric sensor, so the IR only comes on when it's dark. I also did a power consumption test. At 12V, the camera draws 100mA (so 1.2W) in the daytime with the IR off and 111mA (1.3W) at night when the IR is on. In comparison, my Sony CCD camera draws 0.15mA (1.8W). Nevertheless, video quality in the daytime is very similar to a CCD. CMOS technology is inherently noisier than CCD but that is not very noticeable in the daytime. As for mounting the camera, you can see in this picture how the little rings slide off. You simply drill a hole, silicone the surroundings, slide in the camera, then tighten up the rings.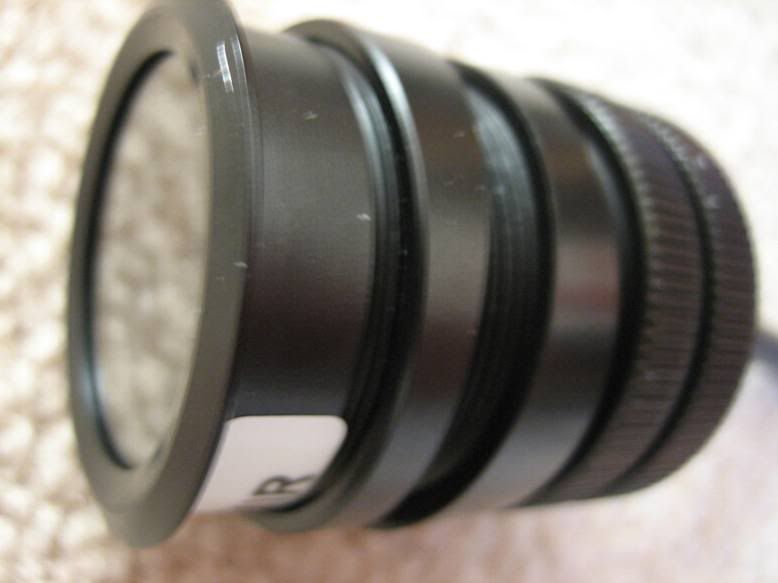 The Positive
-Low price
-Durable, waterproof. I wanted to take the camera apart to see what's inside, but the camera is so sturdily built that I cant find a way to take it apart.
-Very good quality for a CMOS camera. Quality in lighted conditions is very similar to a CCD camera -IR illumination for night vision even in pitch black (only useful if the surroundings are close).
-Trapezoid on-screen guide to help judge distance (a positive only if you are using as a parking cam)
-Image is reversed (a positive only if you are using as a parking cam)


The Negative
-Night vision is limited by how far away the surroundings are.
-In low light conditions, the camera is very "noisy" and resolution is not very good. Still much better than most CMOS cameras.
-Not very practical for use as a surveillance cam.
-Requires regulated +12v power, meaning it might not be a good idea to hook this up straight into your car's electrical system without some sort of voltage regulator inline.


The Verdict
This low cost CMOS camera is best suited for use as a parking camera. The reversed image and on-screen trapezoid for judging distance is an indication of this. Video quality is comparable to a higher quality CCD camera in the daytime, but at night, images are fuzzy.


Specifications
(the MP3Car store has slightly different specs listed, I will post the ones from the manual)
-CMOS technology, PAL and NTSC
-Input voltage: 12v regulated -1 inch diameter mounting hole -Pixels (H*V): 628*582 PAL, 510*492 NTSC
-Resolution: 380 TVL (Enhanced)
-Viewing angle: 120 deg
-Video output: 1.0 Vpp composite video at 75 ohm
-Min illumination: 0.1 lux (IR on)
-Operating temp: -20C to 70C -Weight: 300g
See this product on the mp3Car Store
here
.