Hey all. So I'm trying to scrap up money for my tranny mods, and it seemed like a good time to put some things up for sale that I've got laying around.
Here's a list of the items, pictures (if I have one) and descriptions below.
-Alpine SPS-171A 6.5" 2 way Component Speakers $150
-PIAA 2192 25 degree accessory Driving Lights $180
-Clarion EQS746 1/2 din 7 band EQ $90
-Alpine SPS-171A 2 Way Component Speakers.
These are slightly used, were installed professionally (by a real car stereo shop (
http://www.ultimate-audio.com
) not a place like Best Buy) in my old Forester X. I took them out when I got rid of that car, and they've been sitting on a shelf. In perfect working order. They sound great, and the crossovers are fairly small, for easy placement.
Sale includes:
2 midbass drivers
2 Midbass grills
2 tweeters
2 crossovers
a bunch of various mounting cups for the tweeters
Here are specs from Alpine's website:
SPECIFICATIONS
Power Handling
* • Power Handling Capacity (Peak) : 250W
* • Power Handling Capacity (RMS) : 50W
General
* • Crossover Size (in) : 4-3/4" x 1-3/8" x 2-9/16"
* • Crossover Size (mm) : 120mm x 35mm x 65mm
* • Frequency Response : 35Hz - 30kHz
* • Impedance (Nominal) : 4 ohm
* • Sensitivity : 90 dB/W/m
* • Tweeter Height (in) : 1-1/16"
* • Tweeter Height (mm) : 26.6mm
* • Woofer Mounting Diameter (in) : 5-7/16"
* • Woofer Mounting Diameter (mm) : 138mm
__________________________________________________ ______
-PIAA 2192 25 degree accessory Driving Lights
These are the PIAA 2100 series driving lights. They have an Xtreme White bulb in them, and feature a 25 degree beam pattern. They are driving lights, NOT fog lights. They are used, and have a few small pitts in them, and a few scratches, but they are only minor cosmetic issues. I'll be more than happy to let you inspect them before you commit to buying.
They're in perfect working order. I've just decided not to reinstall them because I don't have a suitable mounting position. They're bright as ****, and make a major difference in driving visability.
Sale Includes:
2 PIAA 2192 Driving Lights
Wiring Harness with fuses
PIAA switch
2 brackets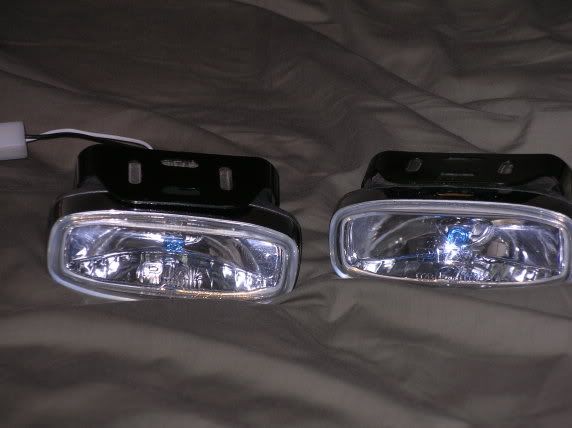 __________________________________________________ ___________
-Brand new Clarion EQS746 7-band graphic equalizer/crossover. I purchased it to try to band-aid a small issue with my system, but realized that it wasn't going to cut it. The unit has been tested, but never installed. It still has the plastic protector sheet on the top.
I don't have a pic of mine cuz my camera's dead, but here's a pic from Clarion's website:
Here's info from clarion's website
* 7-Band Graphic Equalizer
* 6-Channel / 7 Volt RCA Outputs (Front/Rear/Subwoofer)
* Adjustable Master Volume Level Control
* Adjustable Subwoofer Level Control
* 2-Channel RCA AUX Input with Adjustable Gain
* Selectable 12dB Low-Pass Crossover (60Hz or 90Hz)
* Gold Plated Terminals
* Dimensions:7"(W) × 1"(H) × 4"(D)