lookin to get a HTPC and 32-37" lcd so i got some stuff for sale... prices are OBO and do not include shipping.
compaq R3000 notebook
AMD athlon 3000+ or AMD Athlon 64 3200+ for $50 extra
512mb ram
60 gig hard drive
dvd+-rw drive
802.11g
card reader
fresh install of XP Pro, microsoft office
all the usual stuff
15.4" lcd screen still usable but with crack (see pic) still managed to use it like that for about a year and it didnt bug me too much. u can find an lcd on ebay for $150 tho.
havent used it for a few months but battery held about 2hr charge. now it doesnt hold much of a charge if at all.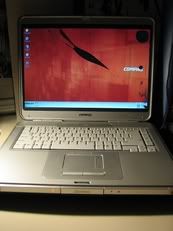 looking to get $300
Dell latitude cpxj650gt
650mhz Pentium 3
256mb ram
cd-drive & floppy
12 gig hard drive
wireless B card
14" or so screen
battery holds no charge
docking station has 2 usb ports
fresh install of XP Pro
keyboard is a little wacky sometimes, repeats certain letters.
looking to get $150
Dell e173fp 17" lcd monitor
used but in perfect, brand new condition.
comes with all video and power cables
looking to get $100
FusionHDTV5 USB Gold Hi-DEF tv tuner card.
specs
http://www.shop4tech.com/?go=view_item&id=4597&r=183
had it hooked up to my laptop feeding my homemade projector at about 120" and the hi-def pic is amazing, about 6 months old
looking to get $120