Time: Jan 21st 2005, 10am
Where: ADESA Framingham MA
Address: 63 Western Ave, Framingham MA 01702 (plug that into your iGuidance)
Hey everyone, last year a friend of mine got a great meet together for chairty. His father works for ADESSA (the car auction place in Framingham) and allowed us to use one of the full auction rooms for the event (they are huge rooms). We ended up rasing over $400 dollars that year, and everyone had just a great time, and the local press even came out and did a story on us.
Well were doing it again this year, but this time with some more planning. Its not specific to any car make/club (and never was), and EVERYONE is invited. And since I've been wanting to meet some the local MP3car people, I figured I throw this out there and see if any of you guys are interested.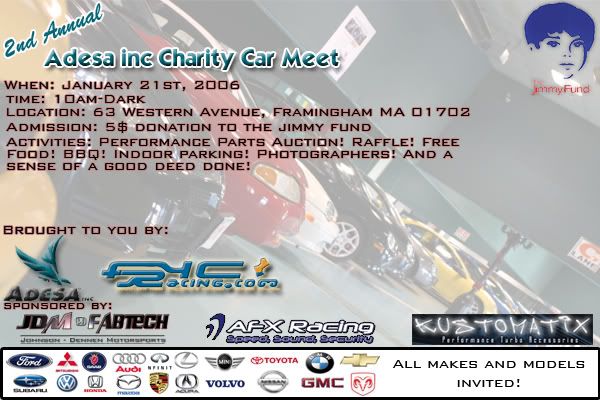 Thats the the banner we posted up on the SRTForums. There will probably be people coming from all over NE to this event, DSM's, F-Bodys, Tiberrons, Nismo, Fords, Dodge, anyone we can think of right now. The event is going to be inside in one of the huge auction rooms, so it will be heated and you can kick back, releax and enjoy yourself. There will be raffles, free stuff, food, drinks etc for your enjoyment
Donation is not required, but they are only asking for $5 bucks and that all goes straight to the Jimmy Fund.
I just got my carPC installed, well Beta 1 that is, I'm having to use my laptop for a bit. But I'm sure some of you guys got some great systems to show off
We would love to have ya, and remember most of all, this is a charity event, its for a great cause
Link on the SRTForums:
http://www.srtforums.com/forums/showthread.php?t=201715