MARK YOUR CALENDAR BECAUSE MIDWEST TREFFEN IS ALL WEEKEND AUGUST 22-23
Location:
Oakton Community College
1600E Golf Road
Des Plaines, IL (Chicago)
Midwest Treffen was conceived as a 'family reunion' for Volkswagen and Audi owners and enthusiasts and has grown to be the Midwest's largest event of its kind.
Midwest Treffen has become a full weekend of events and activities including:
A Pre-show party and social event that is not to be missed. Come into town Friday night (August 21) and meet a whole lot of people, have some refreshments, and see some really great machines. Watch people's faces as dozens of unique modified and restored Volkswagens all converge on the venue and take it over!
A HUGE Volkswagen/Audi car show with some of the most radical and retro cars around.
A competitive autocross open to all willing to pit their skills in a safe, fun environment against other VW owners from around the midwest, this is also the final race in the CVO Cup series.
Dub Club Invitational (DCI) competition - bring the best from your VW club and compete against other VW clubs for fun, a ridiculously large trophy, and prizes!
So much more!
This year looks to be a great one, so mark your calendar! More information (detailed event information, preregistration, hotels, etc) will be posted as we get closer to the show. Information can also always be found at the
Midwest Treffen
website.
Midwest Treffen is produced yearly by the Chicago Volkswagen Organization, and entirely staffed by volunteers. If you would like more information about CVO, please visit our website at
www.chicagovw.org
Updates

Volkswagen of America is bring out the all new MKVI GTI and Golf to Treffen! Also coming to the show are the Gold Coast CC, Eco CC, SEMA Tiguan, and TDI Cup Jetta Street Edition.
New Classes & Enthusiast/Club Parking
We're trying something different this year for Treffen. In addition to the traditional show car area, we're going to create a "clubs & enthusiasts" parking area for those who don't want to show, but still want to come and hang out (and park) with their buddies. We'll still do some prizes and stuff for this area and are open to ideas and suggestions. Post them up here.
We also wanted to minimize the ballot counting time while still keeping the show true to its roots of being participant judged. This means fewer, broader classes. We know we can never please everybody, but we feel that this strikes a happy medium between too few classes and too many hours lost to counting too many classes.
So here they are:
A1 - Golf/Jetta/Caddy/Cabriolet/Scirocco I & II
A2 - Golf/Jetta/Corrado
A3 - Golf/Jetta/Cabrio
A4 - Golf/Jetta/Cabrio (MK4 Facelift)
A5 - Rabbit/Jetta/EOS
VW B Platform - Dasher, Quantum, Passat & CC
Other VW - Routan, Touareg, Tiguan, Fox, Phaeton, EuroVan, Aircooled, New Beetle
Early Audi A4/S4/RS4 (up to 2002)
Late Audi A4/S4/RS4 (2002 and newer)
Other Audi - Audi A3, A5, A6, A8, TT, Coupe, 4000, 5000, 80, 90, 100, 200, etc
Best in Show
Update2
Rivals Pre-Treffen Party
On the Friday before Treffen we will be having a pre-party/meet-and-greet at Rival's Sports Bar & Grill in Morton Grove, IL.
What: Treffen Pre-Party
When: Friday - August 21, 2009 - 6:30pm-10:30pm
Where:
Rival's Sports Bar & Grill - 9001 Waukegan Road - Morton Grove, IL - 60053
-We will be in the back section beyond the pool tables
-Drinks & Dinner are on your own check
-A raffle will be held at ~9:00pm and the proceeds will be donated to the Midwest Teffen Charity (this year its the Wellness House for Cancer Support). Everyone showing up for the party will receive one ticket and can purchase more for $1 each or 6 for $5.
At the pre-party you can:
-Register/pay for the Autocross
-Register/pay for the Car Show
-Pre-pay for Enthusiast & Club parking
-Purchase an event T-shirt
-Lobby Sara for your clubs location in the parking lot
-Win a $100 Tire Rack gift certificates
-Win a "Treffen 09" Euro plate,
before
the show winners receive theirs on Sunday!
-Win an "Midwest Treffen 13" event T-shirt (5)
On-Site Dyno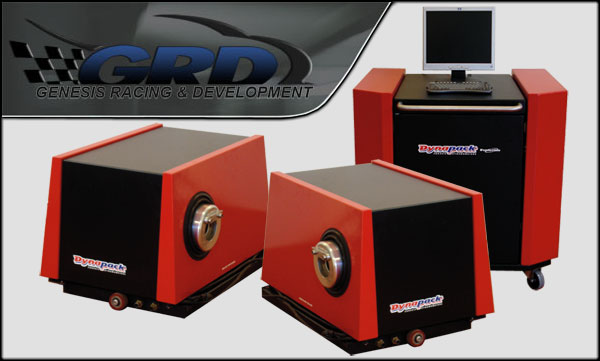 In addition to having a dyno on site to run pulls for the DCI competition, GRD will be providing 2WD dyno runs on their DynaPack Chasis Dyno on a first come, first serve basis during the show on Sunday, starting at 10:30 am and running through 2:30 pm. The fee will be $75 for three pulls, or if we can get enough interest, the price might go lower to $65. GRD will be rewarding the highest horsepower of the day with a $125 prize. Lowest HP of the day will also end up with some sort of prize.
For those with 4WD looking to get in on the Treffen pricing, or if we simply run out of spots on Sunday, GRD will be providing vouchers for Treffen pricing at a later date.
Show Schedule & Pricing
For those unfamiliar with Treffen, or curious about the fees for Club/Spectator area, here's where they stand:
Car Show - $20, 5 raffle tickets
Club/Enthusiast - $10, 3 raffle tickets
Spectator Parking - $2, 1 raffle ticket per person
Also, here's the current show schedule for those that haven't kept up with midwesttreffen.com: