Well its been about 1.5 years since i bought my opus mobo and proccessor and finally these last couple of months i got off my *** and built my carpc. This is my first time ever working w/ car audio, car wiring, fabrication, etc... Nontheless, I think it turned out ok. Huge thanks goes out to my cuz DJIK and port20 whose help was invaluable to me on this project.
here are the specs:
PC:
AMD Athlon XP mobile 1700+ CPU
ASrock K7S41GX microATX mobo
256 ddr pc 2700 RAM
160gb 3'5 Maxtor hdd
5'25 DVD-RW drive (tray load)
MONITOR:
tview 7'' touchscreen
POWER:
OPUS 150w
AUDIO:
2000w lanzar amp
12'' Audiobahn sub 1100w
350w MTX 2150x Thunder amp
stock speakers
mobo's integrated audio
PERIPHERALS:
GPS reciever (
http://cgi.ebay.com/Evermore-12-Chan...QQcmdZViewItem
)
Linksys WUSB54G wifi usb adaptor
slim usb keyboard
microsoft laptop wireless laser mouse
OTHER:
escort 8500 radar detector
---------------------------------------------------------
Unfortunately i didnt take any pictures throughout the install but only the finished product. I was running my mobo attached to my spare tire w/ velcro straps until i upgraded:
I took out the old false floor which was just a carpeted peice of cardboard and redid it w/ mdf wood.
then i divided that huge piece of wood into four segments w/ the middle segment for the PC.
Attached a mdf box under the middle segment where the car pc will rest. this box sits snuggle in my spare tire (had to grind it quite a bit so itll fit).
the sub sits in a ported subbox w/ a custom trim panel around it (hope you guys like the panel took me forever to make and still isnt quite right).
As for the screen i attached an abs frame to the center console w/ abs cement. then i bondoed in the spaces.
What sets my screen apart from most of the screens i see here is that i upholstered it in suade rather then painting it since i didnt want to risk the paint eventually cracking. didnt come out too bad. the only problem w/ the suade is that it can get stains.
i shorted the power button of the tview and attached a relay to it from the hdd 12v line. i know this means that my power button is being pressed the whole time the monitor is on but it seems to work fine.
HERES the pix
The trunk install: custom floor and custom trim panel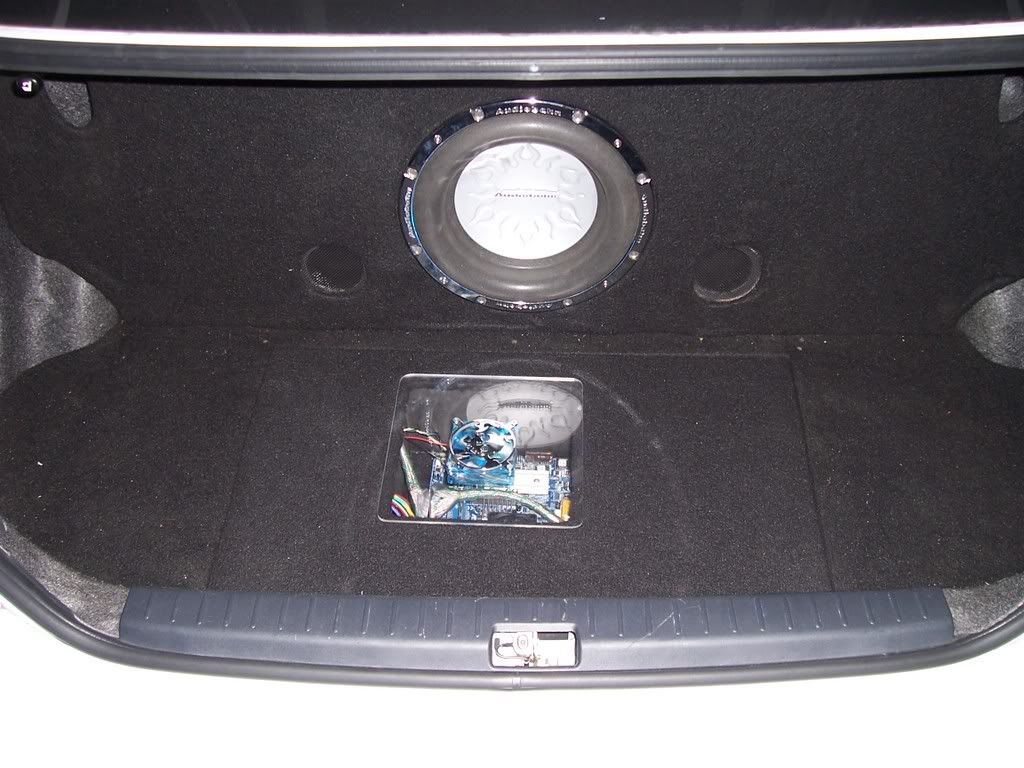 The Computer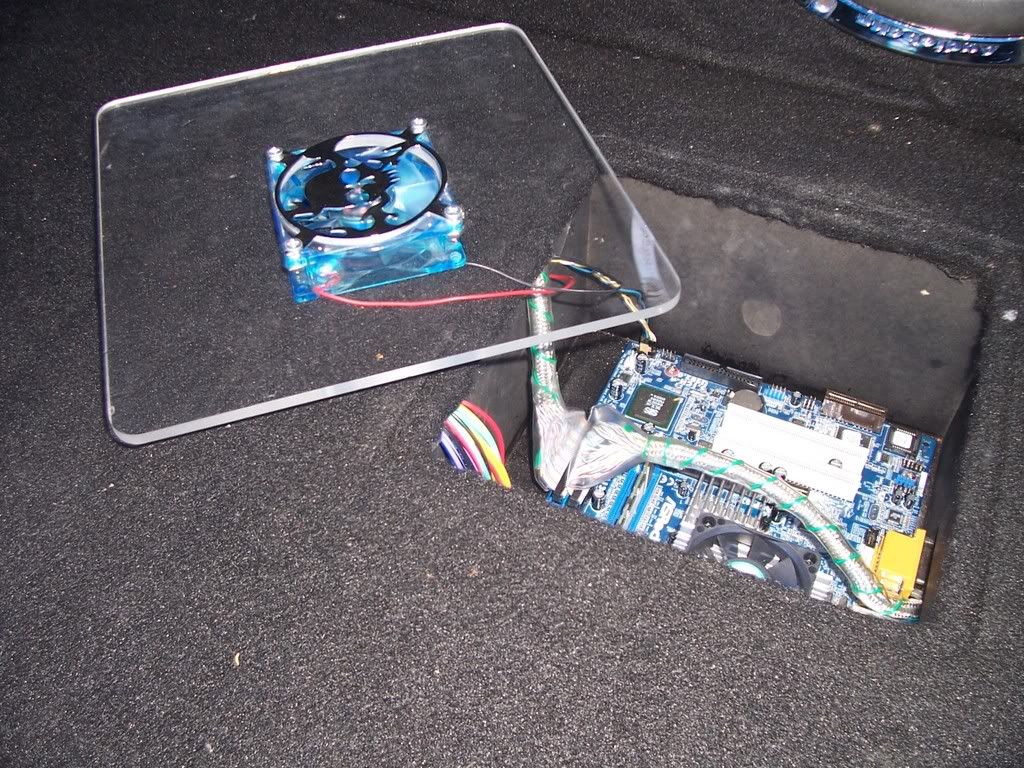 At Night: (1 blue ccfl + lit fan + lit ide cable)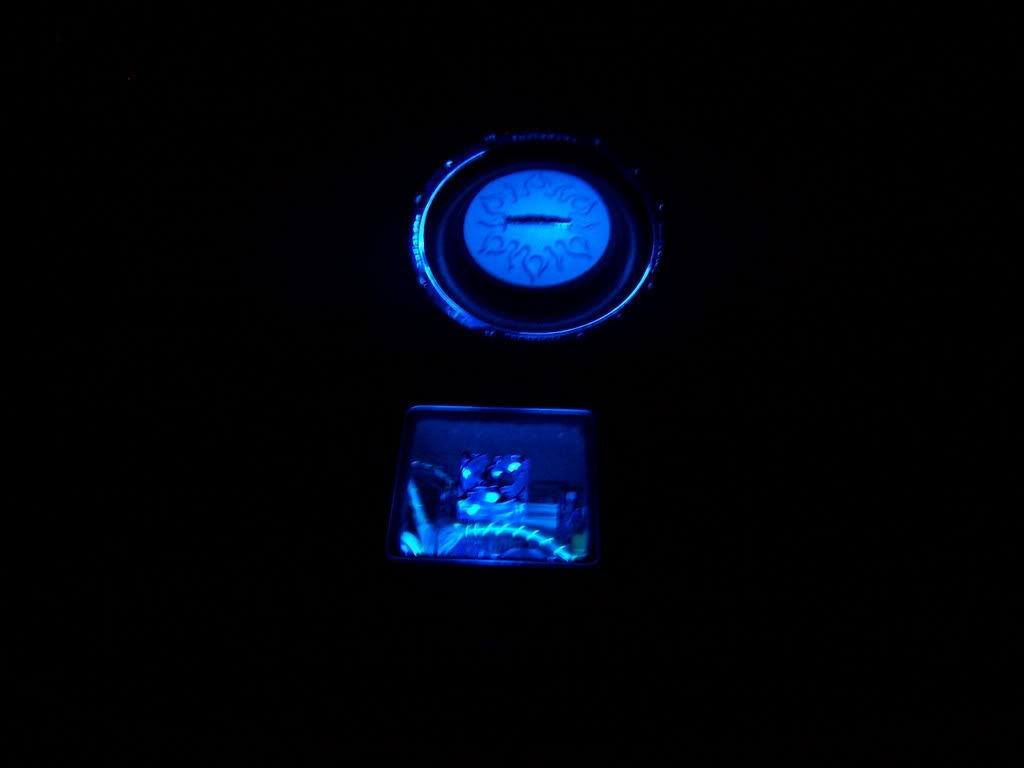 The Screen: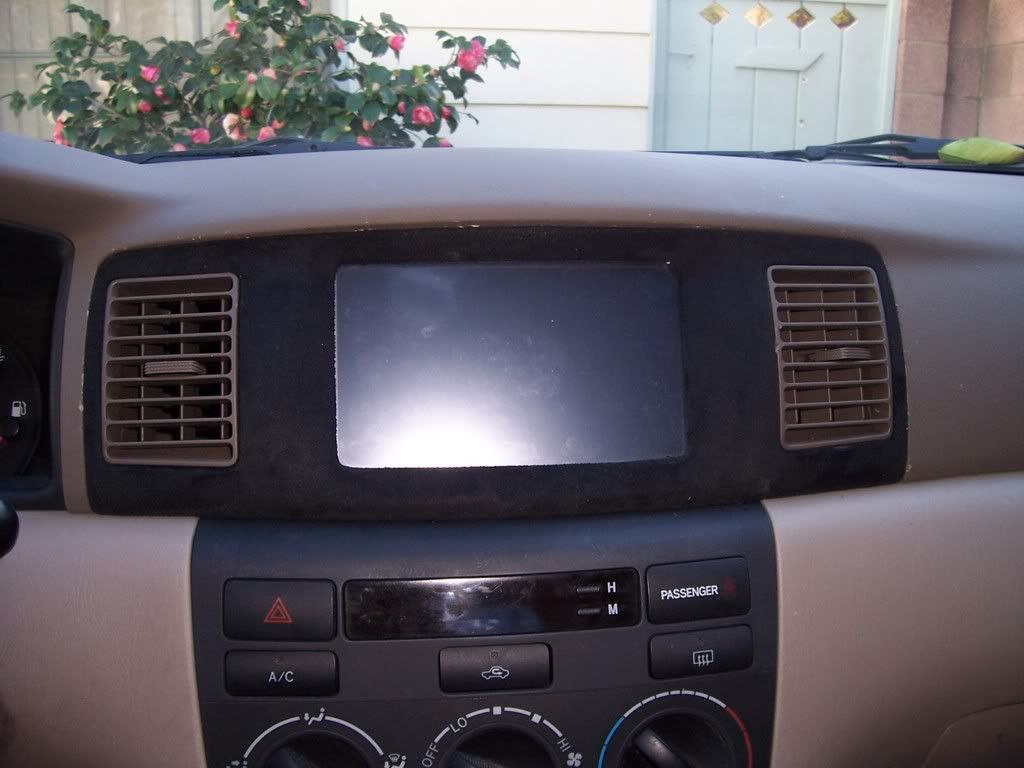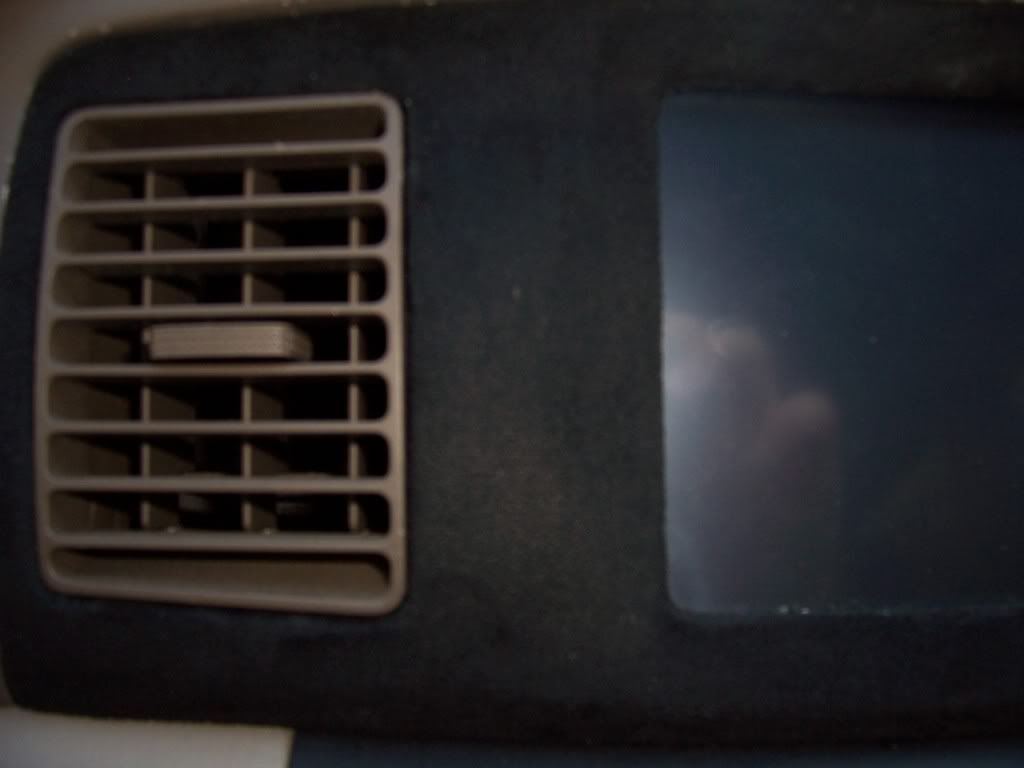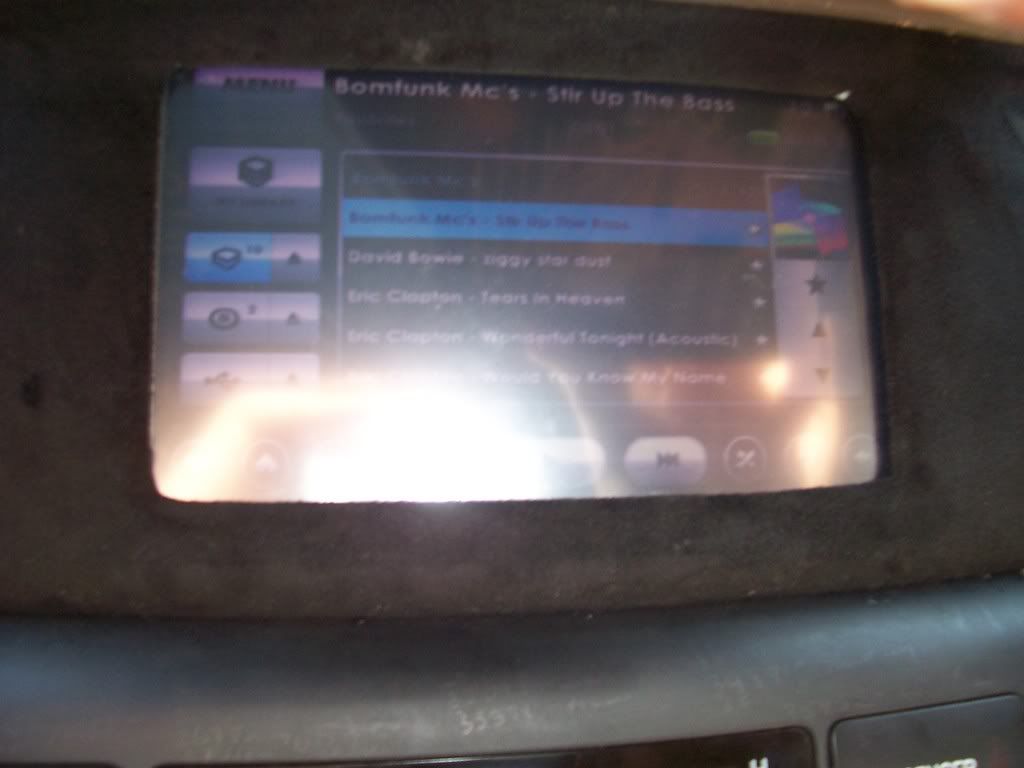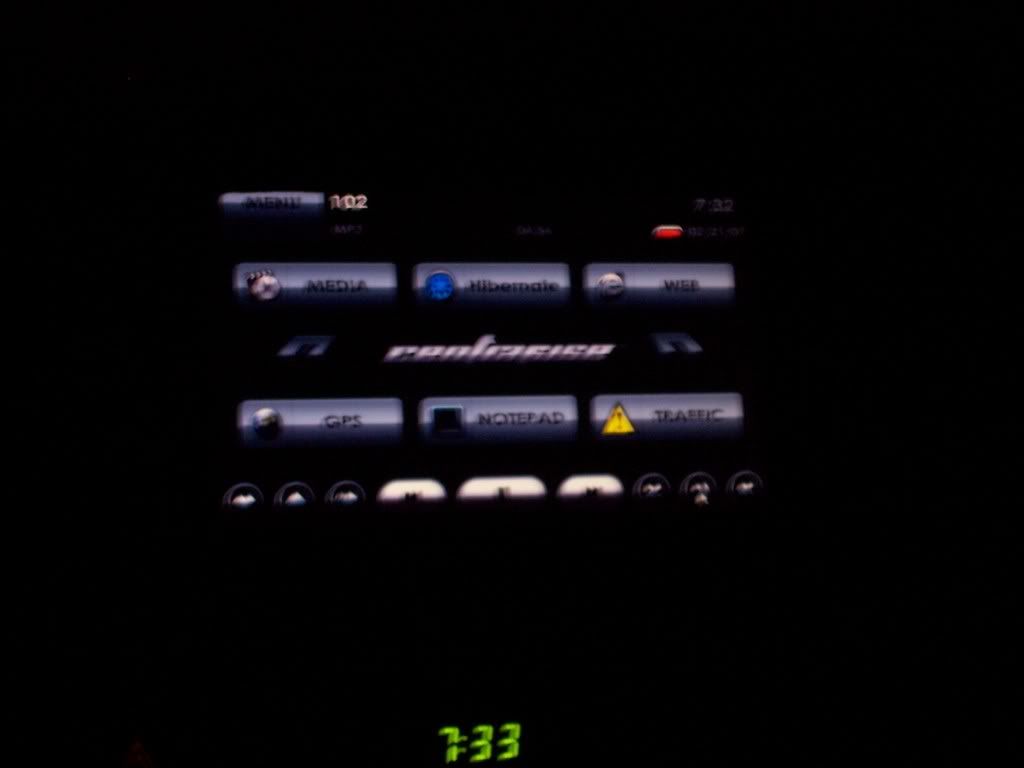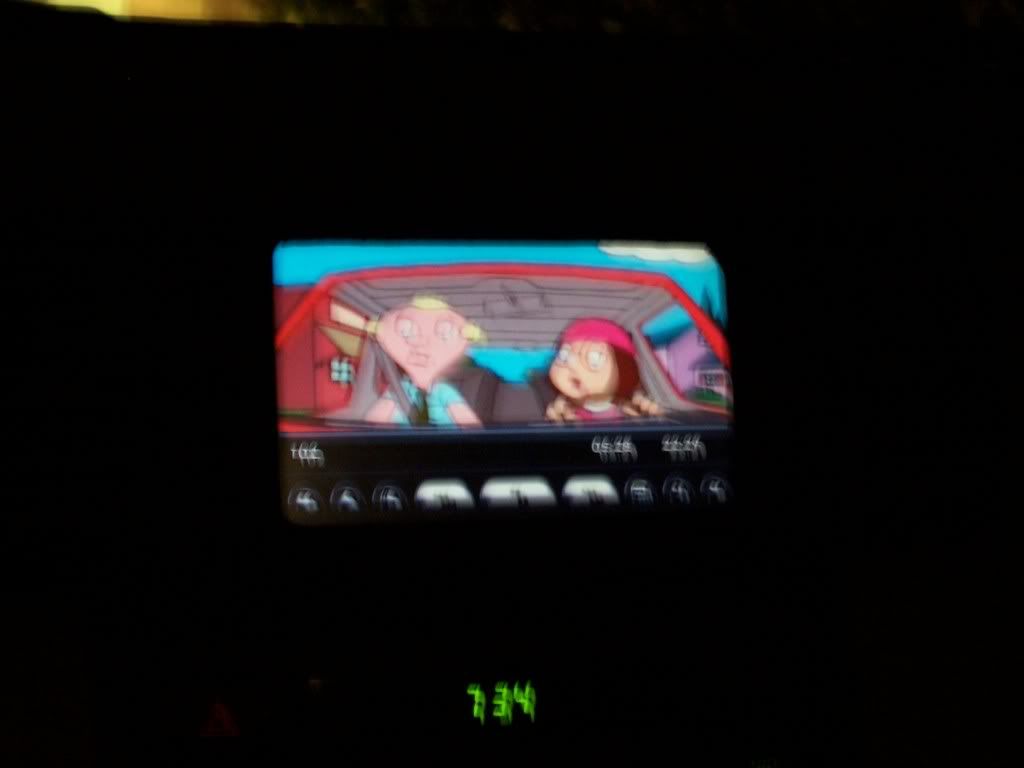 MORE IMAGES IN NEXT POST
Sorry if some of the pix are repetitive. I really enjoyed building this and learned tons just be spending hours on these forums. The show off your project forum in particular was very inspirational and im very glad i can finally add to it.
enjoy
-Roman