Hi all,
I finished up my carpc a little over a year ago and never bothered to post it up. Here are the specs:
PC components:
AOpen miniPC M945-VX (1.7 Ghz Intel Core Solo, 1 GB RAM, 80 GB HD)
Xenarc 700TSV 7" touchscreen monitor
Startup/shutdown controller
D-link 5 port USB hub underneath ashtray, USB port installed in front of shifter (not shown)
Audio components:
Alpine DVA-9860 head unit installed in glove compartment
Alpine PXA-501 sound processor
Xtant 603x amplifier
JL Audio 10W3 subwoofer
stock front speakers for now, rear speakers disconnected
The optical out on the onboard sound card is connected to the PXA sound processor (has an optical in) which is connected to the amp by RCA's. The PXA is controlled by the head unit for volume, time correction, a parametric equalizer, a graphic equalizer, etc. The PXA is capable of 5.1 sound, but sadly my amp is not, so there's room for improvement. It sounds pretty good as it is...I originally had the line out connected directly to the amp by means of a headphone jack->RCA converter, and it sounded like crap. I probably could have improved the sound by just going with an external sound card, but as you can see I went for the go for broke method.
I didn't take any pics of the PC itself, but it is mounted underneath the passenger seat.
All the work you see here was done by me and a good friend of mine. Lots of fun times. The first time we booted up the computer in the car was at 4:30am after 14+ hours of working. The head unit and sound processor was added about a 2 months after that first boot up, and the box was added less than a year after that.
Here are the pics. Forgive the crappy quality, I am not a photographer by any means.
Monitor with custom bezel
Head unit installed in the glove compartment
Amp and sub trunk setup. I'm not 100% done yet. In the next couple pics you'll see the vinyl is pulling up on various edges. The glue apparently isn't good enough to deal with 120+ degree in car temps when it sits outside all day. It's a ported box that sounds a million times better than the $25 off the shelf plywood box i was using.
Here's the view of the inside of the box from the rear seat. It's my "Fast" sitting inside the box behind a plexiglass window.
Here's what it looks like at night.
If you guys aren't familiar with what a "Fast" is, watch these commercials:
[media]http://www.youtube.com/watch?v=FvyxCC5XWCg[/media]
[media]http://www.youtube.com/watch?v=Xnd1BxAo81g[/media]
VW sent everyone a little rubber Fast when you bought a GTI. It wasn't doing me any good sitting on my desk so I decided to make use of it.
Here's the car. Don't have any great pics of it, this is one from a show a month ago.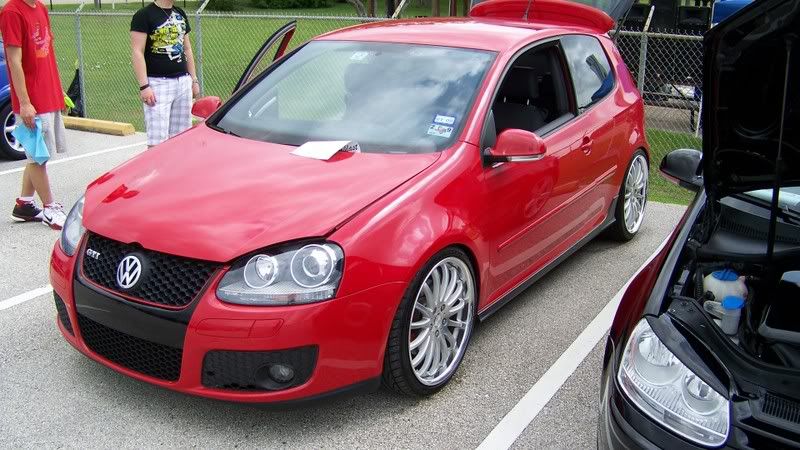 Open to any comments, criticism, questions, etc.