hi all. a few of you may remember seeing my
old system
(now retroactively named "carputer version 1.0
). that was my first carPC project (version 1.0), and I have been addicted to this hobby ever since
a few months ago I completely overhauled my carPC system. this was a true overhaul as I replaced and/or upgraded almost every single component in this system.
since not all people will be interested in reading about the full details, goals, capabilities, and cost of this system, I am posting the completed installation pics and short descriptions first. the full details will follow...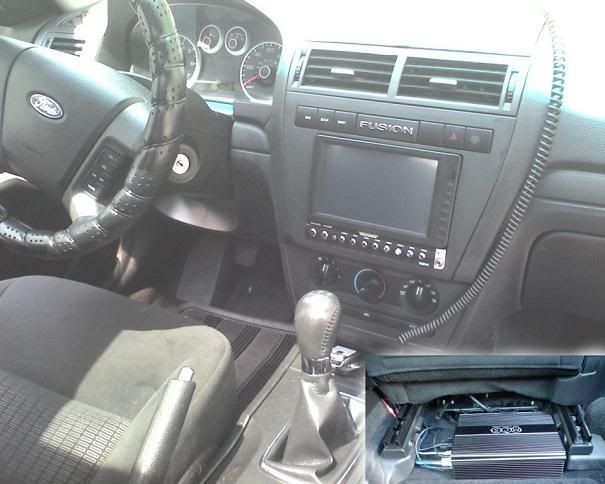 in place of the head unit is a 7" touchscreen VGA monitor (Lilliput EBY-701) and 1/2-DIN audio equalizer (Clarion EQS746). the equalizer allows for hardware control of master volume, subwoofer volume, front/rear fading, aux input switching, and 7-band equalization
under the passenger seat is a MoCoSo.com aluminum mini-ITX carPC case. inside the case is an Intel D201GLY2A motherboard/CPU combo, a MiniBox M2-ATX [DC>DC] carPC power supply with built-in startup/shutdown controller (it turns the carPC on/off automatically with the car's ignition key, just like a standard headunit), and a 40GB 2.5" laptop hard drive (40GB is fine for my needs, and is easily upgradeable if more storage space is needed).
in the trunk are two amplifiers. a 400w (200w RMS) 4-ch Pioneer GM4300F that powers 6 door speakers and 2 rear deck speakers, and a 800w (400w RMS) Kicker ZX400.1 that powers two 500w (250w RMS) 12" MTX Blue Thunder legend subwoofers.