56K WARNING! --- A.D.D. WARNING!
So about 5 years ago I joined up this forum for the first time, fished for plenty of data, and ended up with an Impreza install "on a budget" (still linked in my sig). Which was fun and all, and I loved it while it lasted.
Then I upgraded the car. For reasons better left undiscussed (mostly revolving around a retarded dealer) I decided against getting another Subaru, and somehow ended up with a 335xi. I didn't want iDrive, since from everything I've read it's somewhat limited and, worse, slow (apparently the 2009 one is better), but I couldn't live without nav/music, right? I got by on the USB adapter, which at least let me play plenty of music off a USB key, but that couldn't last. Some may wonder, wtf is wrong with me stripping apart a BMW - well... no one on
this
forum would ask such a dumb question. Right?
So here we go again, a E90 install "on a budget" (okay, that line sounded much less of an oxymoron with a Subaru).
I started off by looking for a way to mount the LCD. I'll skip ahead and say that the solution is not ideal - sadly, there's absolutely no way to make it look stock without MAJOR work. I looked at 2DIN offerings, and there ARE kits to dump the factory radio and move the climate controls to the centre armrest ... but ... since I have the fancy Logic7 sound system, I lose ALL sound if I do that (the stock radio is REQUIRED for Logic7). Fail. Another option was to get a $400-$600 kit from Japan that relocates the radio below the glovebox or to the trunk; that seemed like not a bad idea, but, on the other hand, that's $400-$600 + shipping and taxes - and that's kind of ridiculous. If I were willing to go that route, I'd just have gotten a Pioneer AVIC-Z3 and be done with it. And where's the fun in that, right?
So I went with a Cuda mount. They're mostly used for cell phones and GPS devices, and I actually used it with an iPAQ GPS for a few months - it works very well. But it was obviously insufficient, since it was just a GPS.
So I sourced myself some parts. First, the monitor: I am using a Xenarc 705TSV, courtesy of Xenarc. Although the monitor isn't LED backlit, which I would like, it does have one feature which is absolutely a godsend: it has a single cable from a breakout box, available at up to 15ft lengths, which carries everything: video, USB, sound, etc. This is how monitors should be made, since this allows you to run a single wire and deal with everything in the trunk. Hardly what I had with the good old Lilliput in the Subaru. One massive shortcoming of this monitor, however, is the
type
of cable used. It uses a totally custom 20-pin 3M "MDR" (mini-D-ribbon) connector; for which
it is impossible to get a female plug aftermarket
. Read that again. This means that if you want to build your own extension, you are out of luck. This was the case for me - since my dash is *very* tightly integrated, I wanted to run a 0.5ft extension made of a ribbon cable and the stock cable from there onto to the trunk; having spent hours upon hours on digi-key.com, I have come to realise that for whatever reason, there are no solderable female plugs for 20-pin MDR. Boardmount, wallmount, ceiling mount, rackmount, sure, whatever you want - but pure pin solders? Sorry, male only. And since the pinout is completely custom, it's impossible to get an extension on the 'net: not only does nobody make one, but even if they did, there's at least 4-6 pins out of 20 used for USB, RCA video and other randomness. So forget it. A word of advice to Xenarc - PLEASE use a more normal connector. Doesn't have to be VGA or DVI, obviously, since you don't want people plugging in strange cables - but please think of the installers.
Another feature I would like to have seen on the monitor is quicker auto-off: right now, when I shut off the engine, it stays on, saying "no signal found" until the power supply cuts power outright. But aside from that - you can't go wrong with this screen. Highly recommended.
On to the power supply, courtesy of the guys at Carnetix. I searched around for a while, and saw some people just use a capacitor instead of a true p/s... suppose it makes sense, but I felt like I should do it "properly". As far as I can tell, this P1900 is the
only
power supply that can do 19V, which is what I need for the computer I chose - so it was a no-brainer. It's great that it also has a secondary DC out for the monitor, so I don't have to break my head trying to source a second power wire, second fuse, etc. etc. etc.
Finally, the computer itself. Last time, I spent massive amounts of time sourcing a VIA motherboard (couldn't get one locally), 3.5" HD, etc., and a case - which was the much harder thing to do. I built a Plexiglass one at first, which was a stupid idea, and eventually moved to a normal mini-ITX case, which was a bit of a better idea, but it was still huge. We're obviously in 2009, so technology has advanced... I saw an EEE Box in store, and I thought "THIS is going to be my Car PC". It is absolutely the best thing since sliced bread for car PCs - the footprint is almost zero, you can fit it into a glove (not a glovebox even) and it has sufficient power to do most of the things a car PC is supposed to do. So that's what I went with. The hard disk in mine was a puny 80GB, so I upgraded it to 320 - but I am totally not on the whole SSD bandwagon. I always go back to saying that my previous car survived for over 4 years with a 3.5" desktop HDD, so a 2.5" laptop drive should last just fine (then again... my suspension is much stiffer now. So we'll see.)
So here I was, with a fullly working car PC ... on my desk. It was time to take the plunge, strip the car bare and start putting this into action. I'll admit I was somewhat hesitant - I opened up a few bits and pieces of the car so far, and I never cease to be amazed at HOW integrated everything is. Everything is compartmentalized, there's separators between everything, no space is wasted - in short, I felt like I wouldn't find ANY SPACE to do what I needed to do. So I read a bunch of threads about people installing other things, gathered up some courage (okay, it IS a regular car, after all - it's not like I'm disassembling a hand-built McLaren or something) and set out to it.
I started off by taking off the front bezel and the radio/climate control bezel. The goal was to run the monitor wire down the center console, alongside the driveshaft and into the trunk.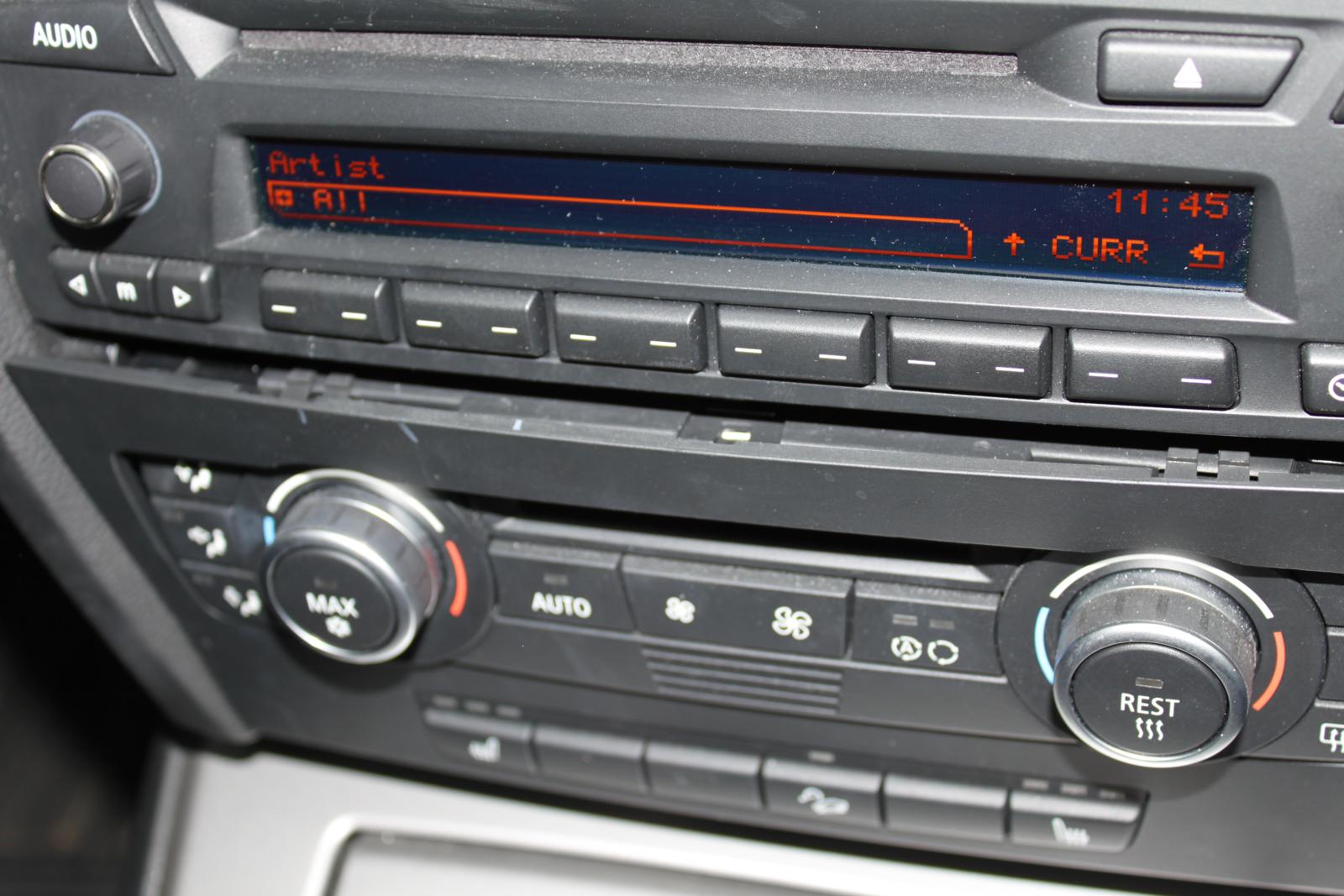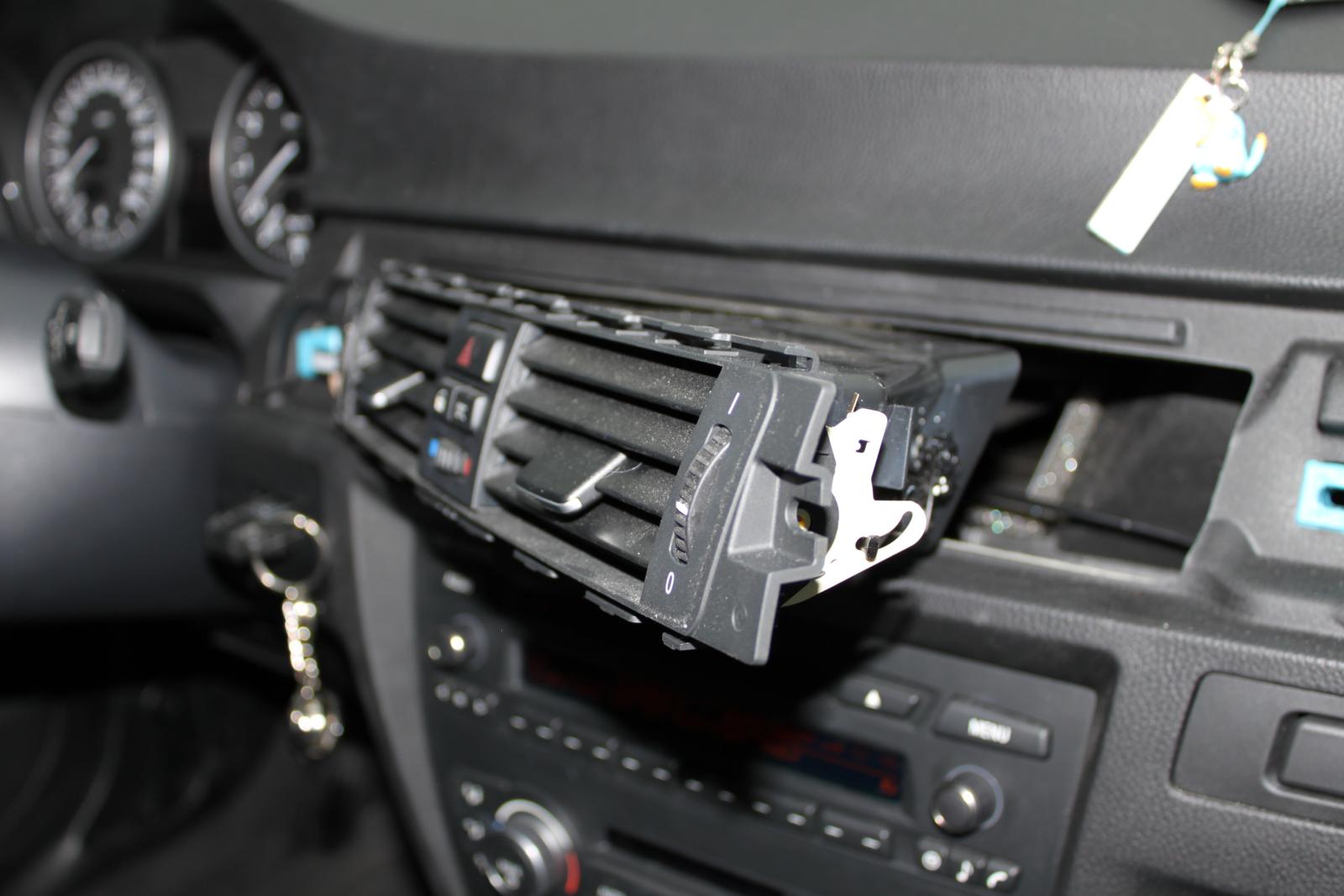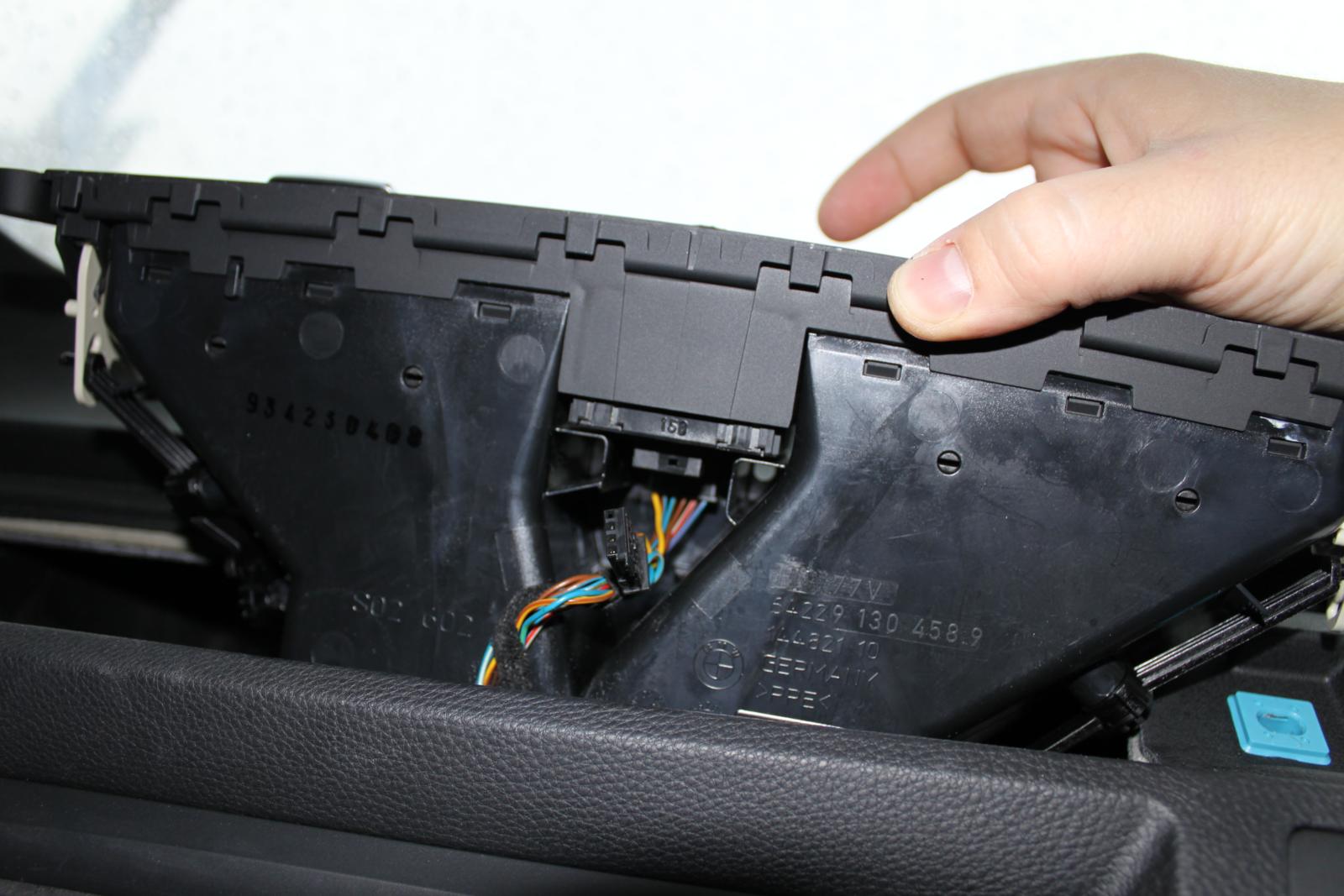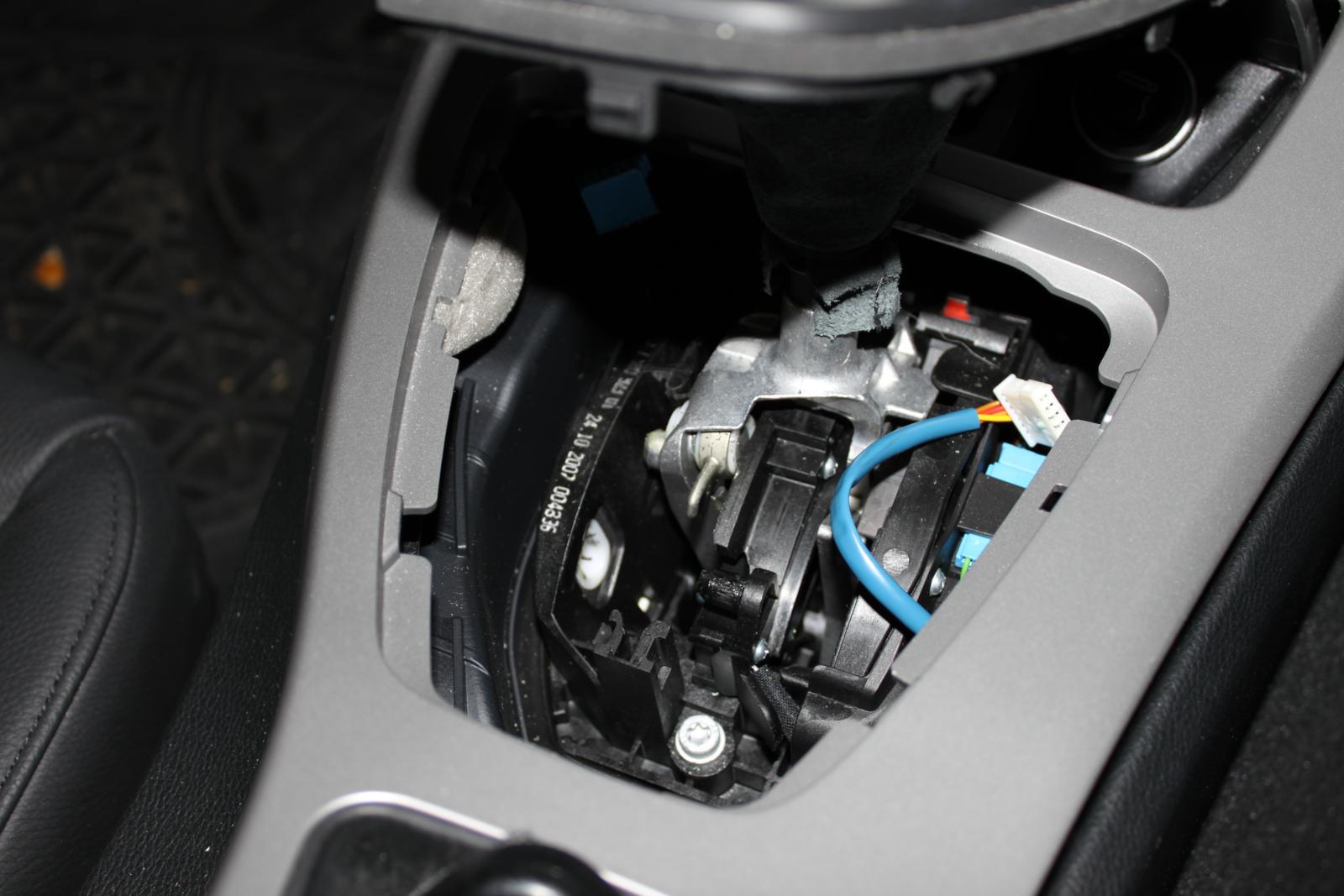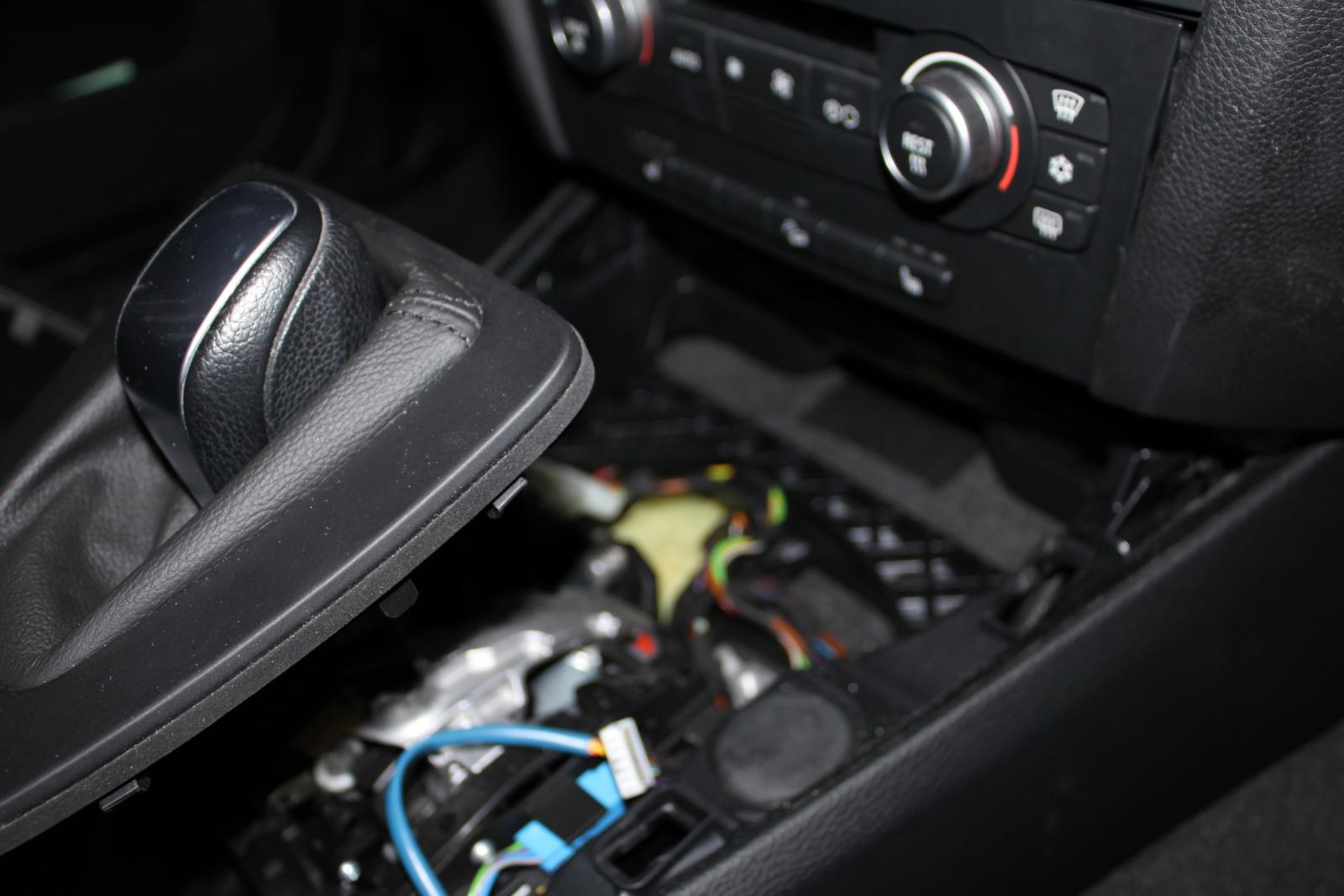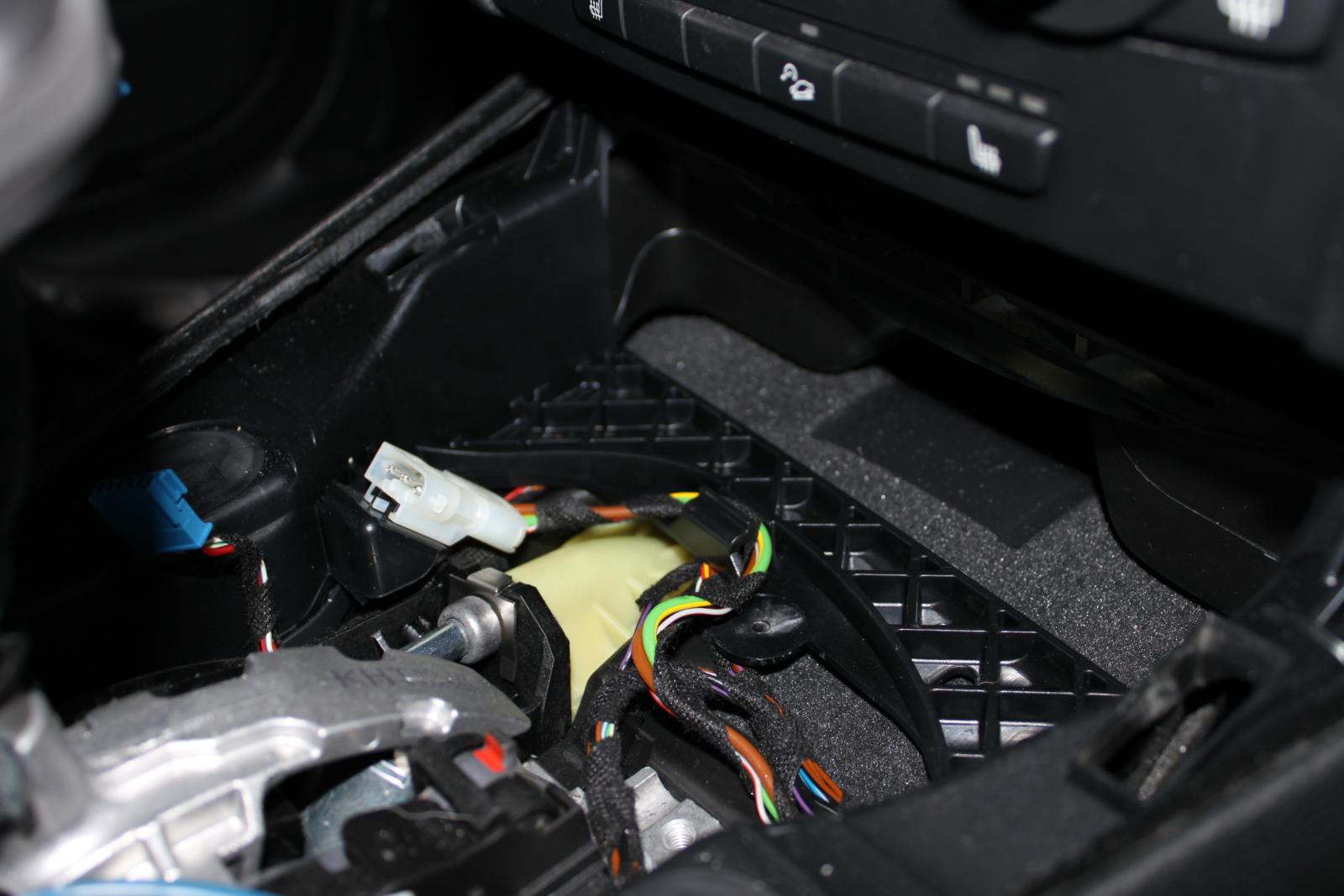 Sadly... I ran into an interesting challenge. The pics don't show it, but I was unable to rip off the radio/climate controls. I got the upper part of the climate control faceplate off halfway, and the rest just would not budge. An hour later and ten fingertips fewer, I decided to abandon this idea. This was reinforced by my (successfully) disassembling the driveshaft, and realising that ... there's no place to run the wire through it. Unlike the Subaru, which had a huge plastic case and cube-meters of empty space inside, here everything was compartmentalized. So ... I couldn't really find any space to run the wire. Doh.
It was time for plan B. I did a rough estimage, and realised that 15ft of cable length should, in fact, be JUST about enough to run the cable sideways along the dash, down the passenger side of the dash, along the footwell and along the edge of the car, to the trunk - along with all the other kilometres of wiring that went there. So here we go, plan B.
Before that, though, quick aside: this time, I didn't want to cut any wires in any harnesses to harvest power, etc., so I did it "properly": observe the fuse tap in the centre top of the picture.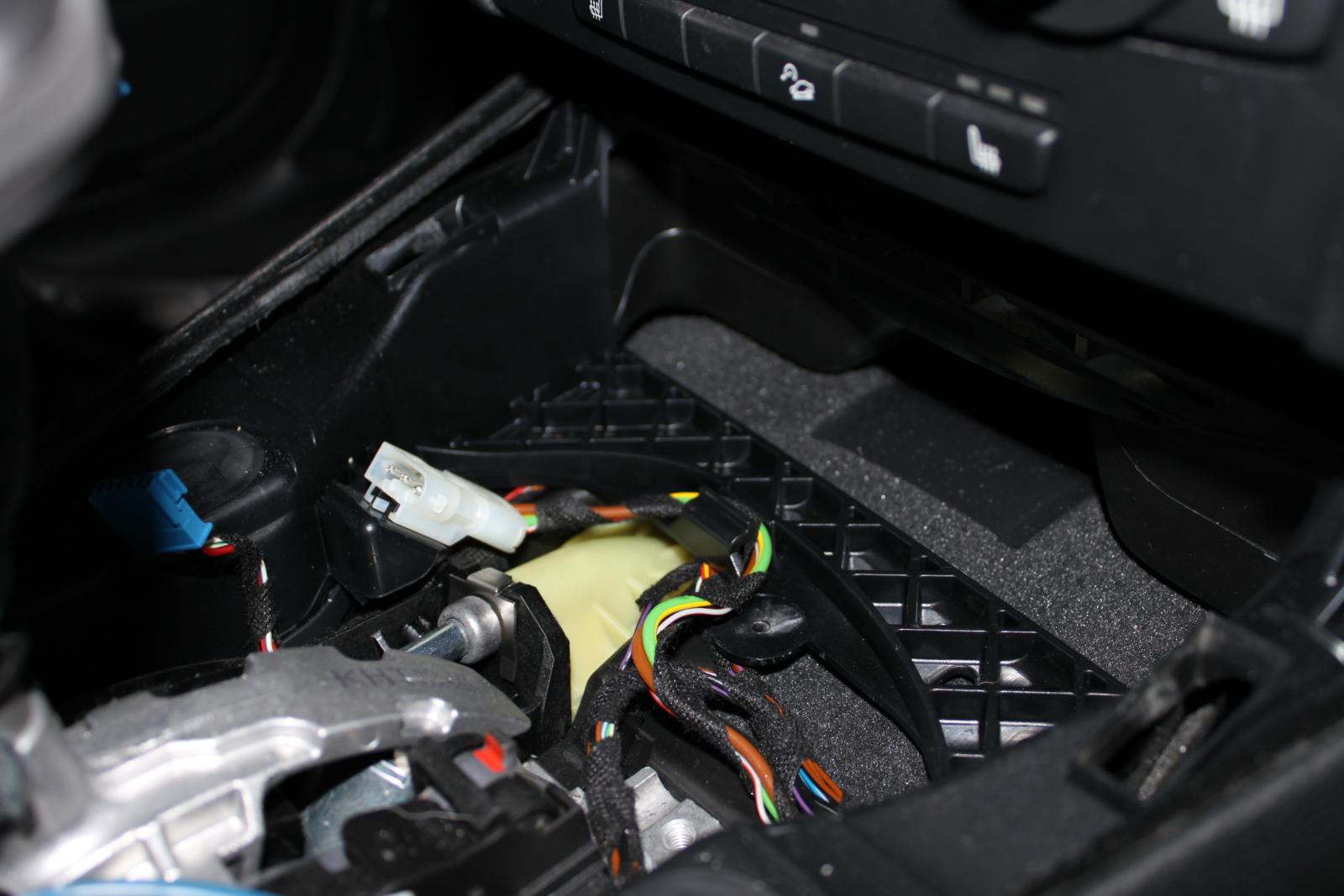 Btw... see that red long thingie below the picture? It's a freaking FUSE REMOVER. No more fingernail breakage! I love German engineering. I will return to amazing German engineering a few times throughout this writeup - it's not meant as showoff (and anyway, CAN'T, since I'm not a German engineer. Haha). Anyway, I doubt anybody will actually read much of this text, seeing as most people click on these links for pictures. Moving along, then.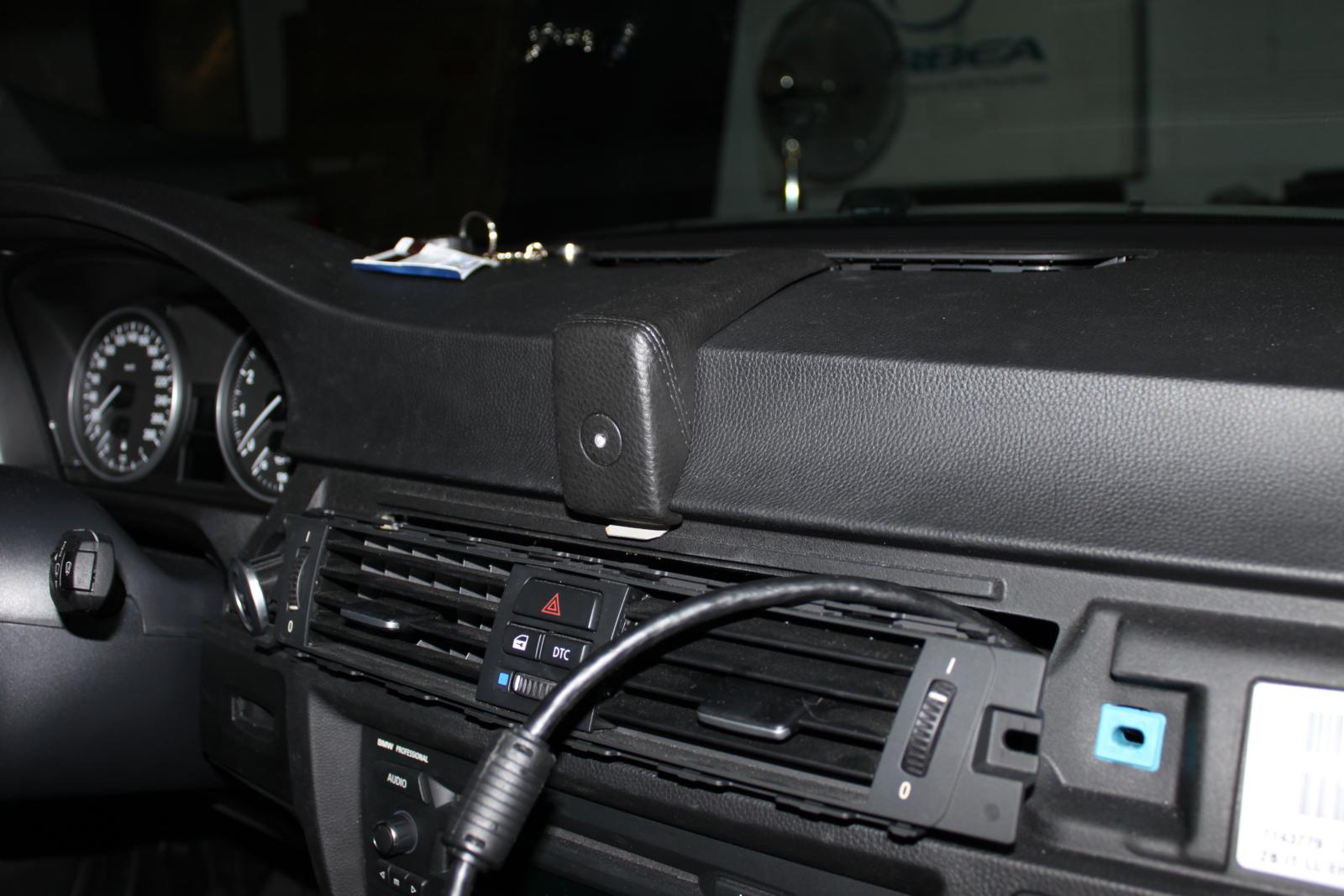 So that's what it looks like with the wire sticking out and the aluminum face bezel removed. The weird black thing on the dash is the Cuda mount. We will return to it later.
I had three wires to run: ignition + (this is what is going to the fuse tap), monitor and USB. I also ran a wire that isn't connected anything - I need to install a power switch, and don't want to open up the whole car again. So the wires will go down this...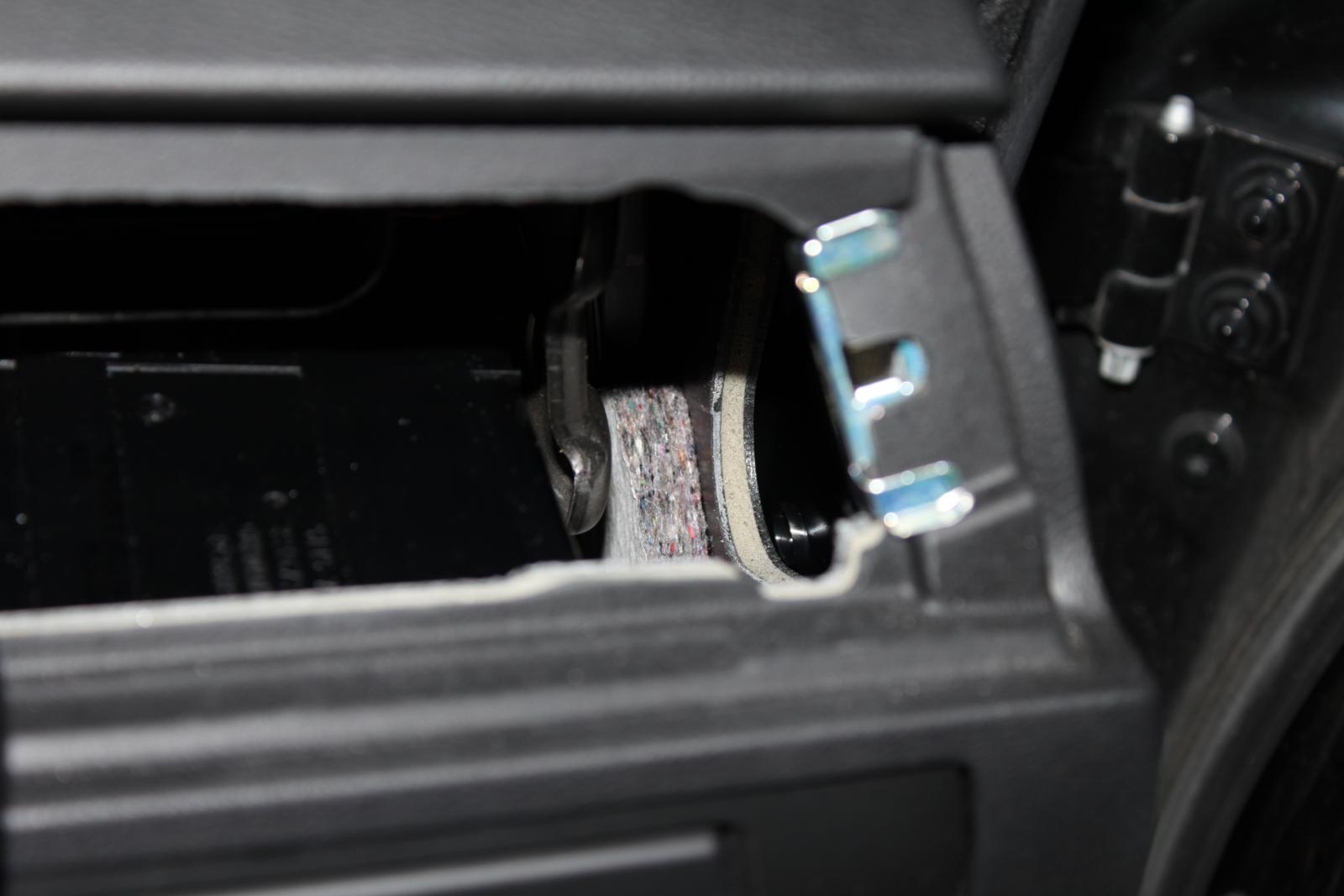 (this is the view down the rightmost vent - notice the bloody TWO INCHES of sound insulation! and I thought my damn Dynamat counted for something)
Curve on the right side of this...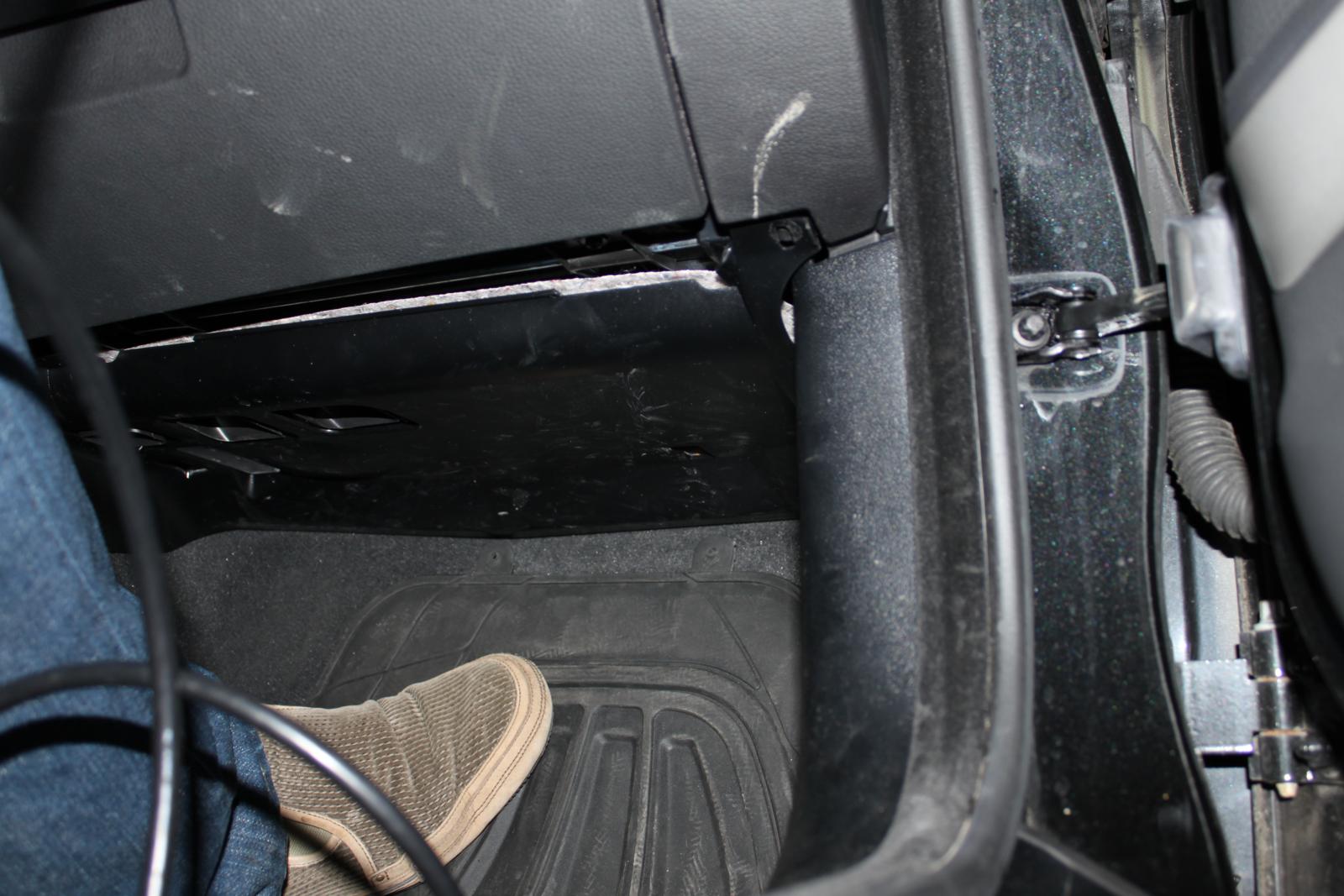 Along this...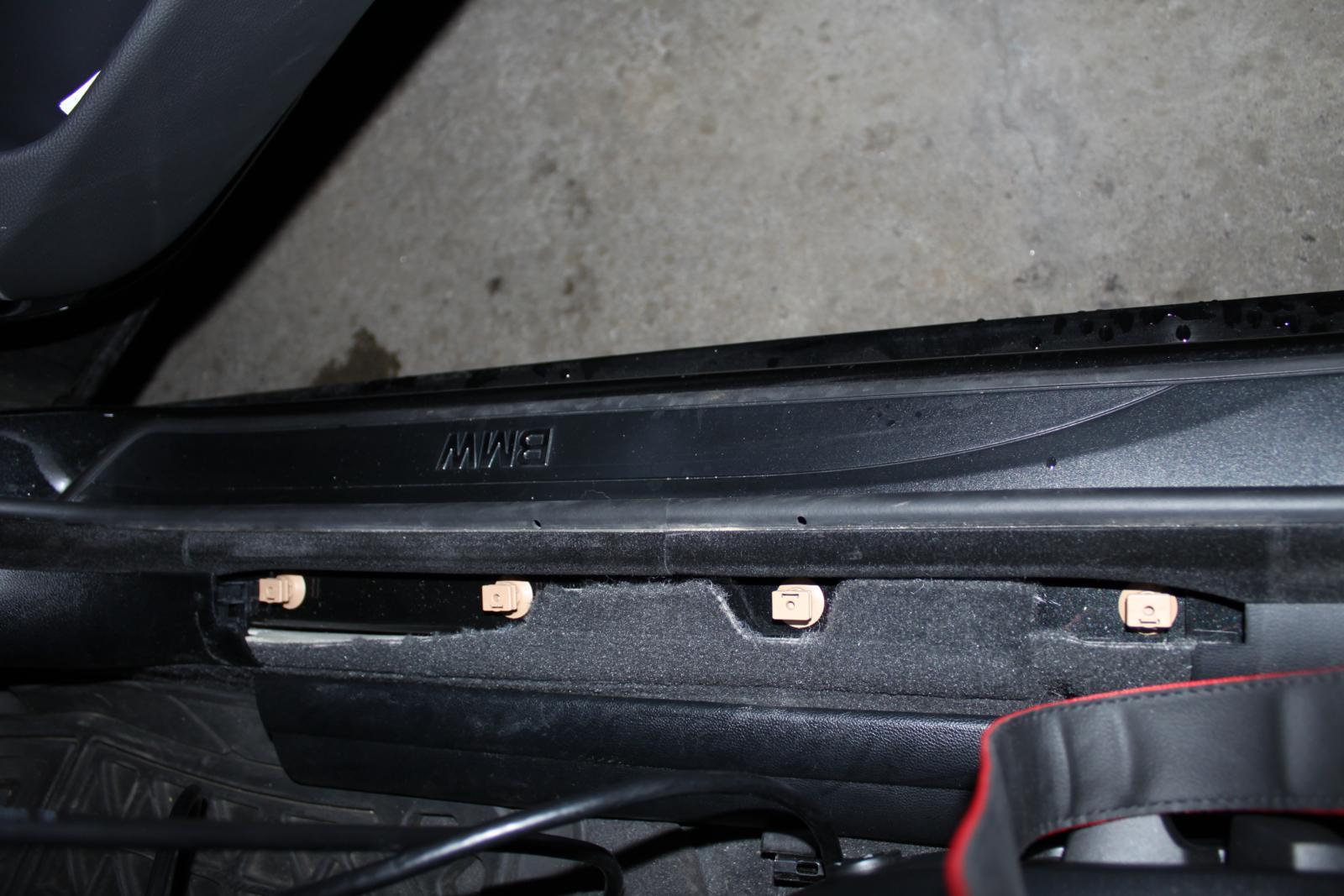 Along this, right past that relay is a hole that leads in the back to the trunk...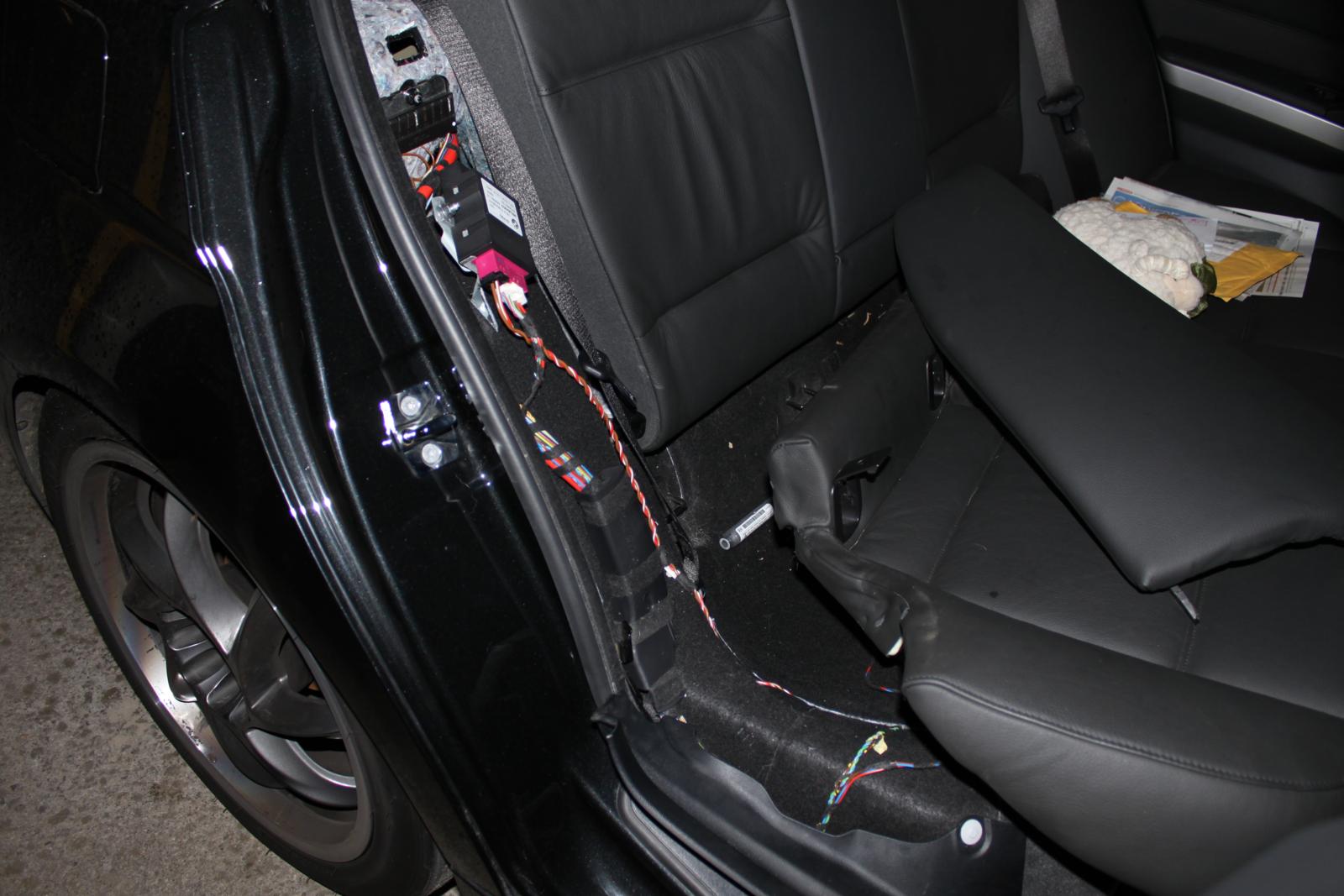 And come out right about here.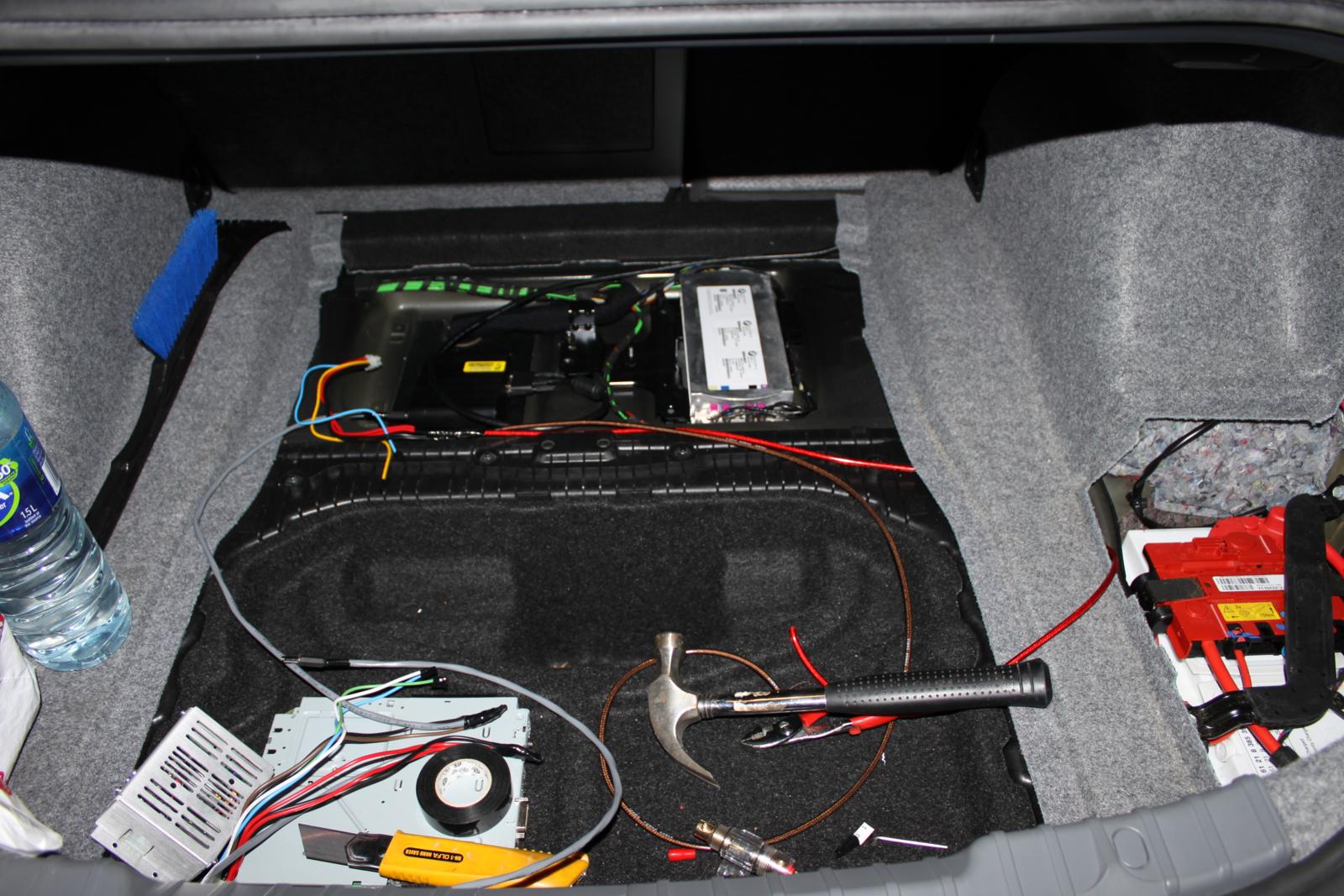 Notice the clean trunk and how BMW was kind enough to avoid giving us useless things like "spare tires" which simply take up too much space and prevent you from setting up a proper car computer in the trunk. Pssht.
Notice the BEAUTIFUL ****ING BATTERY.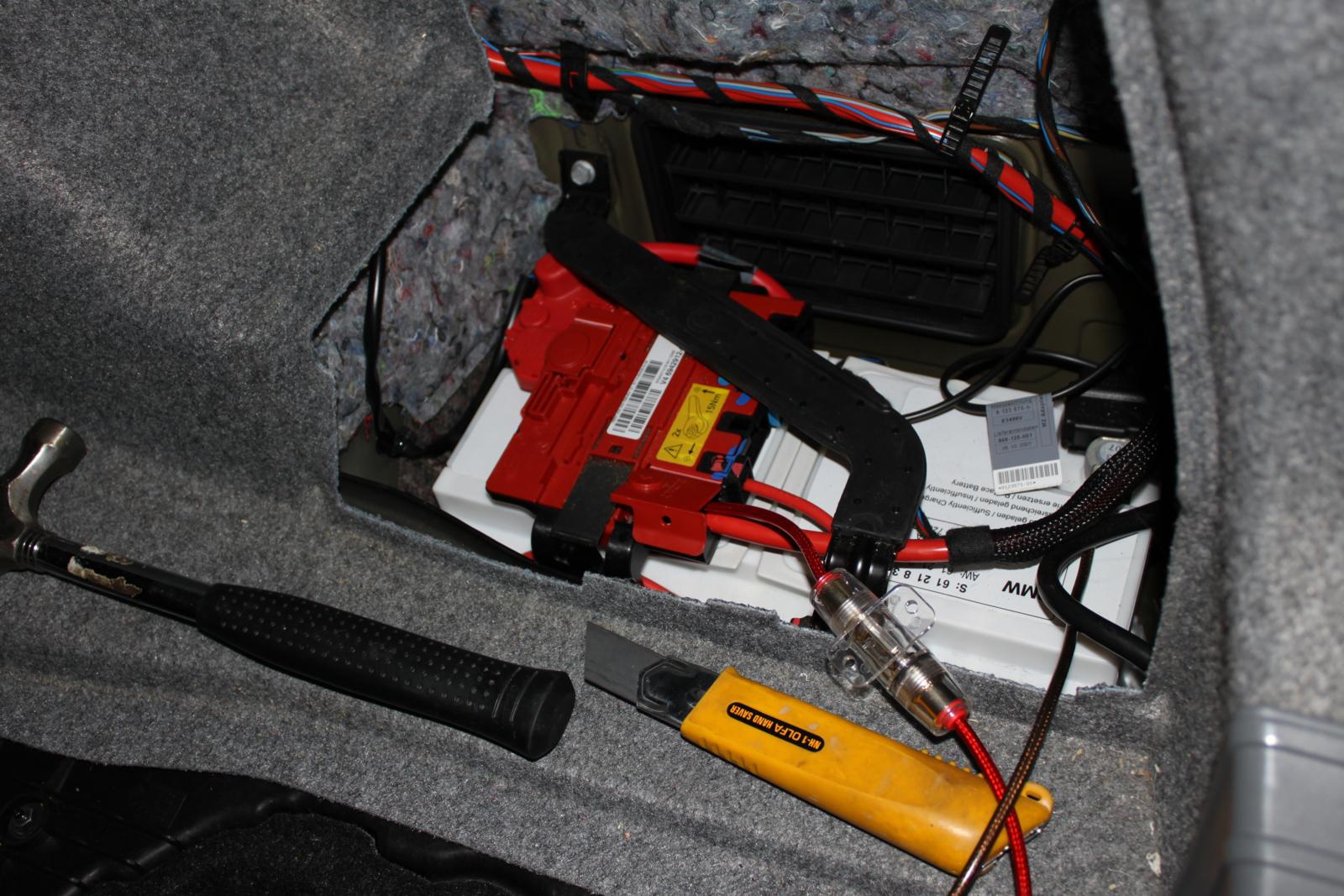 Can you believe that? It looks like a piece of art, with all that protective plastic on it, etc. I almost couldn't think of where to tap into (there are THREE positive prongs on it). Anyway, having stripped the car of the rear seat, side moldings and various other pieces, I wasn't about to stop at something so banal. Moving on.
So the test fitting was okay. Computer powered up OK, screen worked, etc. It was now time to do a bit of hardware modding, since neither the monitor nor the EEE was ready to be installed ... quite yet.
I'll skip over the cable soldering - most of the cables you see in the trunk pic are custom soldered, since I had to make a new power cable for both the monitor and the EEE, etc. It wasn't the hardest part. The hardest part, by FAR, was the audio wire - running it, not making it - but we'll come back to that.
First, EEE modding: I decided to remove the outer casing, since it's not really useful by virtue of it being purely decorative, and not really protecting anything. There's a perfectly functional metallic shell around it, which also makes it look much more "automotive". If it was actually attached with metal brackets, I bet nobody would even think that it's not stock equipment. Right now its position on a fluffy velvety padding kind of gives it away. Anyway - thanks to Pixelgazer's
Mazdaspeed6 install
, I got the idea to modify the EEE power switch a bit. I needed to make it listen to the Carnetix' "on/off" signal; a simple two wire solder onto the power switch. Unless you are retarded, that is, which I found out I was.
This is the EEE Box motherboard: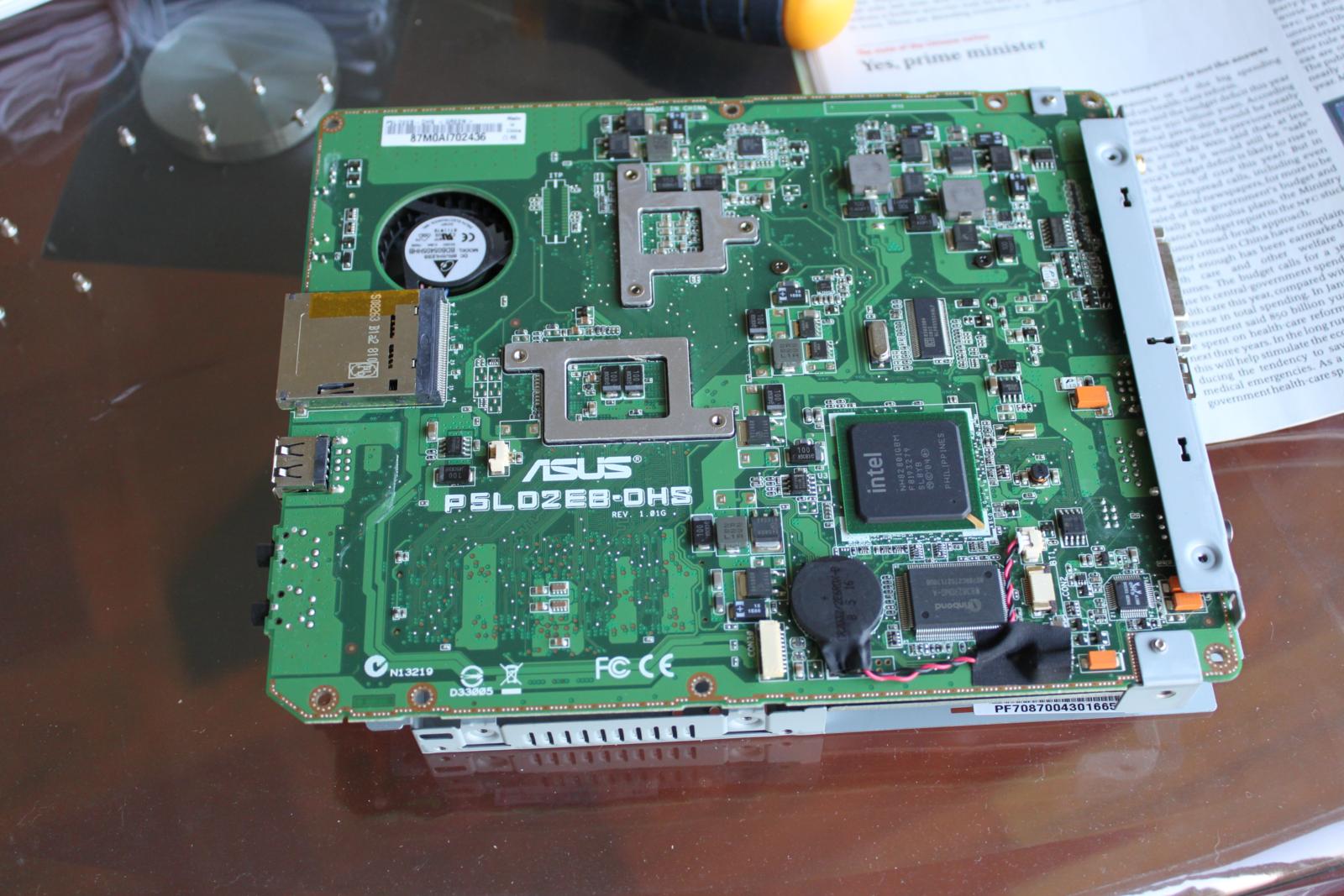 And this is the mod I did: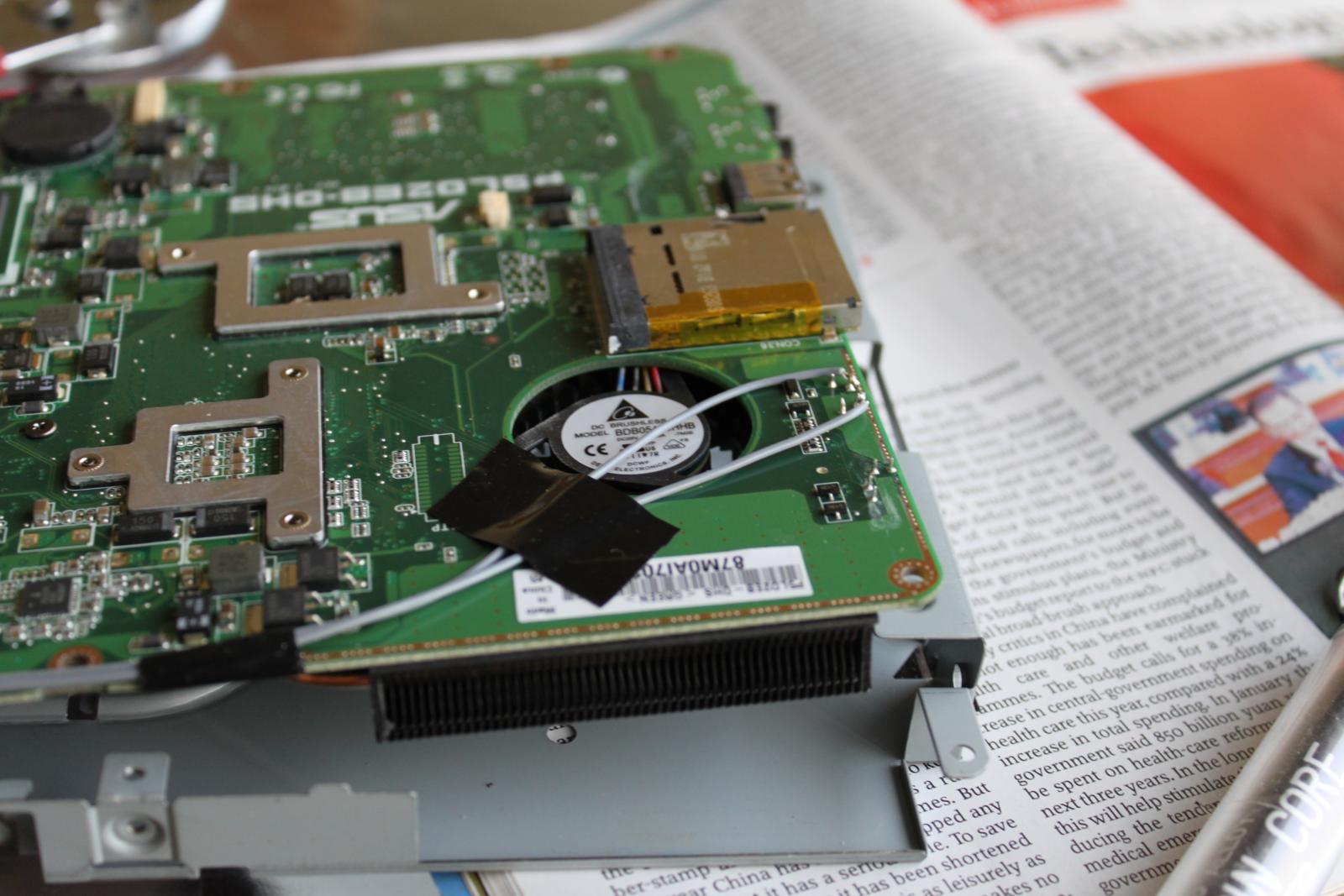 Now, you can't see this in the pic, but see that golden-ish stripe to the right of the soldered wires? Right, that's ground. So when solder leaks onto that and shorts, that creates a perpetual "ON" switch. I didn't trust my multimeter when I tested it (no matter whether the switch was on or off, it would register 0 ohm resistance, instead of infinity - I just figured "it has to be like that"). So when I hooked it up to the car, OBVIOUSLY it would power up, and power off immediately. Try pressing and holding your PC power switch - that will happen. Lesson: trust the multimeter. Don't be retarded. The other side of the 2 wires was soldered onto a two-pin jumper assembly that will plug into the 2-pin ACPI lead of the Carnetix.
Next up is the monitor. Since the stock mounting assembly was dumb - it's this octopus-like foot which glues onto stuff - I decided to make a custom mount. Sadly, I couldn't find anything that fit it snugly, until I realised that I should just use the provided screws on the back of the screen... and so, this came out: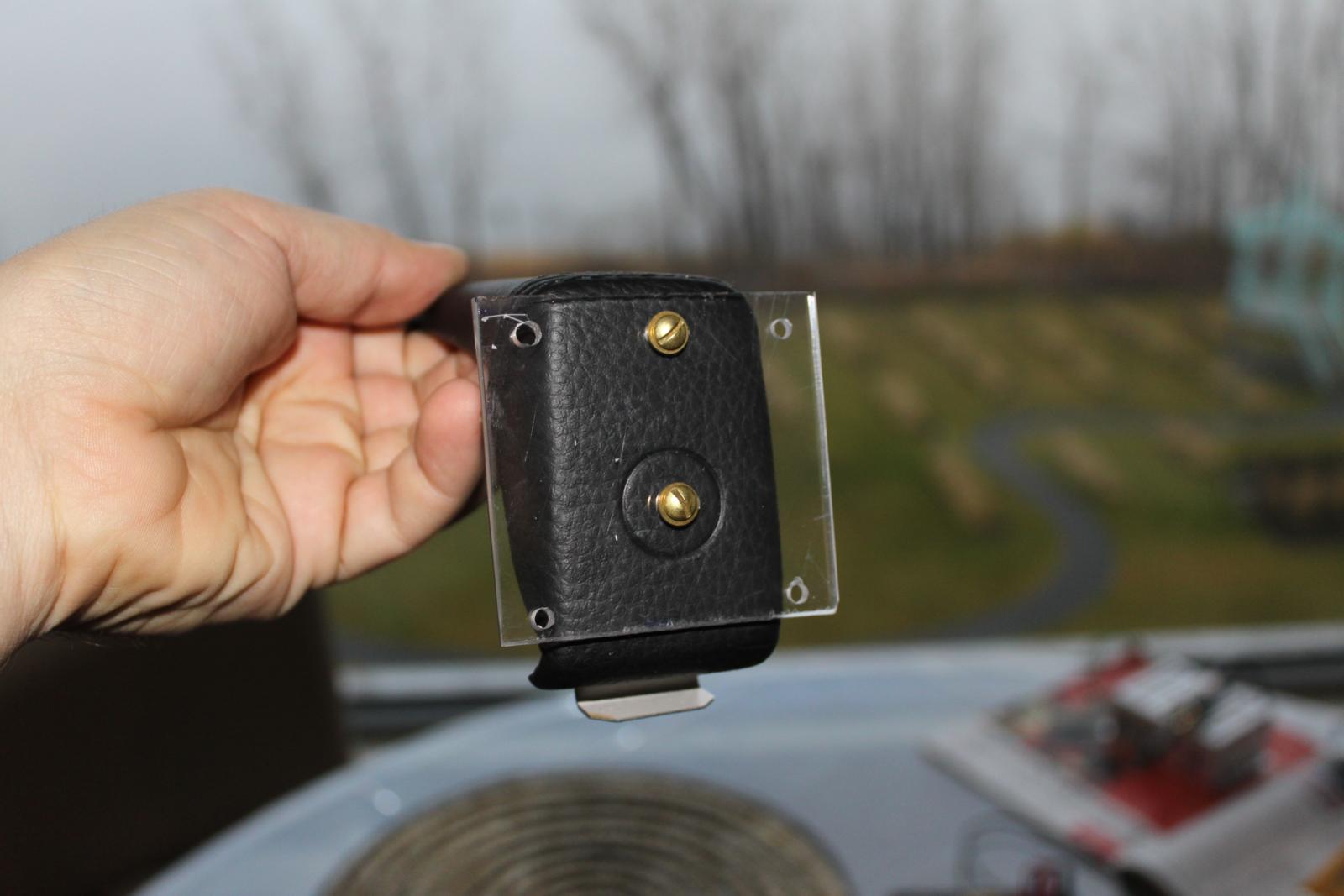 That's a Plexiglass plate (yes, I think I have a Plexiglass fetish (cf. my story about my first-generation Subaru case)) screwed onto the Cuda mount, and screwed onto the monitor from the other side. My holes didn't quite line up, but nothing a bigger drill bit wouldn't fix. Awesome.
So now it was time to go back to the car, hook up the audio and get the whole thing in motion. NUH-UH. YOU WISH. I swear to God, running this audio cable was the hardest thing in the *****ing universe. Nothing, and I repeat, NOTHING so far made me sweat, swear and break my fingers so much. Observe the battlefield: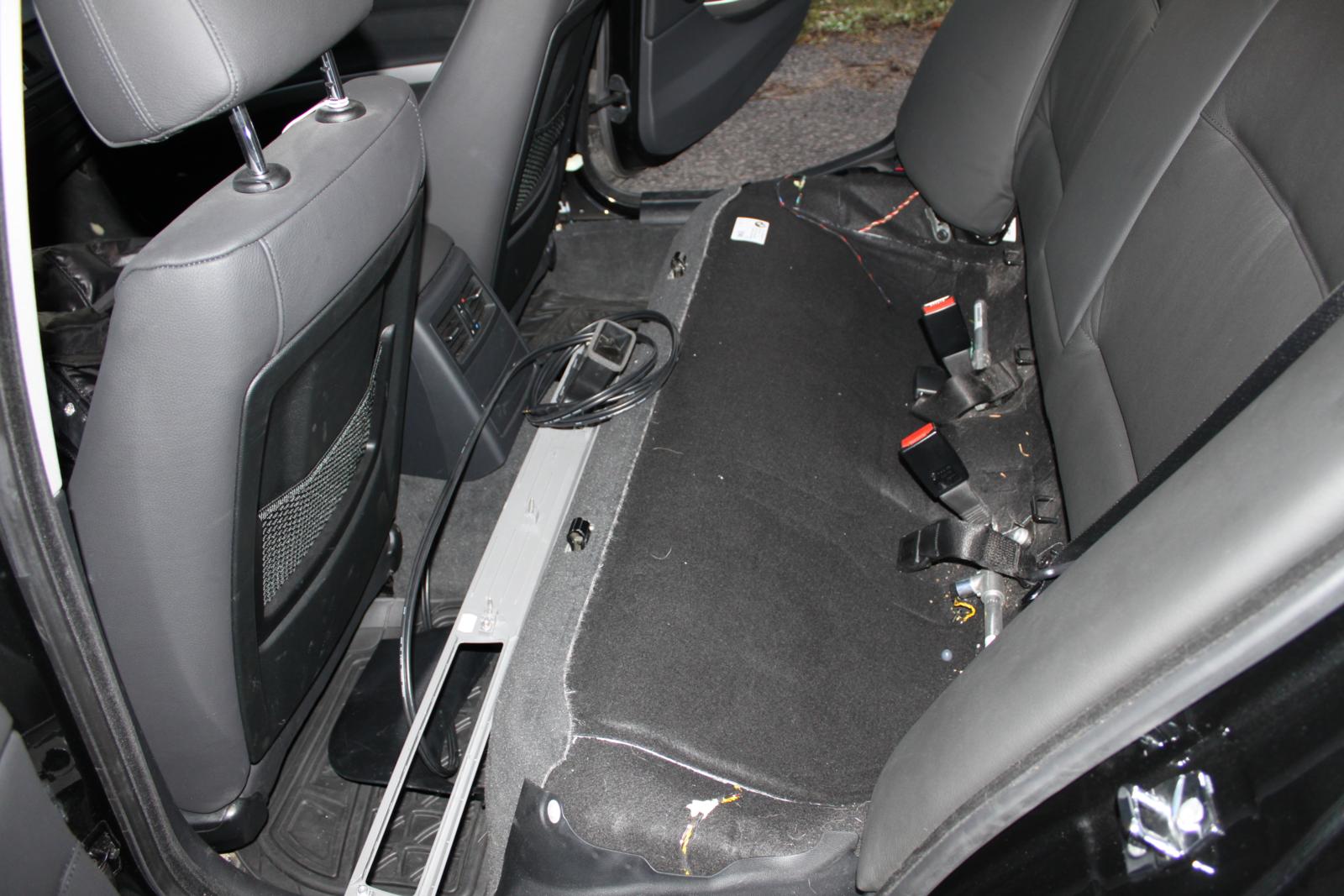 The wire is supposed to go from the rear of that centre console in the centre of the picture, underneath the carpet, out from under the seat, across and into the trunk. Yes, except the stupid carpet, in accordance with BMW building standards, is like 3 feet thick. Maybe slightly less but certainly not much less. And it's FLUSH against the floor. Sure, if I removed all the seats, I'm sure it would be removable (with a crowbar), but I didn't want to do that, so I tried fishing underneath it. An hour later and almost me giving up, I managed to do it. Other side came out from the center armrest, going into the AUX IN of the car: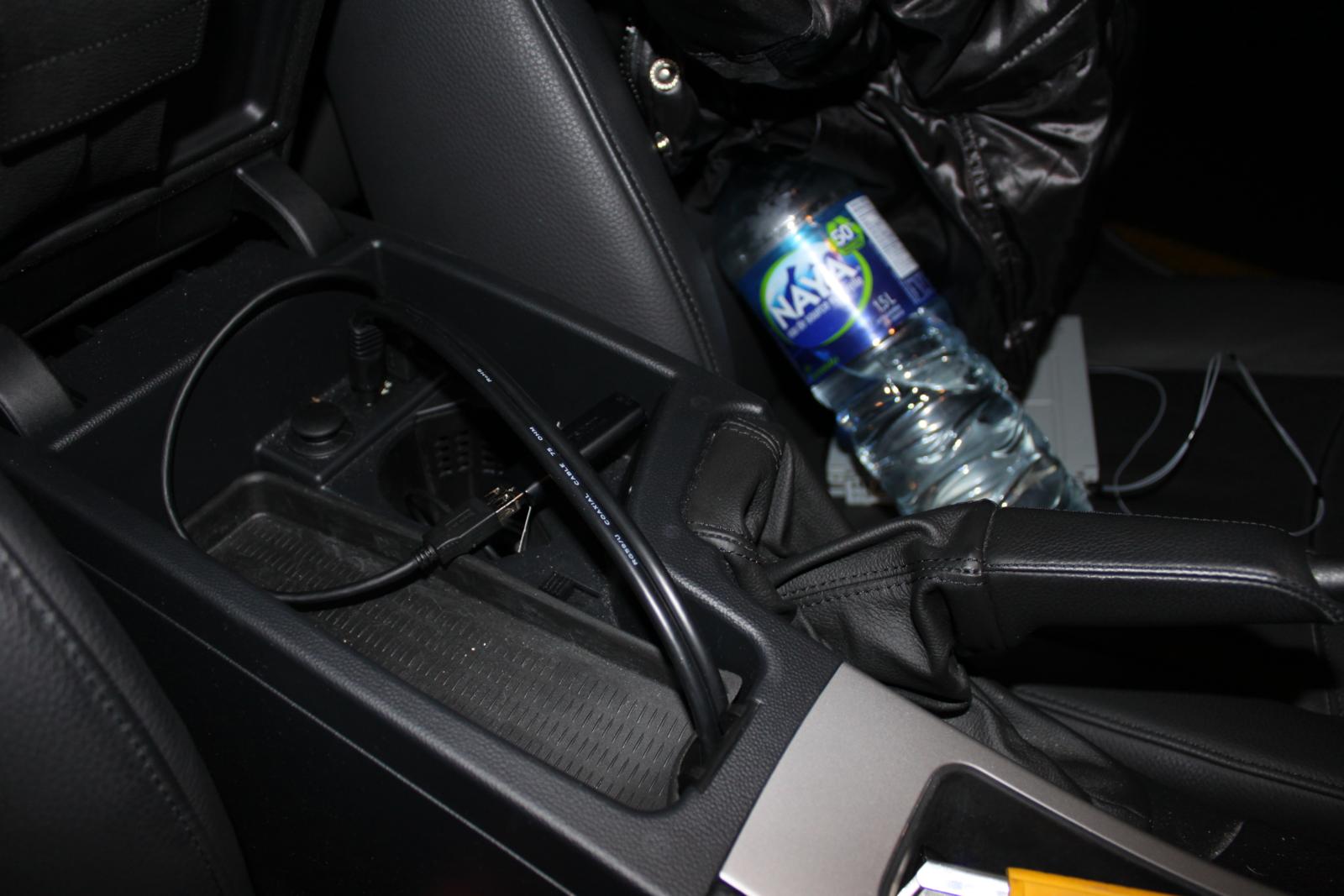 The evil cable: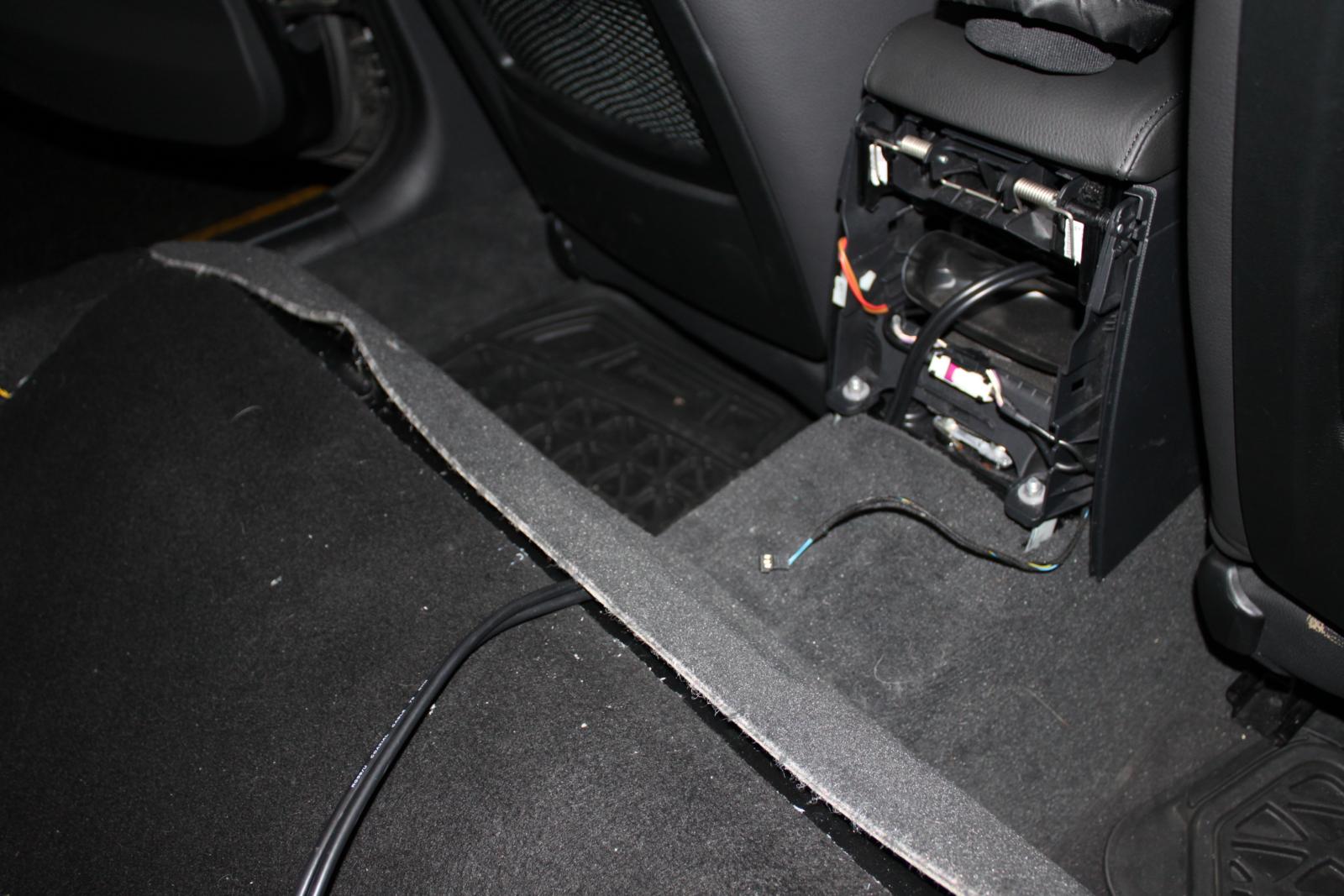 Job done: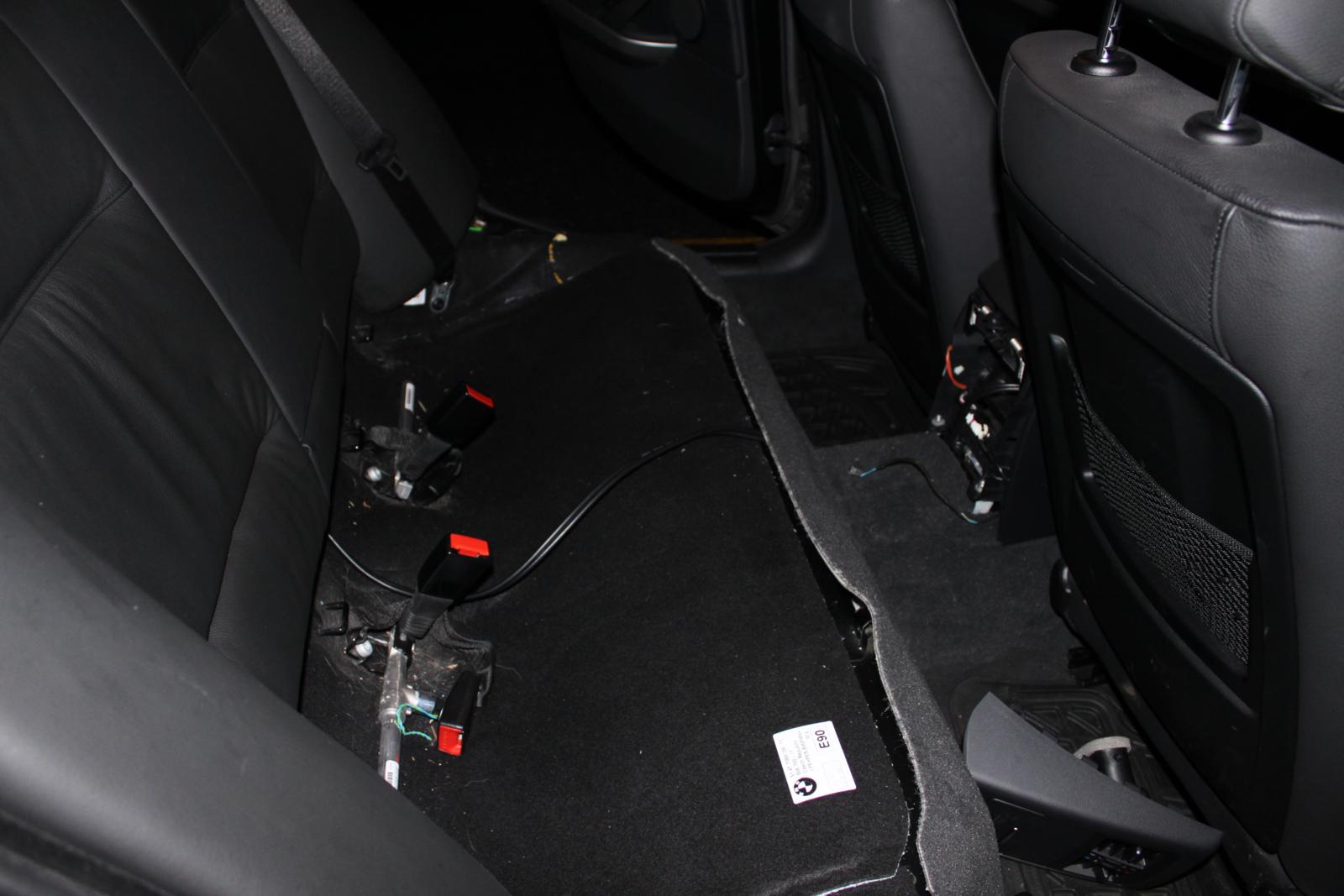 And so, it was done. Final look: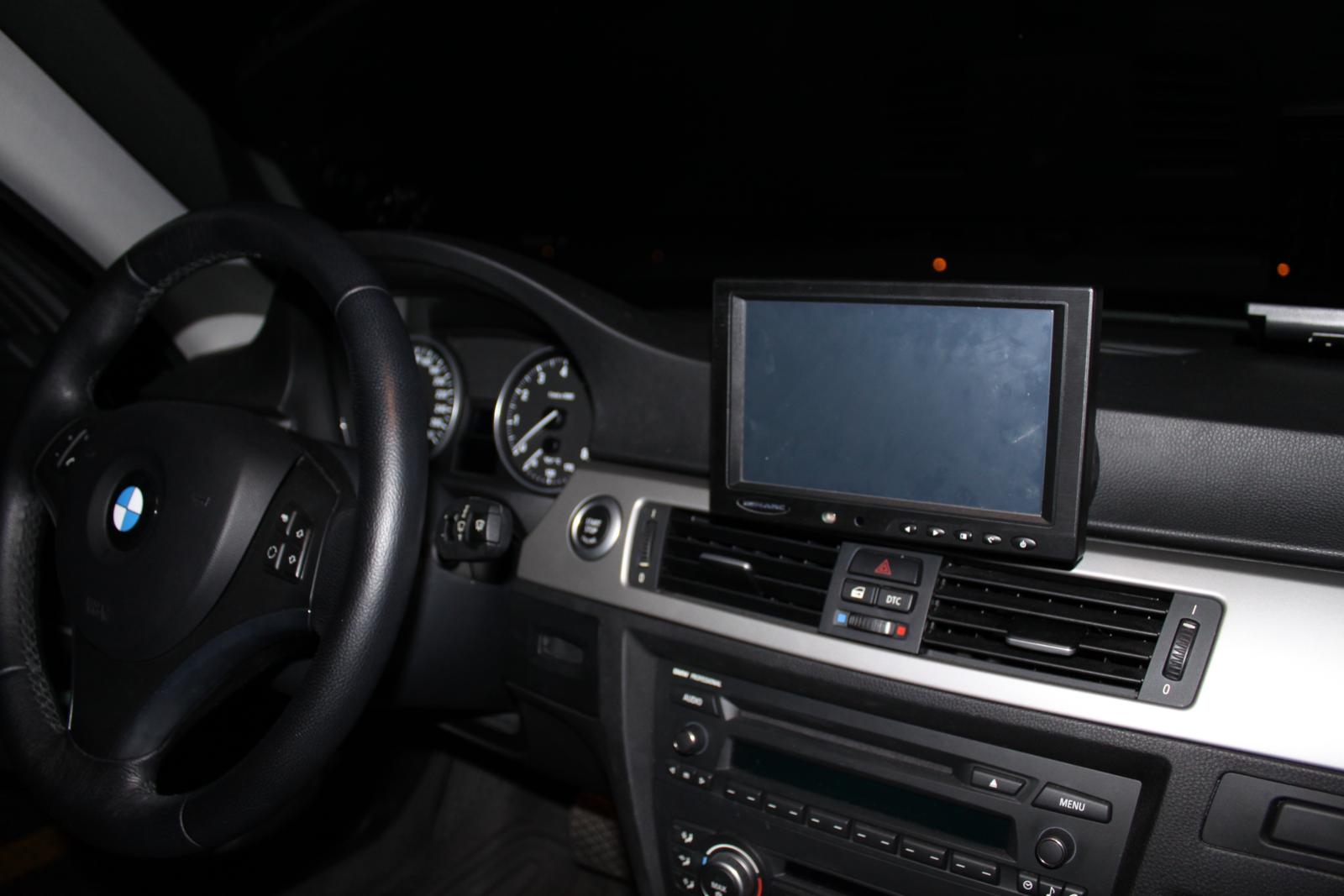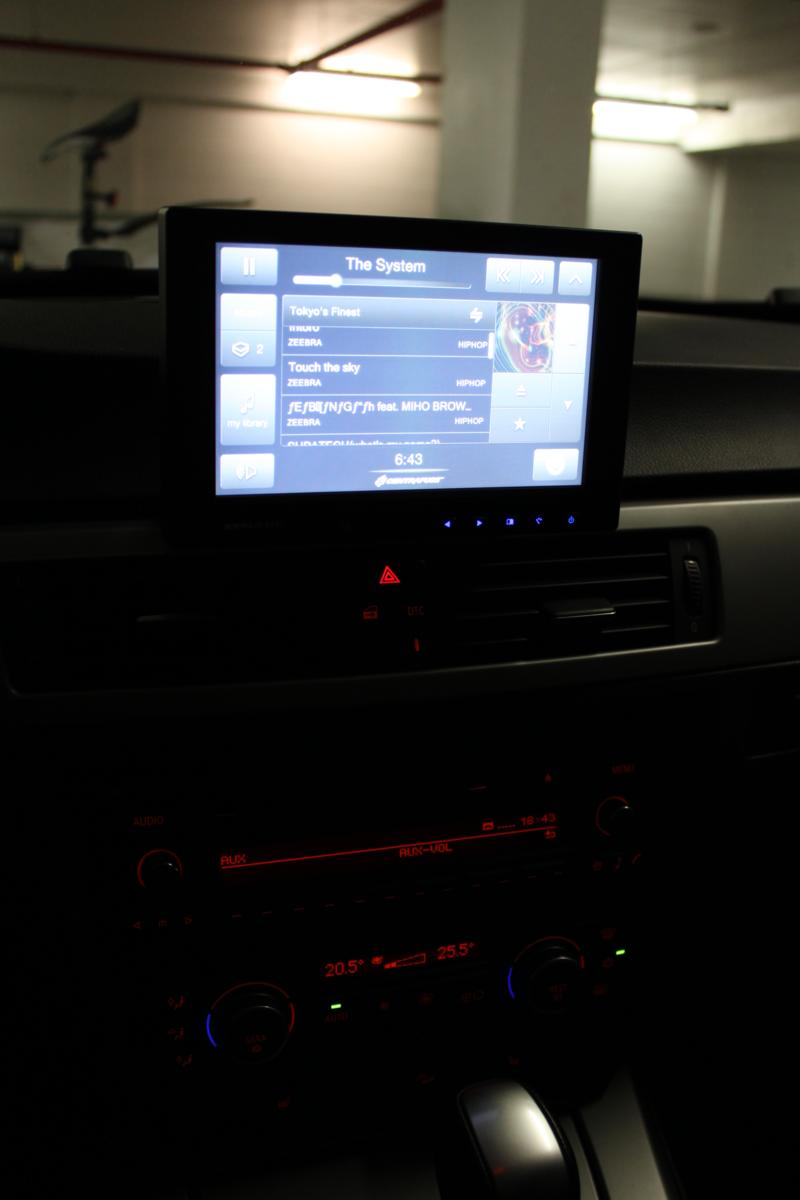 Thus ends phase 1. I still have the GPS, maybe OBDII and other wiring to hook up... but at this point, it should all be clear sailing.
We'll see what Centrafuse 3.0 is like... thanks for reading even part of this hugeass rant, and much respect. =)