2007 Mazda 3
This is the result of almost a year of collecting parts, and absorbing knowledge from the great people on this forums. I have condensed the final build into this one post to make room for the rebuild. Which I have [I]mostly[I] finalized, and am just waiting on parts to upgrade the experience.
More importantly, there has been a major shift in direction in software choice for many reasons. I understand more about it and have started helping the openMobile project. The design philosophy behind it trumps road runner and its open source. Installing the software is effortless and all of the difficult tasks are handled by the development team, not the end user. If you haven't seen it, try it out. Don't be superficial, the program hasn't reached a full version, and is under test skins. There are previews of the new skin our thread if your only front end requirement is "pretty" (lets be honest, that is the majority of this site's users).
On that note, here is the first build and the rebuild will follow shortly.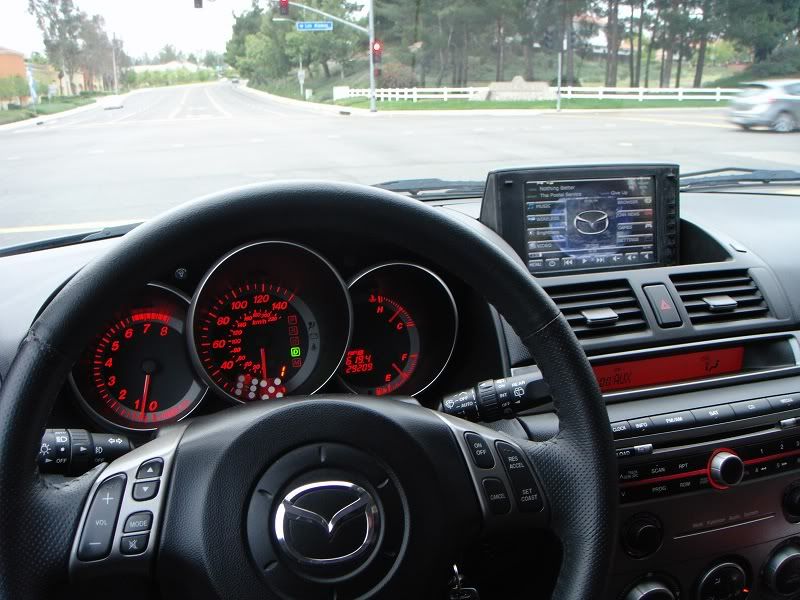 A couple of thanks for those who made this install more manageable for me.
guino
for pushing car front ends.
W3bMa4t3r
for very easy to follow schematic for an auto power on module.
And of course mp3car.com
[FREE!!] Dell d400
40 GB hardrive
1.3ghz intel pentium mobile
512 MB RAM
RideRunner FE
DigitalFX 4.0 skin

7" Lilliput 701

Two Diamond Audio d3 10"s
Stock Bose tweeter and door speakers
I'll keep it short, pictures show more..
This is a "dead" laptop I got from my grandma. I wiped the hard drive and installed XP she lived again.
I soldered a wire, that runs to a 1/8th headphone female connector. This will be used to connect the auto start, and be able to disconnect.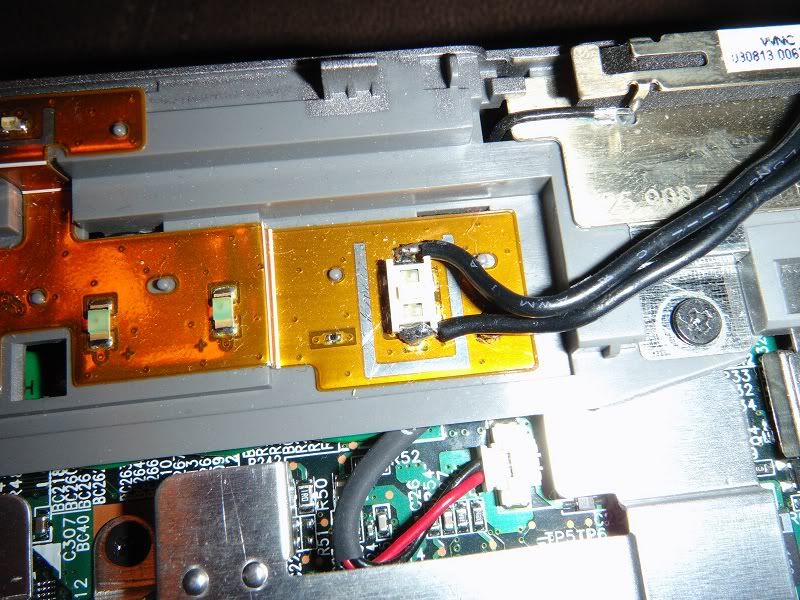 The entire project waited for the extra $$ for this beauty.Quick test..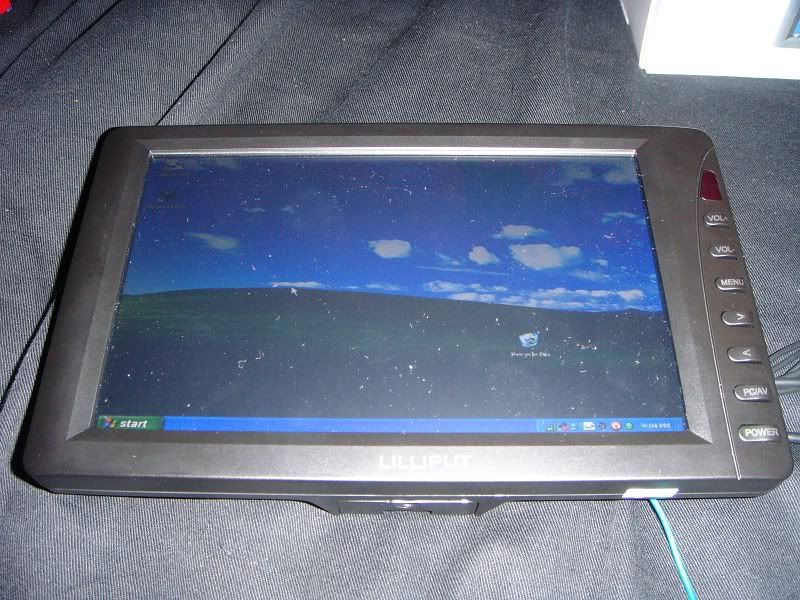 and then deconstruction.. before mp3car sold them this way...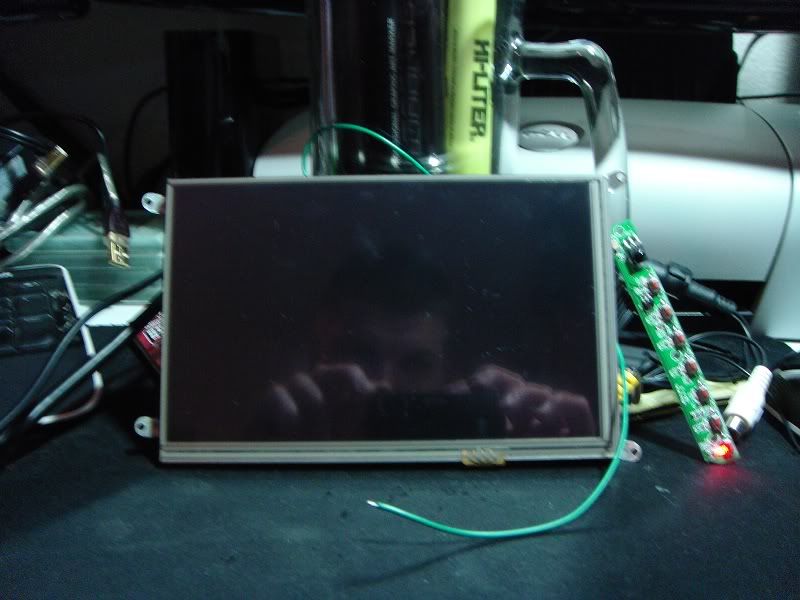 Here is where she's going..
The original screen came stock with DVD navigation. Within a year my car was broken into and hasn't worked since. Never figured out what was wrong and the dealership wanted to charge some insane amount just to look.
The old screen pulled out nicely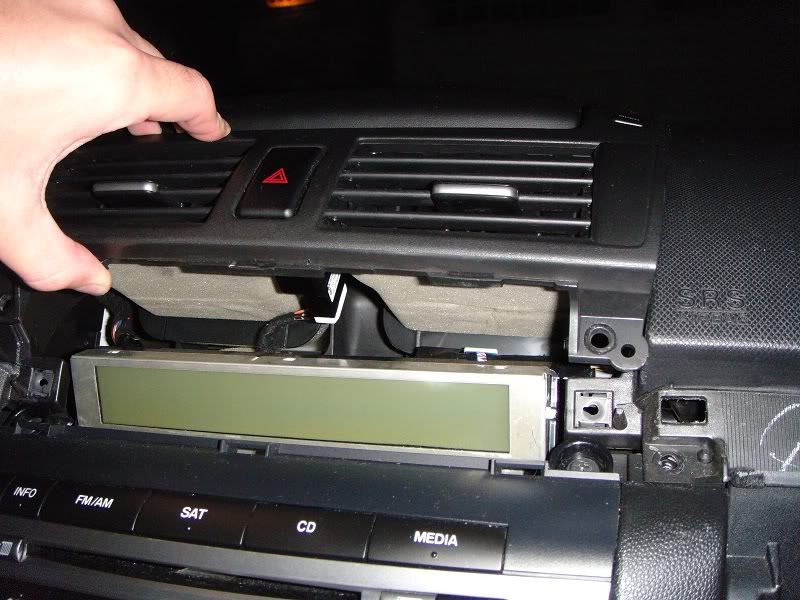 I removed the old screen and cut out a section to add the screen controls.
I also forgot to take pictures of that process...
I used hot glue for a temporary fix and so i could use bondo outside in the sunlight.... but it works for a couple days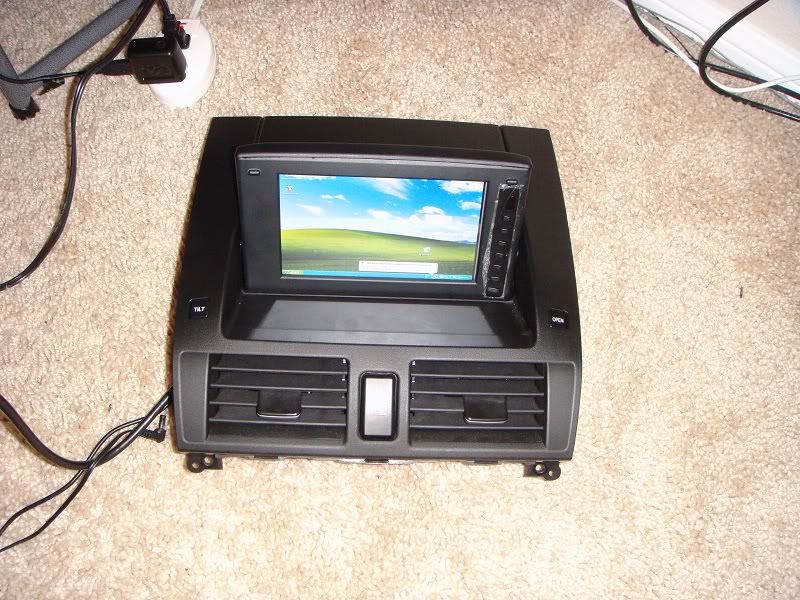 The couple days later I did mount and bondo. I'm holding the screen in place with some epoxy, right angles, and screwed into the plastic so it's removable.
It will come back out in a week or two, get a good sand, and some paint [I HOPE]
but its not too ugly for now.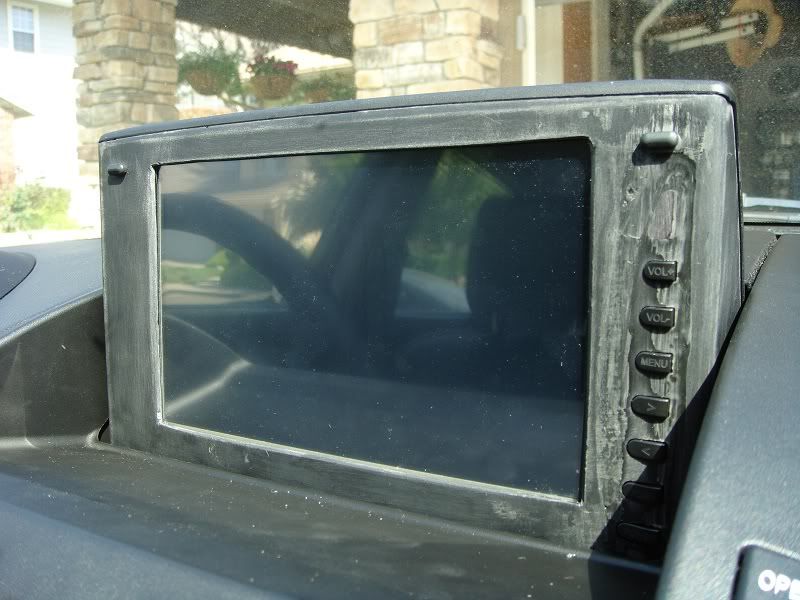 Cleaned up..
Sanded and painted the housing. No more terrible looking bezel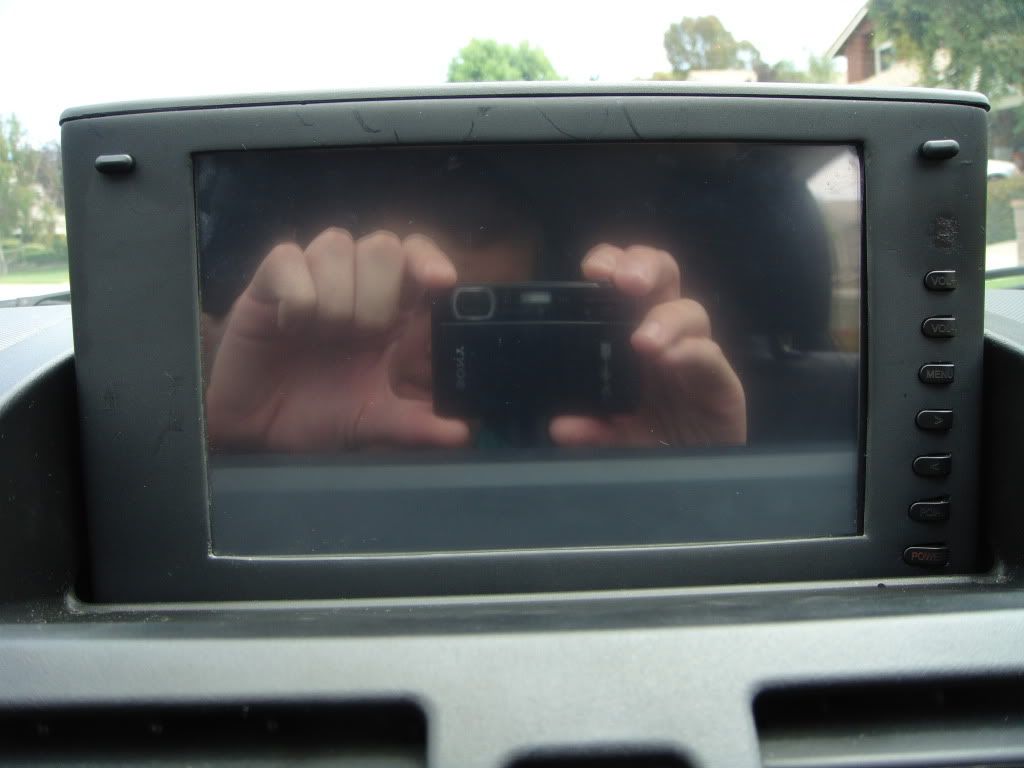 Until then I put it under the passenger seat and made some loops with zip ties.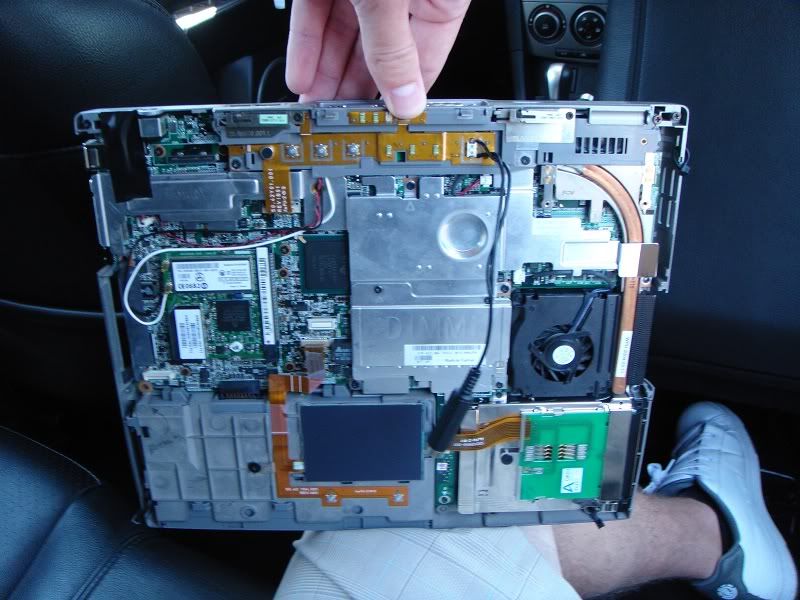 setting it in...
I must admit, it's not pretty [okay, its awful). But it worked..
Wired it to the switched +12v and started with the car.. The entire unit fit easily next to the shifter. Pushed back and dissapeared
And threw in a rocker to keep the computer off while the car is on..
The sub woofer I did about six months before. I used a wiring kit that made it pretty easy.
Integrated the amp into the cargo tray, also switched amp wiring down the passenger side, and signal down driver.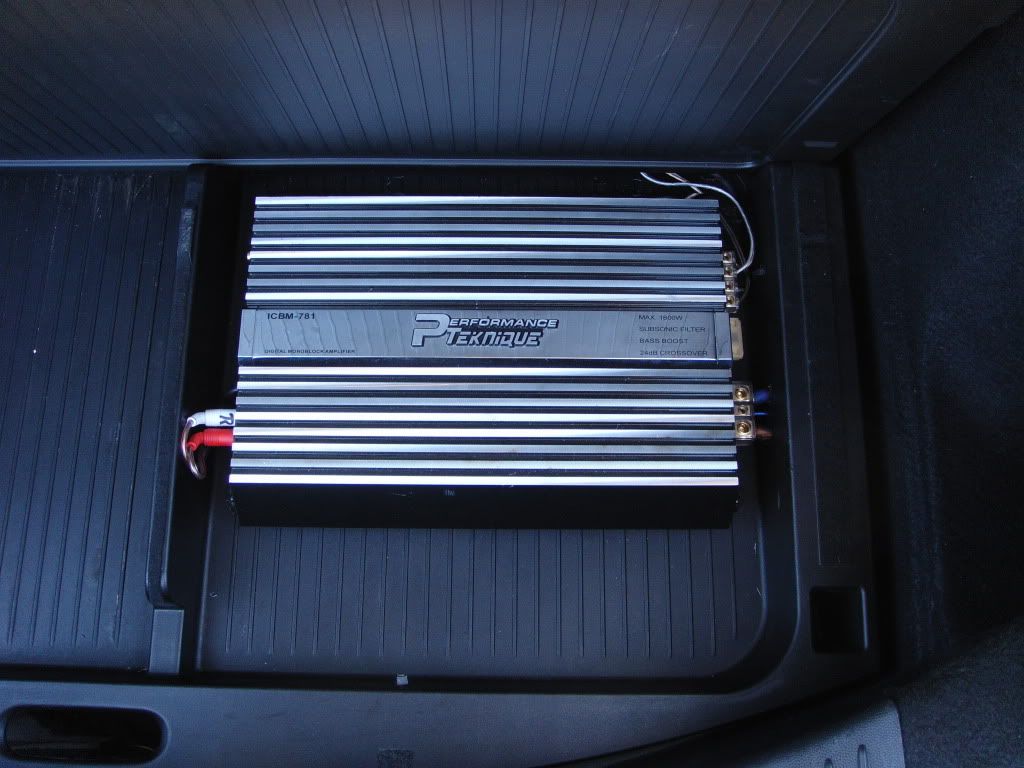 And a rocker for the amp
Subs in the hatch.. I made better use of my too small box, plus I like seeing the size of the magnets
All finished. Pretty happy with my first go..