06/01/12 - Dual Screen upgrade on pg.4
This is my CarPC project - I will be installing it in my 2010 Toyota Corolla S. I have quite a few pictures of the build and I finally received the last of the parts that I needed to complete it. I will be installing it this weekend hopefully. I have just about 2 weeks into this project, I lost count of the hours and $$$ that it took to design and build it. Lots of custom fabrication work on my end. Have a look at my progress so far
The barebones of the build consists of a ASUS F1A75-1 Deluxe Motherboard, AMD A8 3870 APU, and 8GB of DDR3 1600 RAM.
Bundled with the motherboard was this rather convenient wireless remote/keyboard that seems to be perfect for the CarPC
This is the back of it
The in-dash monitor is a modified Lilliput 669GL-70NP/C/T with the Resistive touch replaced with a Multi-Touch Capacitive panel - it's VERY nice!
Monitor assembled in the Double-DIN mounting bracket
I have a 4-ch JBL amp and a Monoblock Kenwood amp to power my speakers - I will be using this Clarion EQ/Line Driver to up the sound cards output to 7Vrms to reduce any noise and lower the gain on the amps
I didn't want to use any pre-made cases, and most mini-itx cases wouldn't work with what I wanted anyhow. I decided to install everything in my Glovebox (my car has 2 compartments so I didn't mind sacrificing the lower one). I needed to level out the base of it and make a durable platform to start with. I used 22ga steel as the mounting plate for the components - contoured to the inside of the Glovebox.
I needed to make my own motherboard tray, so I used 22ga aluminum for that.
Pattern is stenciled out, stand-offs are in place, and it's ready to be cut out.
This was just a test fit to make sure everything was in check
I will be using a 250W (300W Peak) Intelligent Automotive ATX PSU, a Sony Blu-Ray Slim Slot-Load Optical drive, and a Samsung 128GB SATA3 SSD (over 500MB/s R/W)
Standard Metra mounting bracket I modified to fit the Blu-ray drive under the monitor - just a test fit
I will be using 2 60mm High RPM fans (1-in/1-out) to keep everything happy and cool - stencils I used for the cutouts
The APU is an AMD 3870 3GHz Quad-Core (I OC'd it to 3.3GHz)
Random install picture
I cleaned off the factory Thermal Paste and used Arctic Silver Thermal Paste
It's a light coating even though it doesn't look like it
8GB of DDR3 1600 Corsair RAM
Motherboard assembled
The ASUS F1A75-I Deluxe motherboard is VERY feature rich - SATA3, USB 3.0, UEFI BIOS, WiFi, Bluetooth, HDMI, list goes on. *On a side note, even though the onboard bluetooth supports everything for a mobile phone it is not recognized by Centrafuse unfortunately
This is the Metra kit before my Carbon Fiber overlay
This is it after, but pre-clearcoat
Another test fit before I cleared it to make sure the added thickness didn't affect anything
Clear coated and fully assembled!
This was the first power-up - Installing UEFI Windows 7 x64
Overview picture of the system
Windows WEI Scores - The Samsung SSD is maxed out at 7.9 - From cold boot to fully ready in less than 10sec - no joke!
Final Product - WiFi antennas down
Final Product - WiFi antennas up. I know it's not the most pleasing eye-candy to look at, but it's fast, it works, and hardly anyone is going to see it in the Glovebox anyhow.
Rest of the parts came today. Sirf III GPS antenna with modified Baud Rate, Directed AM/FM/HD tuner with USB interface kit, Joycon EXR Steering Wheel Interface, Phoenix Audio MT107A Echo-Canceling Microphone, and Centrafuse 4.0 with Navigation.
I will add more pictures of the actual installation this weekend!
UPDATE!! - Install Completed
Ok, after about 7-8hrs of installation time it's finally installed. I ran into quite a few issues with fitment (mainly the Glovebox due to the external fans) - but it wasn't terrible. I ran 8ga wire to the Power Supply since it can draw upwards of 25A at peak power (I know 8ga is tad overkill for 25A but I had it laying around). It's fast, runs great, and one of a kind
8ga power wire (this is on top of the 4ga I have running to my amps - tight fit)
Glovebox installed
I noticed this space here was easily accessible and I was able to fit the mics perfectly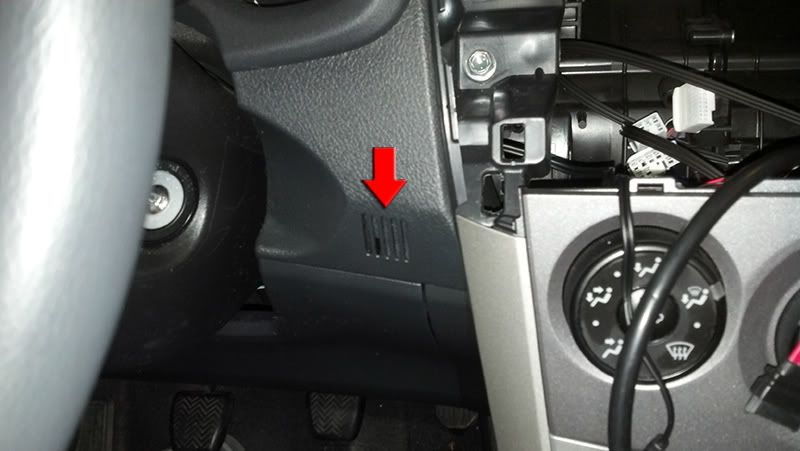 The monitor and blu-ray bracket installed
Re-installing Windows after I accidently crashed the damn thing
Everything buttoned up and me checking my e-mail