My goals:
1. Have a few completely unique ideas to my own setup
2. Audio quality
3. Audio quality
4. Construct a NON TOUCHSCREEN setup. I've had several touchscreen headunits and always end up using the buttons to navigate more often.
5. Use my setup as a computer made for a car and not a computer made to act like a aftermarket dvd headunit (ie. no centrafuge, riderunner, or any frontend software made to dumb down my COMPUTER to a high end car headunit.)
So I always hate having to scroll to page 10 to find the completed pic. So i'll lead with it here on my worklog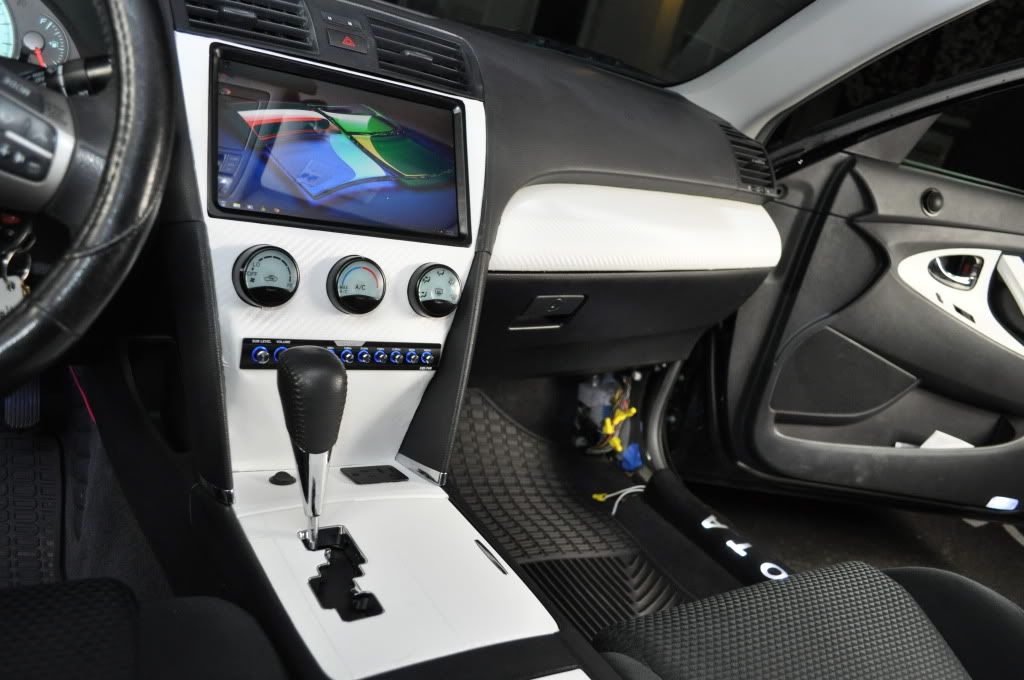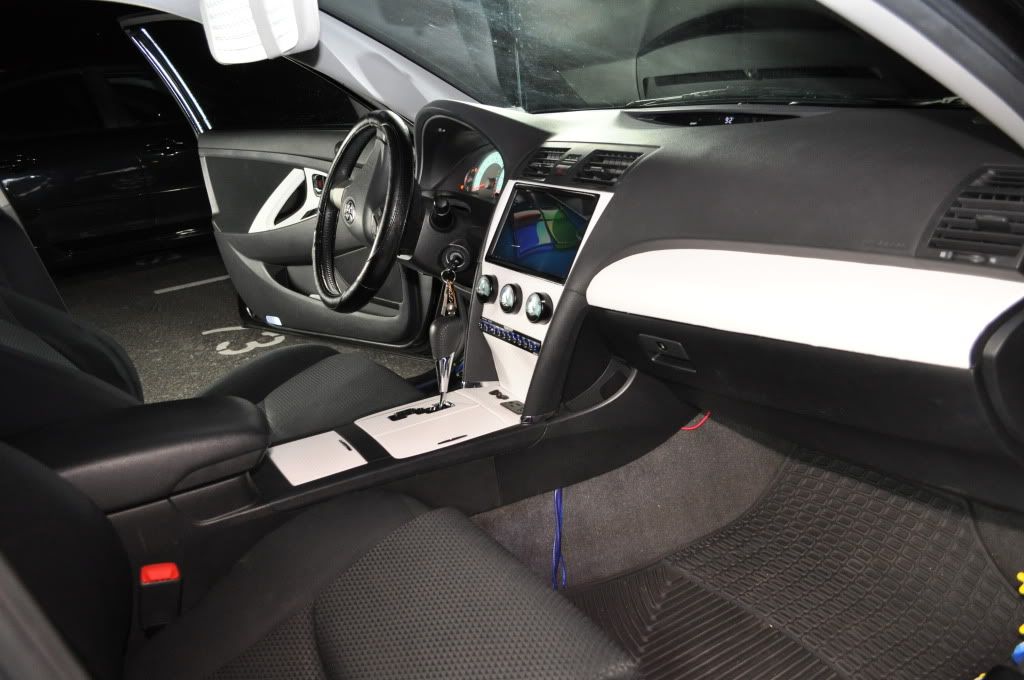 Its late
and It took longer than i thought to figure out uploading pics lol. I'll add component list, process, and my words of wisdom tomorrow!
Operating System:
Motherboard: F1A75-I DELUXE asus ~ 150$
Hardrive: Force Series 3 CSSD-F60GB3A-BK 2.5" 60GB SATA III Internal Solid State Drive (SSD) ~ 90
RAM: G.SKILL Sniper Series 8GB(2 x 4GB) 240-Pin DDR3 SDRAM DDR3 1866 ~ 60$
CPU: AMD | A8-3870K 3.0G 4M FM1 R ~ 125$
PSU: M4-ATX 250W Intelligent DC-DC PSU ~ 78$
Monitor: LP101WH1-TLA3 ~ 75$
Controller: ~ 75$ (I contacted a handful of chinese manufacturers, in all emailed and called probably 10 different people looking for a controller to drive this AMAZING 10.1 in lg screen that is meant to replace some asus netbook. I had many a nay sayer on this forum point me back to a lillicrap "we're been in this scene for 10 yrs, there is a reason people don't try new things" lol, and i finally found a controller that works great! bought from lcdparts.net, but WOULD NOT RECCOMEND them, morocity is an active member of this forum and has the same equipement i just found out about him too late.
Equalizer: Clarion EQS746 ~ 58$
Best purchase i've ever made for audio. I have it going to 2 - 12" infinity subs seperate fiberglass enclosures i made. 2 pairs of infinity component speakers, and 4 rockford fosgate rear 6x9. This clarion is phenominal.
So here is what a stock camry dash looks like, this isn't mine just a google search pic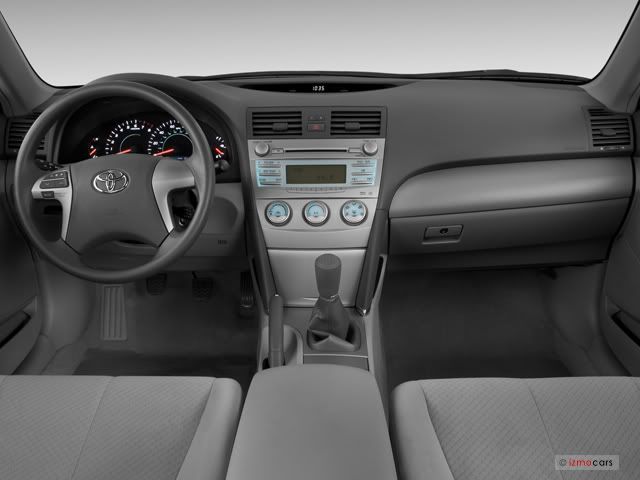 Kinda grandpa-esk i know. So it ALLL began with taking those 3 pieces of the dash out. I then used JBweld (used A LOT of this amazing stuff, easily best binding material I've EVER used. I believe its a steel composite and when it hardens after 7 hrs, you its harder and stronger than ANYTHING it will be gluing. But i glued all the pieces together into one big piece. Then went at it with the bondo, filled in all cracks and just made a smooth level surface all even. I Had to cut new holes for the climate controls (worst part of the whole project), because they wouldn't fit the screen in their origional position.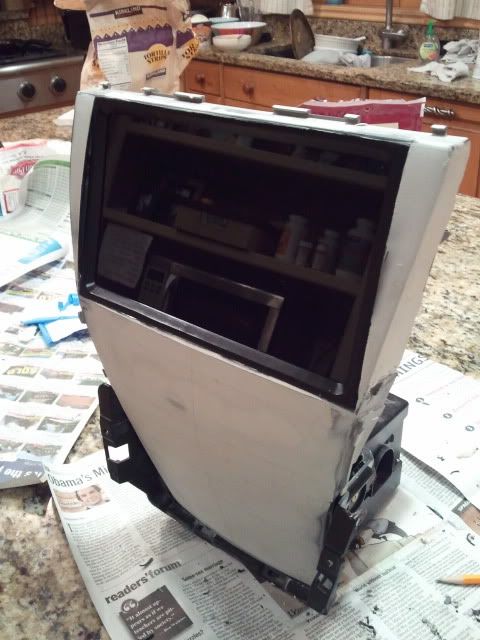 It also helped that this was partially for my degree, and i ended up solidwork modeling all my plans before hand.
There was like a millimeter of clearance on bottom edges, but it was enough
Once i got the screen and clarion equalizer fitted well. I began assembly of my computer. Componenst listed above. runs at 3.1 GHZ. I would highly reccomend this motherboard Cpu setup to anyone. I eventually plan on installing some play while i wait games maybe. But with the 8gb RAM, solid state hard drive, and proccessor everything is instand, its phenominal. And my pc boots up from off to desktop in like 10-15 seconds, before i get out of the driveway.
"picture here"
I installed the whole setup PSU PC on an aluminum sheet custom drafted to fit perfectly in my glove box, trade mark pending
And i went to my university and cut it out with the waterjet. I grounded the PSU and PC to the plate and grounded the plate to car chassis.
I installed everything and i had HORENDOUS induction noise in my audio. And as stated above my main objective was to have clear audio t match and drive my system. SOOO i set about hunting the grounding loop problem. The aluminum sheet was actually my initial attempt at a fix, which helped a lot. Then i tried grounding my rca's coming from the pc to equalizer. Then i tried a common ground. The rca grounding helped a lot. But in the end it magically resolved itself, the gods of car audio though i had enough... it was wierd.
my tips for chasing a ground loop:
1. Ensure you have common ground with PSU and PC, use copper or aluminum as they are better conductors than steel
2. Ground RCA
3. Use high quality RCA (this may have actually been the final fix i can't tell for sure)
4. Have ONE common ground for amps and pc setup if possible. For me it wasn't. If i were to go back i probably would have planned a trunk install.. IDK maybe not it work not
I installed a DC-AC inverter in my dash and here i am mounting the plug plate. Its a crying shame this doesn't come standard in cars yet... so so sad
Removed all GRAY panneling in car and covered it with 3m dinoc white carbon fiber. Great stuff. Ran me 50 bucks for 2x4 foot sheet. Was plenty to do everyting. sturdy. and looks SOOO much better than paint. vinyl wrap in general is the was to go for sure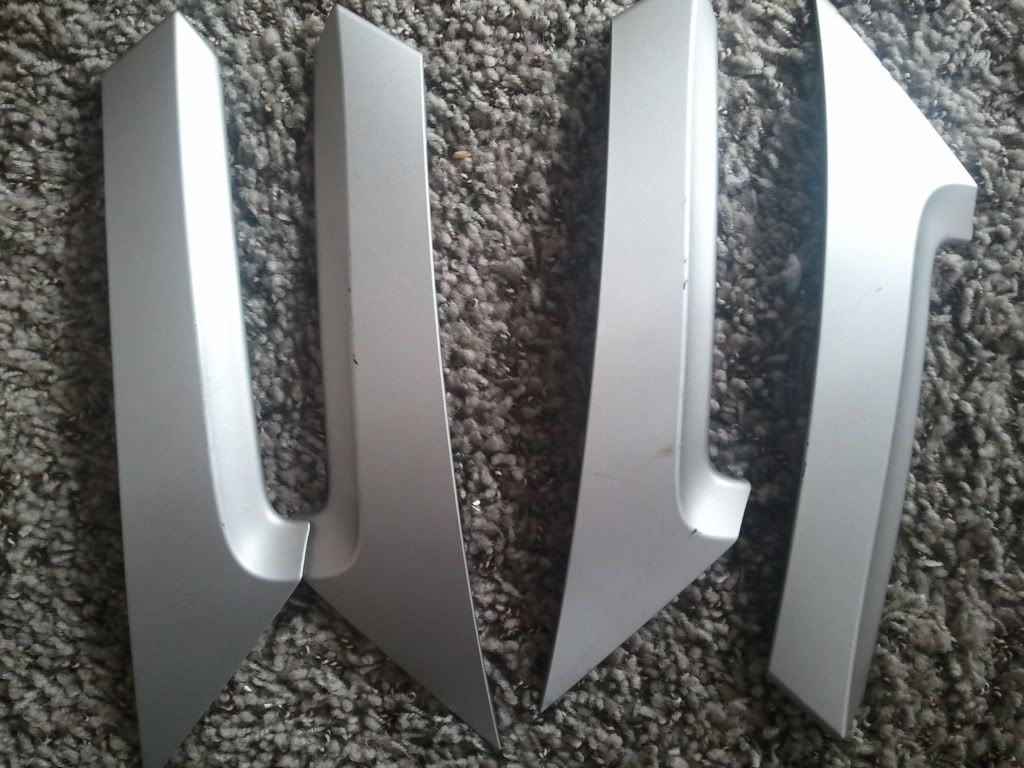 And Future Plans:
my piece de resistance is going to be this lil beauty. She will pan rotate and extrude from the dask the monitor according to my needs and desires. Its driven by a few servos, turntable, and an arduino board.