UPDATES
March 30, 2013: Pictures added at the end of this post.
June 30, 2013: Added pictures of old carPC in 4Runner showing difficulty seeing screen in sunlight. Added pictures of Android home screen.
This is my finished work log for a 2008 Mercedes ML550.
My first carPC was, and still is, in a 2000 Toyota 4Runner. It wouldn't have been possible without Mp3Car. The most helpful threads for this first install were the detailed ones. Thus, I will provide as much detail as possible for this new install.
Current carPC
My current carPC is a VIA MII10000 (motherboard) with a Xenarc 700 TSV (touch screen), M2-ATX (power supply), 1GB of RAM, running Windows XP SP3 Lite. The front end is the defunct Meedio with Meedio on Wheels as the skin. I installed this in a 2000 Toyota 4Runner in ~2006. I was lucky because this install required no fabrication (a skill I lack). The Xenarc was a nice fit after removing the double din radio. The only physical modification required was sanding some plastic on the back of the center dash. This permitted an almost-flush fit between the touch screen and dash. Adding some styrofoam made it flush and ensured the screen would not move during a rough drive. Afterwards, I ran wires to the MII10000 located under the driver seat (wires hidden under carpet). And it was just as easy to run audio cables to the amplifier in my trunk. The only part of this install not done by me was Circuit City. I bought an amplifier from them and they installed it along with a distribution block. Running power from this block to the M2-ATX was not too difficult. It required some additional wires, soldering (first time I ever soldered), crimping, and heat shrink. Everything is controlled by the touch screen with no switches, knobs, or buttons. The process took me an entire summer to physically install the parts. But it actually took me an entire year from start to finish. I started planning the install in the Fall of 2005. I first read books on carPC's, researched the 4Runner, read these forums like crazy, and slowly ordered parts. By the end of Summer 2006, my carPC was fully functional. If anyone has a third generation 4Runner, then installing a carPC is not difficult.
This was a simple install. The carPC is not powerful by any means, but enough to play music and video which were my only two goals at the time. I did not consider functionality, ease of use by passengers, sunlight readability, or even the front end. Some reasons for this were a limited budget, limitations of technology at the time, and, most importantly, ignorance. I was brand new to this and did not know what to expect. You can read the forums for hours, but you cannot truly appreciate it until you do it yourself. After using my carPC for years, two issues became apparent. First, passengers who are not tech-savvy (such as my Mom) had a hard time using it. For instance, if my Mom or Dad drove my car, they had no idea how to stop/pause the music or adjust the volume. That surprised me since the carPC booted into the front end which had all the controls at the bottom of the screen (at all times). Eventually they figured it out, but it was not intuitive and I was worried they would crash while trying to operate it. Furthermore, the Xenarc screen is unusable in direct light due to glare. This makes usability difficult for everyone, including myself. Increasing the brightness on the monitor did not help because of a bug in the touch screen software that did not save the screen settings (i.e., reverting back to the default brightness level upon reboot). And even with the brightness turned up, it was still difficult to see. This is, by far, is one of the biggest gripes I've had. Secondly, with the widespread use of touch screen phones and tablets, passengers expected the same experience. That experience being swiping and the near-instant response. People would swipe the screen and be confused when nothing happened. Initially, these two issues were not a problem to me. I was happy with the setup. I was completely fine waiting 37 seconds for windows to load from hibernation, the 1-2 second lag for the next song to play when I pressed next track, and to lower my head slightly to read the touch screen in direct light. However, my standards for a carPC started changing when I bought a touch screen phone. Touching, swiping, and gesturing were intuitive and easy when navigating the device. It was the new standard for interacting with technology. I realized the user experience is just as important as its function. I better understood the frustrations of my passengers, especially when this type of interaction was becoming the norm. The way we interact with technology was changing and I was no longer satisfied with my carPC.

I consider my first carPC a success. I learned a lot about computers, running cables, troubleshooting the M2-ATX, importance of grounding wires, importance of
quality
components, and many other aspects I do not need to describe (nor could I remember at this point). But I also learned what makes a good carPC, what makes a good front end, and what makes an enjoyable experience. I now have a new set of expectations and goals going into my next install.
The New Car
The 2008 Mercedes ML550 is my newest car. It has a lot of technology. Two small LCD screens are located between the tachometer and speedometer. It displays information such as the street you're on, compass, current radio station, warning messages, temperature, etc. Navigating these screens is done by steering wheel buttons. The head unit has AM/FM/Satellite Radio, a backup camera, navigation system, CD player, audio routing from two headrest DVD units in the back, and AUX input with an iPod dock cable. The actual head unit is controlled by physical buttons on the sides of the screen so it's not a touch screen. I imagine these features are enough to satisfy many people, but coming from a carPC skews your expectations of what a "system" really means. Obviously, I hated the stock system and was ripping it out in my mind.
I really enjoy driving this car. It's a nice, smooth, powerful car and the integration of technology is very tight. Unfortunately, taking out the stock system means I lose many of these features I enjoy. There's always the possibility of replicating these functions in a new carPC, but from my understanding, that would be very difficult and costly. Rather than replace my system with a carPC (as I did with my first install), this new install must be integrated. It must "look" stock and still have a "premium" feel that matches everything about this car.
Goals for Next carPC (Aug 2011)
I first started with my goals/expectations/objectives. This step is important because it gave me direction and allowed me to foresee future issues. My goals were:
1) Must be a touch screen
2) Screen is usable in direct light
3) Fast
4) Short boot time
5) Interface is easy to use
6) Plays audio and video without bogging down the system
7) GPS, WiFi, Bluetooth
I thought these goals were realistic and they address previous issues with my first carPC. While each is important to me, the most important is the user experience. While I didn't make this a specific goal, I think the ones listed above amount to a great user experience. After making this list, I thought about my new car to ensure they were still realistic. So far, they are, but two additional goals were made:
8) Install must look stock
9) Steering wheel buttons work with carPC
10) Project will allow me to return to stock (in case I sell the car)
One goal that I removed was "Stream content to all passengers in the car." The carPC is great for the driver and passenger, but not for rear seat passengers. I thought about connecting my rear seat entertainment system to the carPC and mirroring the screen. Another option would be purchasing an iPod Touch for each passenger and streaming via WiFi. This basically gives each passenger their own personal screen. But this would require a WiFi network and purchasing iPods which is an unnecessary expense at this time. However, the thought of making all content available to all passengers is intriguing. The carPC will be the center experience, but allowing each passenger to enjoy their own content is an interesting idea. At this point, I have enough goals and can do without this. I may revisit this in the future.
My objectives are set and I have 10 of them. All 10 must be met to achieve a successful carPC.
Hardware - Determining the Main System (Oct 2011)
An important lesson I learned during my first install was that preparing is vital. I
read
first, researched the 4Runner, researched PC components, read these forums for hours, and then started the install. Did I want to do it this way? Hell no. I wanted to buy the parts and do it ASAP. But that is not smart and would have created many more problems (in addition to the problems you inevitably encounter). The first step is to plan.
I dealt with the main system first. Will it be a mini-ITX? Micro-atx? Run Windows? AppleTV? Perhaps an android tablet? Maybe an iPad? The first system I actually looked at was the Cartronics Comand Pro for Mercedes Vehicles. This system seemed like the perfect fit. It's specifically designed to replace the stock Mercedes system while adding features like a picture viewer, SD card slot, video, etc. This appeared to be the perfect fit because it was Plug & Play. Unfortunately, this did not work out. After speaking with technical service, I found out the system runs an old version of Windows CE. Also, the system is slow and they (Cartronics) seldom make major changes to the OS. While it is a touch screen, there is significant lag between the finger press and action (just like my current carPC). This is unacceptable. I was disappointed because I thought this was the perfect solution and the install would have been simple. The Cartronics Comand Pro system was out. I did, however, find an interesting Remote Start that they sell (more on that later).
Another option by Cartronics is an A/V input module. This allows you to connect an iPod/iPhone/iPod Touch/PC and mirror the screen to the headunit. I did not like this because you would still interact with a small screen if you connect an Apple product. If you connected a PC, you would need a way to control the system because the stock Mercedes screen is not touch. This would require a knob or remote. Not to mention, the video quality is also poor. This option is out too.
My next option was a computer. A mini-itx seemed appealing because there are several USB ports, opportunity for expansion devices, is powerful, and allows me to upgrade in the future (CPU, RAM, etc). Tablets are another option. Tablets are an all-in-one system, easier to install, have less cables, superior screens, multi-touch, and require less power. I went back to my all important goal of the user experience. With keeping that main goal in mind, I chose a tablet. A tablet achieves all of my goals (1-7) and should be easier to install.
The first major decision has been made: The next system will be a tablet. But which one? There are plenty on the market. I researched the iPad 2 because I had direct access to it. I used my Moms' and was very impressed. The screen was bright, beautiful, and still usable in sunlight. The iOS system is fast and responsive. It really makes for a great carPC (carMac? carPad? carTab? carTablet?). Unfortunately, I ran into a significant issue: lack of ports. This is a big problem for two reasons:
I have a lot of music and video. The highest iPad 2 model has 64 GB of space with no options for expansion. Not enough by any means. I need a USB port to connect an external HD. A possible workaround would be a WiFi hard drive like the
GoFlex Satellite hard drive
. This HD has a built-in wireless access point that you access via WiFi. Using an iOS app developed for this wireless HD, you can browse the drive and play your media. This sounded like an attractive solution, but it's not right for me. When I use my carPC, I want a unified and streamlined interface. I do not want to open an app to play music stored on the iPad and then run a different app with a completely different interface to watch a movie. I'm looking for a media center/front end experience (i.e cover art, synopsis of the movie, IMDB rating, etc.). Furthermore, when the tablet is connected to the WiFi hard drive, you cannot access other WiFi hotspots for internet access. This is a huge problem. Another workaround is to stream movies from my home to the iPad or use Pandora/TuneIn Radio/apps to "expand" my library. Unfortunately, I do not have an unlimited data plan and will not get one because of cost.
I want the option of expansion. If a great USB device comes out then I want the option of integration. I may get a mobile hotspot if carrier prices are more reasonable. Again, the lack of ports does not provide me this flexibility.
This was the nail in the coffin for the iPad 2. I was disappointed because the iPad, to me, is the gold standard of tablets. The quality, speed, responsiveness, and OS provides a great user experience. The only option left is an Android tablet. My experience with them thus far has been poor. The hardware is less than powerful, the quality is below the iPads', and many tablets have soft keys (home, back, search, etc). The soft keys bother me because it's wasted space in a car. If you fabricate this into a dash, then you have this large section you need to expose just to have these keys accessible. This results in a clash of two different styles (stock car dash vs bezel of the tablet). This will not look stock at all. For these two reasons, I am very hesitant to use an Android Tablet.
Project Suspended (Nov 2011)
There are no Android Tablets that match my goals. I've been reading reports from Engadget about Google pushing manufacturers to build higher quality tablets, but nothing official has come to market. Apparently ASUS is working on a new line of premium tablets, but nothing for me to purchase yet.
Early reports about premium Android Tablets are becoming a reality because ASUS releases the Transformer Prime. This tablet showed me that premium android tablets were on the way, but I had to wait to see if they are any good. Planning is still suspended and I wait.
Hardware - Determining the Android Tablet (Jan 2012)
The world of Android tablets moves fast. Google releases new Android versions quickly and not all tablets will get the upgrade. This is disconcerting because no one wants "yesterday's model" and everyone wants the "latest and greatest." This is another reason this tablet needs to be premium: future proofing. Although when it comes to Android Tablets, future proofing buys you an additional 6 months. Not very long at all.
Premium Android tablets are now being manufactured and the project resumes. I make a checklist for my tablet after some research:
1) OS is Ice Cream Sandwich. This will be Google's latest OS which is more tablet oriented and supports USB host.
2) USB port(s).
3) Tegra 3 processor or suitable next generation processor. After I looked past the marketing hype, I found the Tegra 3 to be a very good processor with power management improvements over its predecessor. Other processors with good reviews are OMAP and SnapDragon. As long as it's a next generation CPU/GPU then I'm happy (i.e., not Tegra 2).
4) IPS display. Excellent quality screen and, most importantly, good viewing angles so that many people in the car can see the screen clearly. And just as important, you can still
see the screen
in direct sunlight.
5) XDA support. This may seem minor to some people, but to me it's very important. As I mentioned above, manufacturers drop support for Android tablets quickly. I want a tablet that is still usable years after it's manufactured (from a software standpoint). XDA is a group of software developers that hack all sorts of electronic devices. Phones and tablets are very popular on these forums. They create custom OS' (called ROMs) which add additional functionality and, often times, improve upon the original software from the manufacturer. Most importantly, it keeps your tablet alive for many more years. I am making a significant investment with this project and I want this tablet to last as long as possible.
6) Root and bootloader unlocking.
I absolutely need root. For those unfamiliar, rooting an android tablet is the same thing as jailbreaking an iPad. And for those unfamiliar with jailbreaking, it essentially means gaining low-level access to a tablet which allows you to run unapproved apps (meaning apps Google or Apple block from the store) and make major modifications to the operating system. You're essentially "breaking out" from the restrictions the manufacturer has placed. Certain apps I need will require root and these apps will be key to the tablet experience. I will expand on this later.
Unlocking the bootloader allows a person to install custom ROMs. ROMs are a complete replacement of the tablet OS. Most importantly, its ROMs that add longevity to devices. You can get more years (yes, I literally mean years) out of a device and get more features. Meaning, even when Google releases new versions of Android, it's up to the manufacturer to incorporate the updates to the device. Many Android tablet manufacturers will provide updates for ~1-2 years (if you're lucky) and then move on o the next flagship product. XDA Developers will incorporate these changes into their ROMs when manufacturers have dropped support.
My basic approach to looking for a suitable tablet are: 1) Search tablets that meet my previous checklist and 2) Read the reviews. Pretty simple and probably similar to what other people do. When reading reviews, I find it's important to NOT focus on the final score. Reviewers have a different set of criteria than I do when judging a tablet. They are not reviewing a tablet with the intention to mount it in a car. Some examples of what I mean:
-Camera: I do not plan to use the camera on my tablet. I can think of cool things to do with it (Skype, face unlock), but I already know this will not work for a variety of reasons (camera cannot be moved without extending cable, will not be pointed at driver, etc, etc). If a tablet loses points for the camera/video quality, then I am not concerned.
-Build Quality: Since I will not be holding the tablet, the actual materials and finish of the tablet do not concern me. If it easily falls out of a users' hands, then I do not care since it will be mounted. If a tablet loses points for the build quality, then I am not concerned.
-Battery Life: I will provide continuous power to the tablet so I am not concerned about how long a charge will last. If a tablet loses points for battery life, then I am not concerned.
These three factors are commonly reviewed in all tablets and factor into the final score (rightfully so given the intended use of a tablet). If a tablet loses points based on these three factors, then it could still be suitable for my purpose. The two factors that are important to me are performance and screen quality. I will especially look at these two when reading reviews.
The first tablet I looked into was the Transformer Prime since it's the only available premium Android tablet. It's powerful and received excellent reviews. It's one of the first Android Tablets that is on par with the iPad and is nothing like previous Android tablets that were cheap, unpolished, and slow. However, the more I looked into this tablet, the more I didn't like. XDA-Developers has many threads on problems with GPS. While these issues are not widespread, I believe they are credible and I do not want to deal with the hassle. ASUS would later release a GPS dongle as a solution (confirming it was a legit issue), but I did not like the added bulk it would bring to my install. But an even bigger problem is the lack of USB ports. This tablet comes with an optional dock that turns it into a "laptop." This dock has a USB port, but this will make the install even bulkier. So now the Transformer Prime is out.
I know the specs needed for my tablet and still wait. I've seen matching tablets at CES 2012 (a popular electronics trade show held annually). The tablet that caught my eye is the upcoming Toshiba Excite line. The available sizes will be 13 inches (it's huge), 10 inches, and 7.7 inches. I'm thinking the 7.7 will fit well in my dash with the 10 inch likely being too large. Other potential tablets include the new Transformer series from ASUS. Unfortunately, this series does not have a separate USB and charging port. In fact, many of the upcoming Android tablets do not have separate ports except the Toshiba line. Separate ports makes my install much easier. The problem with one port is you cannot charge and use USB devices at the same time since there is one port. I keep my eye on the Toshiba Excite 7.7.
Researching Android Tablets (May 2012)
The Toshiba Excite 7.7" is released. It gets decent reviews and should suit my needs. The last part now is waiting for the Excite to be unlocked and rooted. If the device is not rooted, then my vision for this install is significantly hampered. I peruse the online forums and see that Toshiba is highly unlikely to unlock the bootloader or give consumers root access. I even start a petition at change.org to convince them otherwise. But still nothing. I absolutely need root and still don't have it. After months of waiting, I'm so close to my ideal tablet, but still must wait. I hope the talented community of XDA can crack this tablet. The wait is killing me.
It's Sept 2012 and I'm still waiting for root access to the Toshiba Excite. While I wait even longer, I plan the remaining hardware and tackle the fabrication process.
Fabrication
To fulfill my goal of a "stock" look, I'm going to need help. I hate this. I disliked paying Circuit City to install the amp in my 4Runner and I equally dislike going to a shop for fabrication. I like doing everything myself. It's what makes projects like this "fun" (and frustrating). But I have zero fabrication skills and high expectations. Expectations that far exceed my own skill. I will need a shop to complete my install. And the worst part...it's going to cost a lot.
I research local installers in the Maryland and PA area. After several phone calls and visits, Audio Connection are the people I want. I spoke with Sean (General Manager) and I was very impressed. He clearly knew the technical aspects of my car and they have worked on Mercedes vehicles before. Other shops were hesitant to work on a Mercedes due to the complexity of its security system. Others were all too willing to work on my car which made me very nervous. Sean introduced me to Steve who would be doing the install. All of my interactions with both of them told me they were the right people for the job. The only thing left to do is buy all the hardware.
While I wait for a suitable tablet to buy, I plan the remaining hardware.
Hardware - Determining Additional Components
PERIPHERALS
I am going to purchase two OEM PS3 dual shock controllers. These operate over USB cable or bluetooth. Playing games in the car (obviously not while driving) is one of the coolest things to do and wireless controllers are a must. No wires mean a cleaner look.
In order to use all of my USB peripherals and leave the option for future USB add-ons, I purchase the MP3Car Carnetix Hub. I've personally seen it in action during AFKFest. It works well and is easy to operate. While it is expensive, the forums have given it good reviews and it sounds like a solid product. I also buy two USB extenders. They will be mounted somewhere in the center dash and provide 2 open USB ports. This will allow me to charge devices (phones, PS3 controllers, etc) and connect USB devices (thumb drives for transferring content).
AUDIO
I need a way to route audio to my stock system. Fortunately, my SUV has an iPod dock in the glove compartment that serves as AUX input. I can bridge the connection wirelessly using an A2DP Bluetooth receiver. The receiver plugs into the iPod dock cable and accepts bluetooth connections from any device (in this case, my tablet). Once the two devices are paired, I can stream all audio wirelessly. What's even better is that my steering wheel controls should work too. The only downside is a loss in audio quality. While I am very particular about this install, I am not an audiophile and will accept the loss in sound quality. I buy the
ML-D100
based on the favorable results from this
user
. Just like I got lucky with the placement of my touchscreen in the 4Runner, I am fortunate to have this solution already integrated into the stock system.
STORAGE
There is a shift in the tablet industry regarding storage. Manufacturers are abandoning storage expansion for the cloud. Newer tablets are dropping microSD support and separate microUSB & USB ports in favor of fixed HD space. Basically, if you need more storage than you need cloud services. And of course, these companies provide cloud services for extra money. Unfortunately, this is a tough issue to deal with when planning this install. I have lots of media in the form of movies, tv shows, eBooks, pictures, and music. I prefer to store everything on a HD. The problem is how to access this HD from a tablet? It's simple to connect a USB cable between an external HD and tablet. But the problem is the tablet will not be charged. I need a tablet with separate USB ports so that HD access and charging can happen simultaneously. This is the exact reason I want the Toshiba Excite tablets, however, root is still unavailable. Another option is to buy a tablet that has simultaneous USB access/charging. However, I am unaware of such a tablet.
An alternative is a wireless HD which I described previously. Hard drive manufacturers know tablet storage is a problem so they're taking advantage by creating external HDs with built-in wireless access points (AP). It's an emerging market. For the end user, they connect to this AP from their tablet and then stream content. The number of simultaneous users varies, but the Seagate GoFlex supports 3 people. I personally think this is a great idea and great product. I can picture my tablet playing a movie in the dash and then passengers connecting to the same wireless HD with their phones to listen/watch other media. All of this happens simultaneously and everyone is happy.
This is a great product and solves the problem of storage, but there's one disadvantage: You lose internet access. While you're connected to the wireless HD, you cannot access the internet without disconnecting from the wireless HD and connecting to a different AP. Huge disadvantage and, unfortunately, I do not want to be in this position. I buy an external HD and will address how to connect it later.
I purchase the Western Digital My Passport 1 TB USB 3.0 Portable Hard Drive because: 1) It received good reviews, 2) Runs completely off USB power and, 3) Is quiet.
Hardware - Still Determining the Android Tablet (Oct 2012)
Almost all of the hardware purchasing is complete. The only thing missing? The freakin' tablet. Unfortunately, there has been little interest from XDA and Toshiba has not responded to the petition. Even though the Excite was just released, I would have expected some news by now regarding its potential for rooting. At this point, I would settle for root and forgo an unlocked bootloader because I want to get this installed. I began looking for other options and drop the Toshiba Excite.
In my search for an alternative, high-quality Android tablet, I go back to the ASUS Transformer line and research these new tablets.
The Transformer Infinity is the definition of a premium Android tablet. It has received good reviews from several websites. Additionally, some interesting accessories have come to the market since my last look including an ASUS Connect Dock that was released in Europe. This is NOT the mobile dock keyboard.
While the reviews are good, XDA highlights some problems with this tablet such as: Quality control issues, sluggish performance, low quality RAM, screen separation, and trouble with the unlocking process. These reports make me pause and question whether this is the right tablet for me. I try to look at this objectively, but it's difficult. Something to keep in mind is XDA and its users are not your average tablet user. People come to XDA with an intention to modify their product. It's only natural that these people have a higher expectation of their electronics and harsher criticisms. I do believe these issues are present, but I do not believe they are widespread. The only problem I do believe is the sluggish performance. But performance is entirely subjective and I decide to continue researching this tablet.
This review sold me (look at the screen in
direct sunlight
. The Transformer Infinity is the tablet for me. I investigate some solutions to the following issues I notice during my research:
Size. Audio Connection didn't think a 10" tablet would fit. I'm not sure if the size constraints are due to width or length. I'm going to ask them to reconsider. Hopefully they can find a way to make it fit.
USB port. ASUS makes a USB adapter. This adapter plugs into the charging port and creates a USB 2.0 port. I can connect this to my powered USB Hub and then connect my USB devices. The issue is, will this charge the tablet at the same time? I don't know. I asked this question in the forums and no one knew either. Furthermore, it'll complicate the install because there will be a small dongle coming out of the tablet which adds length. The other option is to buy the recently released
ASUS Connect Dock
. This dock will charge the tablet and give me Audio Out with 2 USB Ports. The ports will be located in the back and make it easier to run wires. But again, it'll add bulk to the install process which may become a problem. I personally prefer the dock solution because I gain two USB ports. I'll need to talk to Audio Connection.
I talk to Audio Connection and they believe the Transformer Infinity will work based on
these pictures
. I provide a cardboard cutout of this 10" tablet and it seems to fit well. But what makes this tablet really work is the Connect Dock. The limited user reviews (link) are decent and it's confirmed that a USB hub will work. I now have a way to charge and use USB devices simultaneously. This is was key problem that is now solved. I finally decide on my tablet: The Transformer Infinity. It matches all of my Android Tablet checklist items.
The Big Picture (Jan 2013)
Here's a complete list of parts and how it fits together.
1. ASUS Transformer Infinity (TF700)
2. ASUS Connect Dock
3. Carnetix Powered USB Hub
4. WD MyPassport 1 TB HD
5. USB Extenders x2
6. USB Car Charger
7. OEM PS3 Dual Shock controllers x2
8. ML-D100 A2DP Bluetooth Adaptor
The tablet will always be connected to the dock. The dock will provide power to the tablet. The dock will have two connections: (1) Power adapter to the USB Car Charger. The USB car charger will be plugged into a cigarette lighter. This is switched power meaning the cigarette lighter only receives power when the car is on. And when the car is on, the tablet will ultimately be receiving power. When the car is off, the cigarette lighter does not receive power and thus, neither does the tablet. At this point, the tablet is running off its internal battery (2) A USB cable to the Carnetix USB Powered Hub.
This hub will have, for now, six connections: (1) Direct line to the battery. This will be constant power. (2) Ground connection. (3) Another power connection, but to a switched source. This tells the hub when the car is on or off. If the car is off, the hub will stay on for 5 minutes. After 5 minutes, it shuts off and kills power to all USB devices that are connected (4) USB Cable to the external hard drive. (5) First USB extender cable to the center console. (6) Second USB extender cable to the center dash. The hub will be located behind the dash and hidden from view. The external HD will sit in the glove box and allow me to remove it easily.
The glove box also houses the AUX Connection. This is where my ML-D100 plugs into. It's completely powered by this cable and accepts the Bluetooth connection from the tablet via the A2DP Profile. Once connected, all audio from the tablet will play through the speakers. Two PS3 Dualshock 3 controllers will connect via Bluetooth to the tablet as well. They will be stored in the center console.
Configuring Software
Once I determined I was going to use an Android tablet, I began researching apps to make everything "talk" and "connect" together. I kept these details separate because it's an extensive discussion that deserves its own section. The following areas will be discussed: Root & Bootloader, ROM, Media Players, Homescreens, and Tools.
ROOT AND BOOTLOADER
Before modifying software on the tablet, you must unlock the bootloader and gain root access. Unlocking the bootloader allows you to install custom OS'. This is important because XDA Developers improve upon the stock ASUS experience that they provided on the Infinity tablet. Tweaks to the operating system, additional features, and removal of useless ASUS apps are a few examples. Most importantly, it ensures the tablet will be up to date and still useable in a few years. Root access allows you to run unofficial programs/use programs that require access to core components of the OS. By default, this access is blocked for privacy and security reasons. But there are legitimate needs for root access such as backing up files, controlling Android services, etc.
Unlocking the bootloader is actually easy. While many companies prevent users from unlocking the bootloader (Toshiba I'm looking at you), ASUS actually provides an app to help you. The only trade off is you void your warranty. Needles to say, I'm more than willing void my warranty. A side note for those thinking about doing this, the tool requires an internet connection to ASUS servers to unlock the bootloader. These servers may be under a heavy load or the internet connection is actually poor. I'm not sure which it is (or both), but unlocking took me one week. Every day I would run the app and not connect to ASUS. I ran it multiple times per day and finally it connected. Do not be discouraged if you have this
problem
.
For instructions on unlocking and rooting, please refer to this
XDA Guide
.
ROM
Once you unlock the bootloader, a custom OS can be installed. I installed CleanROM Inheritance. The developer, sdbags, makes constant updates and answers questions quickly. He created a great ROM. Please consider donating if you use his ROM. The XDA thread and instructions on how to install are located
here
.
MEDIA PLAYERS
This is one of the most important aspects of the software for me. The reason being it directly relates to the user experience. The apps I choose will set the stage for the user experience.
One of the downsides of Android is the lack of suitable tablet apps. There are plenty of media players for the phone, but not as many for tablets. It's true that phone apps will run on the tablet, but they are not optimized for the tablet. In the car, I need tablet optimized apps for myself and the passengers.
There is currently no all in one media app for Android that I like. The addition of XBMC to Android is great news, but the project is still developing and it's not suitable for everyday use in my opinion. What I largely need is a great skin for XBMC. Once this happens, then I'm sure I will make the jump to XBMC as my sole media app.
There are many many many many music players for android. I've tried almost all of the free ones. WinAmp is nice and so is DoubleTwist. But the app that I like is Google Play Music. The interface is simple, sleek, easy to navigate, and mostly operates with gestures. It's also optimized for tablet. There is no perfect front end, but this app will work for now. As the name implies, Google Music Play only handles music, not video. The video app I use is Mizuu. It is a polished application with a great user interface and displays your media in a clean grid. While it's not as polished as Google Play Music, it is relatively easy to use and has on-screen seeking and volume control. Mizuu does not decode video files so you need a separate video player app. I use MX Player because it handles high definition with ease.
So these are my three apps that I will use to play media. Again, I'm not happy with this solution, but will live with it until, hopefully, XBMC "catches" up and provides an all-in-one solution.
HOMESCREEN
Since a single app is not an option at this point, I'm going to use a concept called "Hubs" that I found on XDA-Developers (
http://forum.xda-developers.com/show....php?t=1039586
). Hubs is a design concept where each Android homescreen is dedicated to a single category with simple navigation between each (tutorial 1 2 3). For example, Screen 1 is is your "Office" screen that features reading & writing apps. Screen 2 is your "Games" screen with Angry Birds, Fruit Ninja, etc. It requires several individual apps to make it work, but the end result is a visually appealing, customizable interface that can be anything you want.
I have 5 Homescreens: Games, Travel, Music, Video, and Read/Writing. With Hubs as my inspiration, I create a simple & minimalistic homescreen for each category. I also use mycolorscreen.com for inspiration too. If you haven't seen that website then you should. It's almost like art and it's impressive what those users have created.
The apps I use are: Apex Launcher, MultiPicture Live, Minimalistic Text, Eye in the Sky Weather.
All of the backgrounds were created in Photoshop.
For details on creating a homescreen like this, please visit the Hubs Tutorial. It provides links and YouTube videos.
TOOLS
This is a miscellaneous section where I describe all the "behind the scenes" apps.
Tasker
: Many Android users are familiar with this app. For those that are not, it is a powerful automation app. Tasker performs actions that are triggered by events. For example, "When connected to home Wifi sync music folder". Or, "When time is 8:00PM change screen brightness to 50%." This is a tiny example of what Tasker can do. It basically adds "logic" to the android tablet. I will devote a separate post to this app later.
FolderSync
: This syncs my music folder on the external HD with my music folder at home. My home network is considered the master library and I copy/stream this media to different media players in my house. FolderSync is activated when I reach home and connect to my home network. Tasker makes this happens. The basic setup is: I park in my garage, the tablet connects to my home WiFi, this triggers Tasker to run FolderSync, and then new new music is added to my external HD in the car.
SixAxis Controller
: Since Ice Cream Sandwich, Android supports Bluetooth controllers natively. Currently, Jelly Bean cannot differentiate between two different PS3 Controllers. If you pair two PS3 Controllers via Bluetooth, Android recognizes button presses as one controller. This obviously makes two player emulator games impossible. To allow Android to distinguish button presses from two different controllers, you need this app to "add" the second player. This app is not required if you play one player games. If this is your case, then pair the PS3 controller like any other Bluetooth device in Android Settings.
Emulators. To play classic Nintendo, Super Nintendo, and Genesis games I use NESoid, SNESoid, and GENSoid. These apps are not available on the Play Store, but at this
website
. The reason I chose these is because it supports multiple players. For Nintendo 64, I use
N64oid
.
Tablet Talk
: This app allows you to initiate calls and respond to SMS from your tablet. The tablet is paired with your phone via Bluetooth and provides an interface for you to type messages, view contact details, start a phone call, ignore a phone a call, etc.
Aldiko Booker Reader
: To read Books. I like the simple user interface.
Due to cost, I do not plan on getting a separate data plan for my tablet anytime soon, so I imagine the other apps I will use will be an eBook reader and non-internet based games. My requirements for these apps will not be strict at all and I'll run them from the home screen.
Surgery (February 2013)
After nearly a year and a half of planning and purchasing, I finally drop my car off at Audio Connection. Aside from being nervous about the entire process, I am very excited to get this started. Here are some pictures they took of the install process:
One of the biggest problems regarding the fabrication process was space. Accommodating a 10" tablet with the stock radio took up all the room in the dash. Needless to say, my original mock up was completely wrong. This required the hazard lights module (not sure what the official name is) to be moved inside the center console. I was very disappointed with this, but it was necessary. The idea of having to open the center console and push the hazard lights or seat warmers was not ideal. But it was a necessary sacrifice for the 10" tablet. A sacrifice I did not expect was moving the climate control module to the cup holder area. This was necessary because, again, there was no room in the dash. The very thought of flipping the module vertically and interacting with it this way sounded awful to me. I was also mad at myself because this was poor planning on my part. In addition to being disappointed, I would also be embarrassed to drive a car with a vertically flipped climate control module that's clearly in the cup holders. I appreciated all of Steves' work and the thought he put into every aspect of the project thus far, but this was a deal breaker for me. My vision of the project was already compromised by moving one module to the center console, but this was something else entirely. I personally would not be happy with this and urged them to find another solution. I also knew another solution would cost more money and I was willing to accept this. To make this work, I had to break Goal #10 and let Steve cut into the actual structure. This allowed him to fit the tablet, radio and Climate module in the dash. The cup holders were preserved and hazard lights module remained in the center console.
The final obstacle, although minor, was the tablet was not charging. I suspected the cigarette charger was to blame because the tablet uses a non-standard cable charging port. I thought, incorrectly, the cable had to be proprietary, and it could be plugged into anything. I bought a proprietary car charger from
Caseen
and everything worked.
Finally, on March 8th, the car was finished. The tablet was installed, the entire dash looks stock, and I also got a remote starter as well.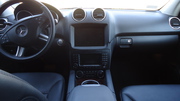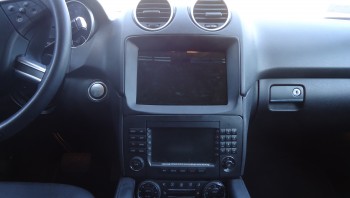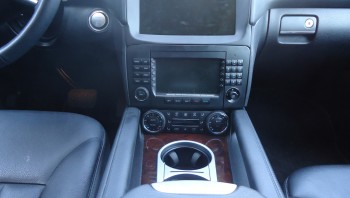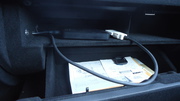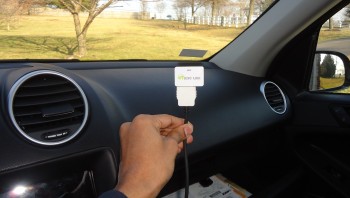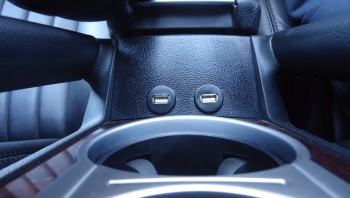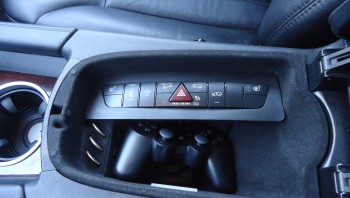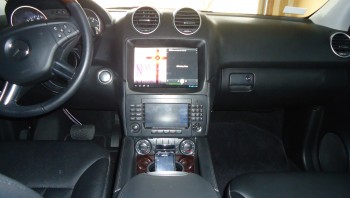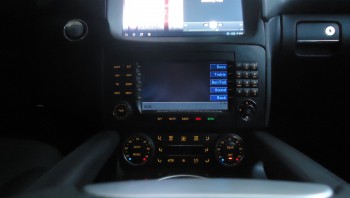 Picture 1: View from the backseat of the finished dash. The fabrication turned out well and it looks stock (a stock look was a big goal of mine).
Picture 2: Closer view of entire dash.
Picture 3: Closer view of dash, but focusing on cup holders as well.
Picture 4: Glovebox with external HD and AUX Cable w/ Bluetooth dongle.
Picture 5: Close up view of BlueTooth dongle.
Picture 6: Location of 2 USB ports. These are located below the center armrest on the outside. From the viewpoint of the driver & passenger, you cannot see it unless you learn forward and look for them.
Picture 7: Location of hazard light switch assembly. It was necessary to move this to make room for the tablet. It is located inside the center armrest and functions normally.
Picture 8: Car on. Tablet on with music playing.
Picture 9: Closer view with car and tablet on. Factory head unit and climate control assembly function normally.
FINAL THOUGHTS
Overall, I am very happy with everything. I did go over my budget and had to break Goal #10, but things turned out well. The car is amazing and having a tablet makes the experience much more enjoyable. Steve & Sean of Audio Connection (Columbia, MD) were great to work with. They are professionals, honest, and talented individuals. I highly suggest them for any car work you may need.
I am not sure if Audio Connection is comfortable with me posting prices so I will not post a total price. But the ball park range for this install (all expenses) is about $4000-6000. I expected to spend ~$3000 and I easily went past that. But I'm still happy with the end product and it was worth it.
In the coming posts, I will discuss issues I've had to deal with post-install including: Tasker profiles, PS3 Bluetooth Controllers, and the ML-D100 Bluetooth Dongle.