Hi all, just thought I would introduce myself. My name is Travis, and I've been working with a Nexus 7 (2012) in-dash since about October of 2012.
I was one of the early people who worked with Timur to help him develop Timur's kernel and then USB ROM for the Nexus 7.
To start from the beginning, I had a 1998 Audi A4 1.8TM. This car normally has a single-DIN head unit and thus required some extensive custom work to fit a Nexus 7. This meant I bought basically a whole spare radio cage/bezel, refitted the HVAC controls to where the ash tray normally sits, and built a custom mount for the N7. Unfortunately I never really took any "good" pictures, so hopefully these will do:
Original concept:
Progression of this design, including where the HVAC controller was relocated: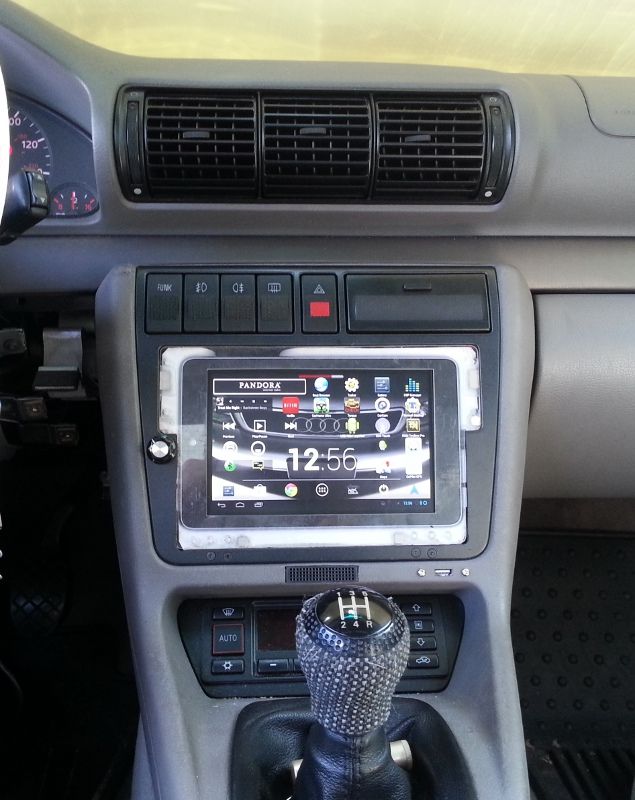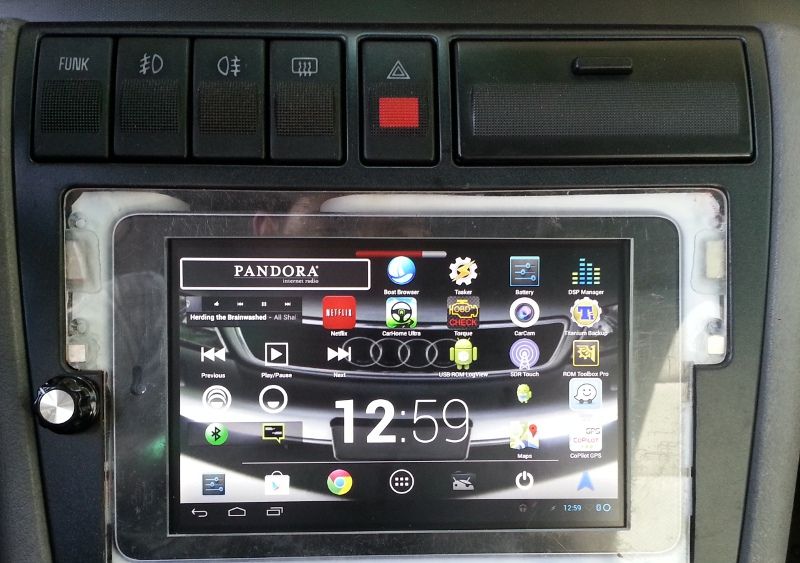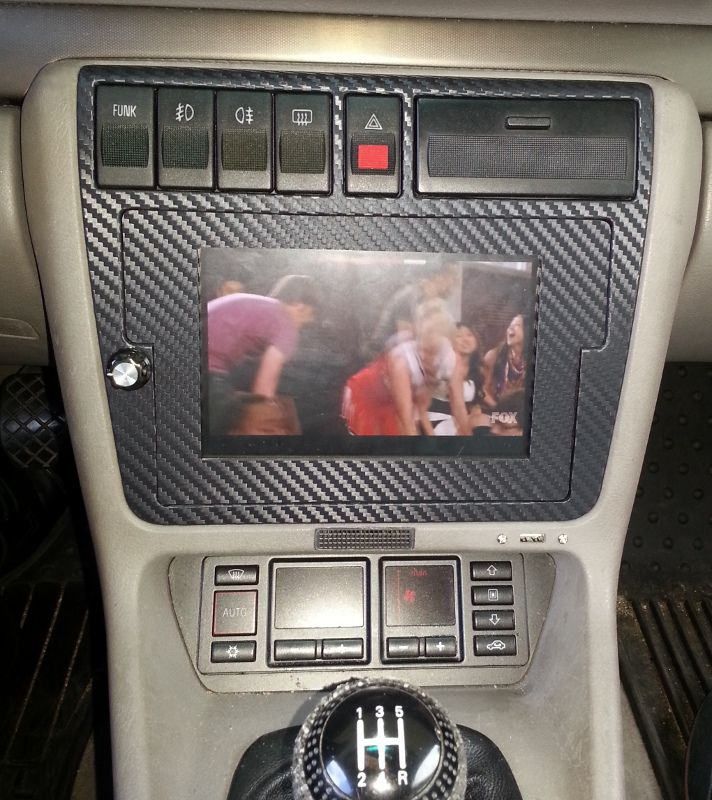 Then in late August of 2013 I bought a 2001 Audi A4 (1.8TQM for those who know/care), so I pulled my N7 setup out of my 1998 Audi A4 and decided to make the next N7 setup
better
.
This new setup is effectively like a double-in unit like another member did with his Subaru.
A Metra dash kit holds a Radioshack project enclosure in place to the radio cage, and sits behind the N7. A vacuum-formed shell holds the N7 in place (white piece behind and to the sides of the tablet in pictures).
My N7's hardware is completely unmodified, as one of my goals with this project is to be able to remove the N7 from the dash in a matter of seconds and use it as a normal N7. Also if my N7 were ever damaged, I could buy a new one, restore the latest backup from my current N7 (I back-up regularly), and install it without further modifications.
Here is an early fitment picture:
Clarion EQS746 takes the DAC output and converts it to front/rear/sub outputs with fader, volume, and sub level controls. And let's not forget its equalizer controls! (unfortunately it doesn't match my car's interior lighting, so I may replace it with a different EQ with red illumination in the future)
And with everything except tablet and box wrapped with 3M Di-Noc carbon fiber vinyl, before also wrapping the shifter plate:
Early install picture without the "double-DIN box" and showing off the rats nest which resides in the dash (factory wiring with the prior owner's crappy head unit wiring):
And with the shifter plate wrapped and everything installed, also note the retractable micro-USB cable (connection to my Galaxy S3):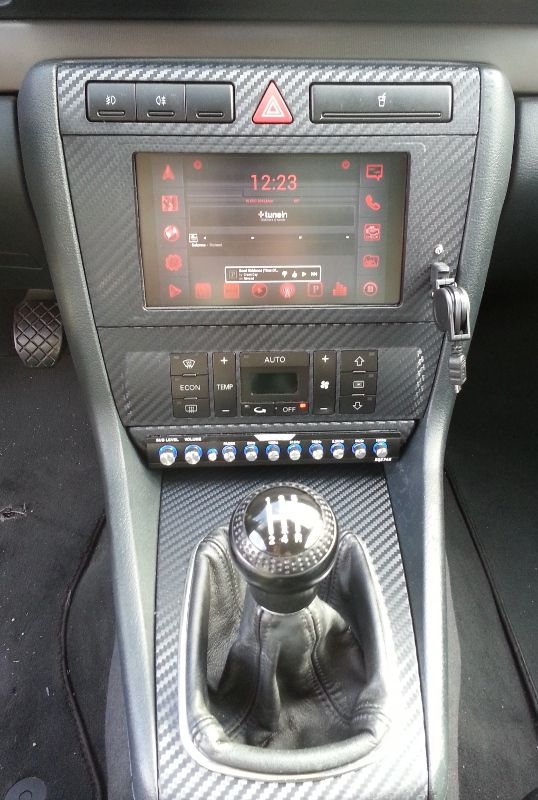 Here's a picture of my custom power wiring harness:
(added additional grounds where noted. This harness feeds the car's stock wiring harness)
View from the backside of the custom "double-DIN box":
And front-side view of the tablet/box combo:
Some of the features I have or am planning include the following:
-USB ROM for fully functioning charging + OTG, and many other features
-USB DAC - Behringer UCA202
-USB DVB-DT tuner dongle, for listening to FM radio using SDR Touch app
-USB Easycap STK1160, for hooking up a reverse camera (in-progress)
-additional front USB port for additional connectivity - USB flash drive, phone, charger port, whatever (it's connected to the USB hub)
-extensive Tasker implementation, especially using Secure Settings
-seamless automation for BT and USB tethering, including automatic switching between the two (in Tasker)
-custom user interface - multi-picture wallpaper using Desktop Visualizer to create hotspots over the red icons I baked into the wallpaper using GIMP
-N7 is removable from its mount in about 10 seconds and is 100% stock hardware-wise
-uses as much factory wiring as possible (ON-signal is factory, and is powered whenever the key is ON including cranking!)
-the front bezel is held on with magnets - this means easy removal and strong holding
Here is a rough wiring/flow diagram: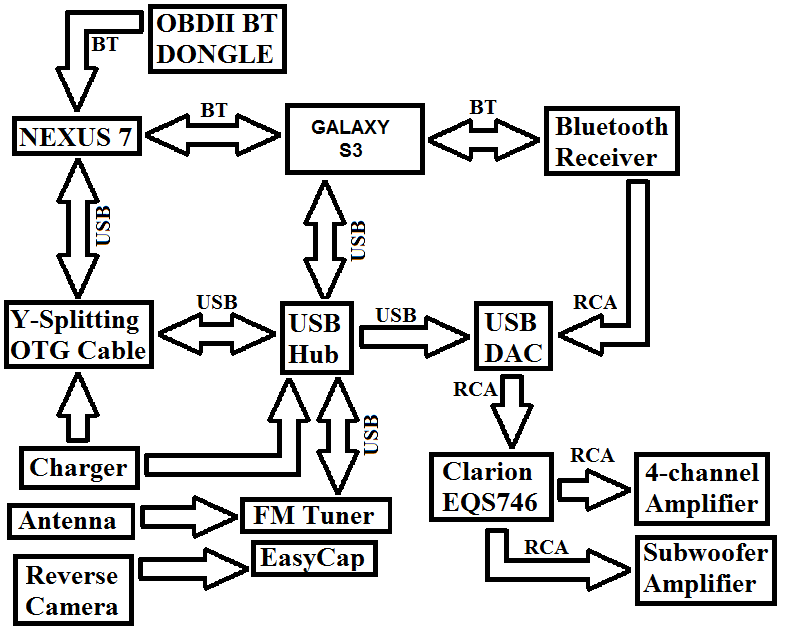 Let me know if you have any questions or comments! Thanks for reading.