Hi guys,
I've been an active participant here for a while, but I just realized I've never posted any pictures of my setup. It's not fancy because my wife specified that I can't do anything that'll affect the resale value (eg, no cutting the dash, bondo work, etc).
I worked on building a pod for my monitor, and I made 4 out of fiberglass & wood, but none of them looked right, so I ended up using the included base for my Lilliput and attaching it to the top of the dash until I could do something better looking.
Computer is built into the center console, OBD-II interface and power supply under shifter. The GPS is under the dash (perfect reception). USB enclosed drive is under the driver seat.
Specs:
M10000 Nehemiah w/ 512megs RAM.
Opus 90
Lilliput 7" touchscreen
8gig laptop drive for OS
200 gig drive in USB enclosure for music & video
Shuttle Xpress for input
BU-303 USB GPS
BR-3 (obddiagnostics.com) OBD-II interface
Airlink 802.11b PCI wireless card
Two USB micro webcams, one for front, one for back. Not used yet, looking for software.
FM Modulator for sound, not great (some noise)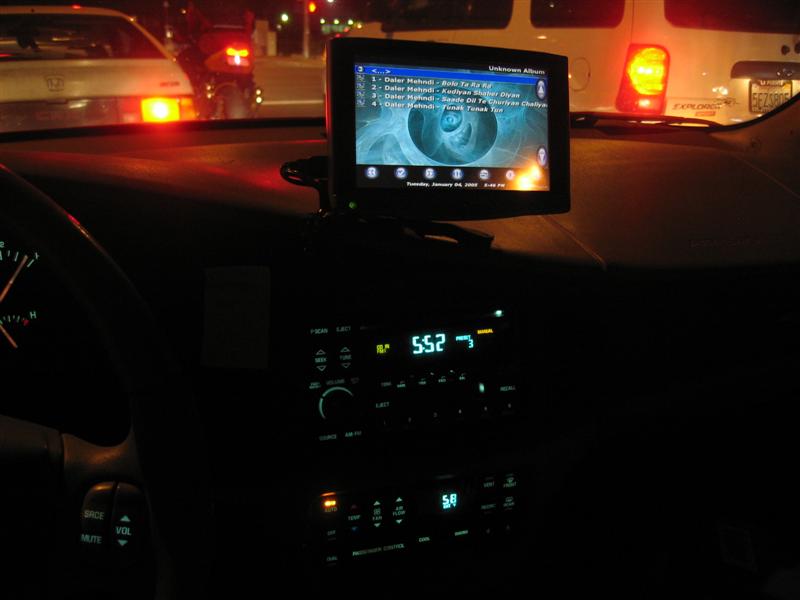 Left switch (below) controls power to the accessory line on the opus, right switch controls power to inline FM modulator.