This is nothing new but I thought it would be an awesome project for my 95 Stang. Yes its a V6 so don't
rant about that... I know already.
-- PC Specs --
Mobo: VIA MII 10000
Mem: 512MB Corsair XMS DDR400
HDD: 80GB Hitachi high shock tolerance drive
PSU: Mini-Box M2 160W
Case: Blue Ampie
Sound: Creative Audigy 2 ZS notebook
Monitor: Xenarc 7" touchscreen w/RCA inputs
FS: MediaEngine w/cool blue skin
-- Car Mods --
Colt2 Bodykit (99-04 Saleen style for 94-98 body)
Saleen stripes
Custom side mustang decals
Custom rear "Spartan" decal & Halo2 logo
Ford Racing Lowering C-Springs
18x9 Silver Saleen replica wheels w/Sumitomo tires (265/35-18)
True Dual Exhaust, 2x Flowmaster Delta 40's
3.73 motive gears (soon)
14" shorty antenna (just for looks)
Total custom dash
-- Audio Specs --
Planet Audio 5x7 Vortex speakers
Planet Audio 10" M2 sub
Sound Storm 500W amp w/remote
-- -- -- -- -- -- -- -- -- -- -- -- -- -- --
OK, this is what everyone wants, pics right? Here they are... knock yourself out.
Before.... bleh boring!
-- -- --
After 3 weeks of work and frustration, its finally done. (yes the plastic is on the screen, I didnt want
it to get scratched)
-- -- --
Everyone thinks relocating the A/C controls is a pain in the ***, it IS! I almost gave up because of it but
it was worth the few gray hairs.
-- -- --
Here's the FS in the dark, I have since added album art to all the mp3's.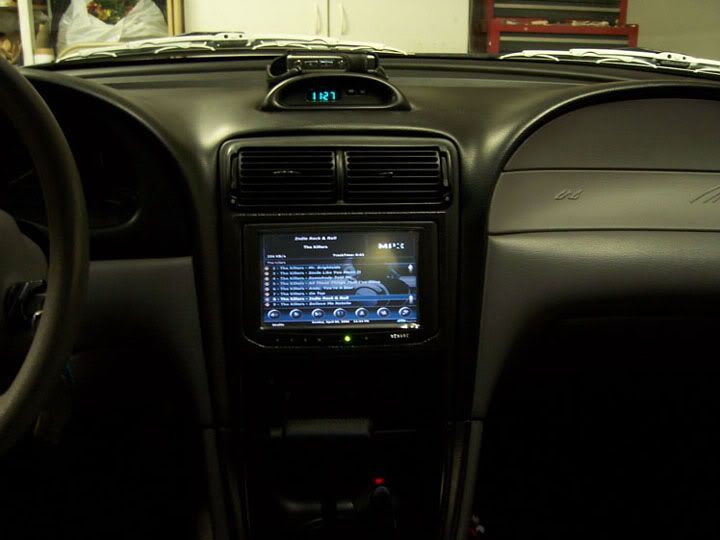 -- -- --
OK, I concocked this thing up myself and proud of it. I dont smoke and there's a stupid ash tray in the car,
what a space with potential. I took that thing out without hesitation. I designed the layout and had the
piece laser cut where I work to fit the opening. Manual AMP switch, power and reset buttons, HDD and
power LED's. The M2 PSU automatically powers the PC on and off, but these are manual buttons as I said.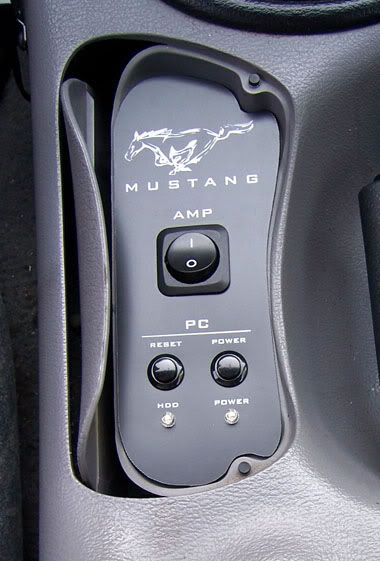 -- -- --
Here is the car itself.
-- -- --
Im working on a USB plate to replace one of the coin holders. (Anyone with a 94-98 stang knows how
useless those are.) I'll post the pics as soon as its done.