It's not quite 100% finished yet (Is anybody's, ever?), but it's fully functional so I figured I'd move it here. It's been in for over a week, but I've been working software bugs out. I also had to replace the fried P3 Mobo and the touchpanel that cracked during the installation of my monitor (Armen @ Digital World Wide saved the day on this one). This started out as more of a budget project, but got more expensive as things got broke or I changed my mind. Still, I don't think I spent more then $700 when it was all said and done, which isn't bad considering how much neat stuff a pc in your car does. Damn near everything came from Ebay, all the PCI cards were new, cheap as dirt, and work flawlessly. The only thing that doesn't is the cheapass Jap keyboard I bought.
The car:
06' Jetta GLI
2.0l Turbo rated 200hp, but proven to be closer to 225hp stock
6-speed manual trans
Loaded with leather and heated everything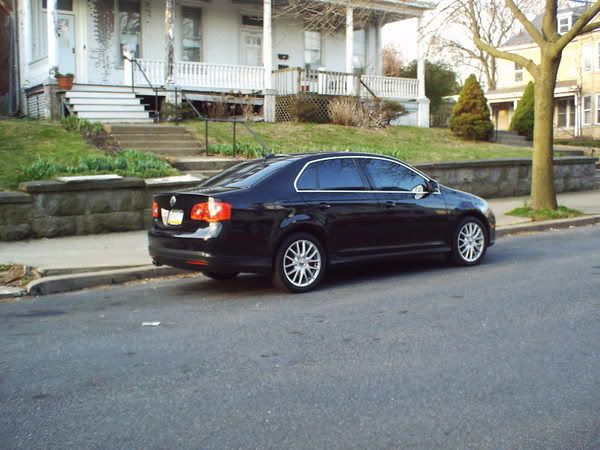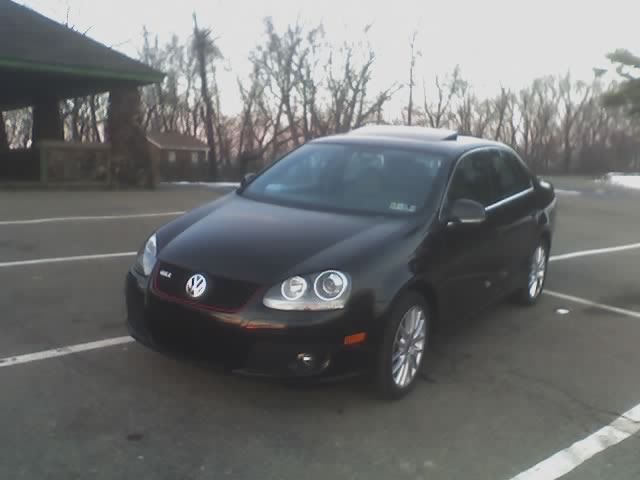 Stereo:
JL 12" W7 in ported box
JL 1000/1 mono subwoofer amp
Pioneer 4ch amp powering the stock component speakers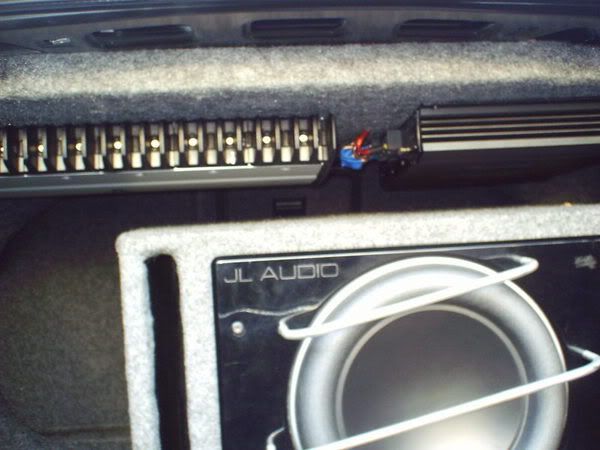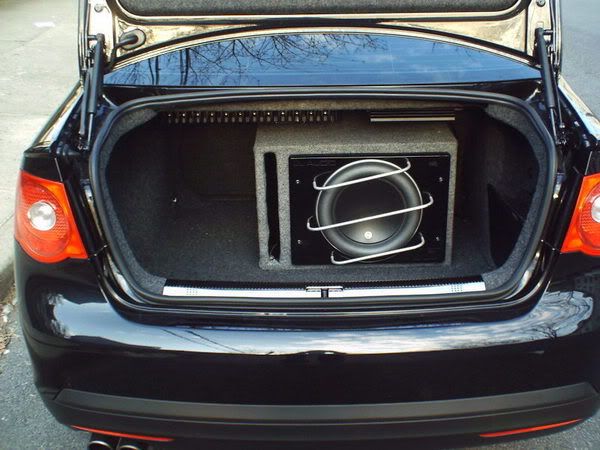 Carputer:
Compaq Mobo (I know, I know, but it was cheap)
Intel Celeron @ 2ghz
256MB DDRram
M2-ATX
40GB hard drive
5.1 channel C-media sound card
USB 2.0 5-port PCI card
USB 2.0 4-port powered hub
Lite-on USB 2.0 DVD/CD-R/W slot load external enclosed laptop drive (this is a Great drive for a Carputer)
USB GPS reciever
bluetooth dongle
802.11g Wifi card
Ex-Audio 7" touchscreen
mini illuminated keyboard (Ebay garbage)
On board Video
Custom case
Software:
Windows XP
Road runner
Iguidance
Mozilla Firefox
and all the usual stuff
The Case, not screwed together since I have to change IDE cables, hide a few wires yet, and either a repaint or carpeting. It's not how I intended it to be, I had to improvise when the ATX Mobo got fried and I switched to a Micro ATX ( I had no idea it would be wider)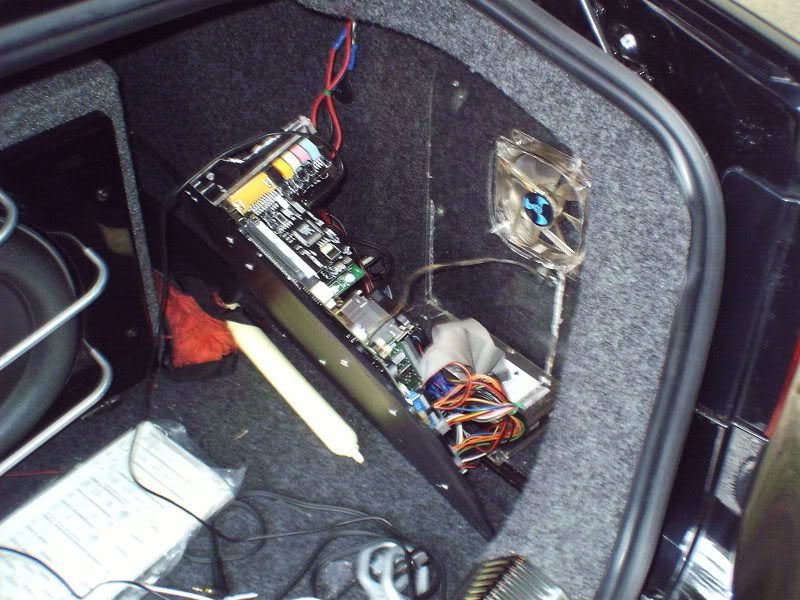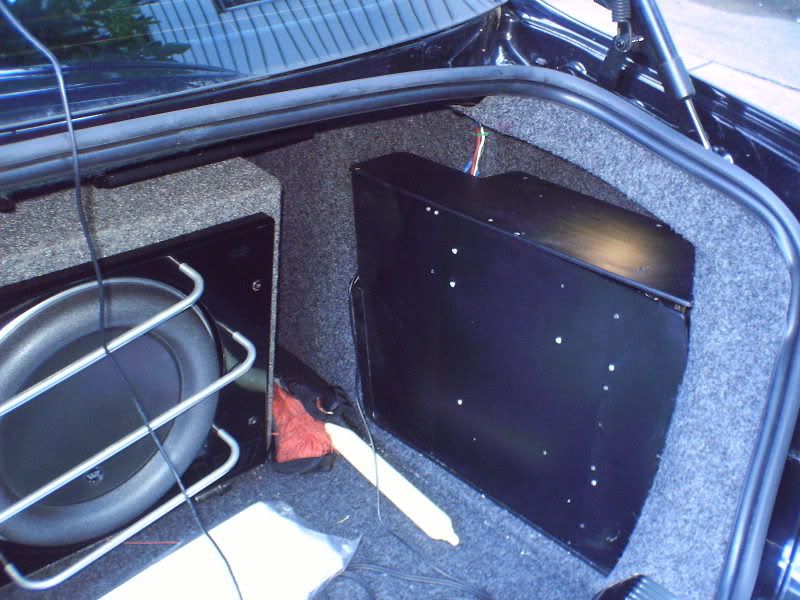 Screen, also needs to be repainted: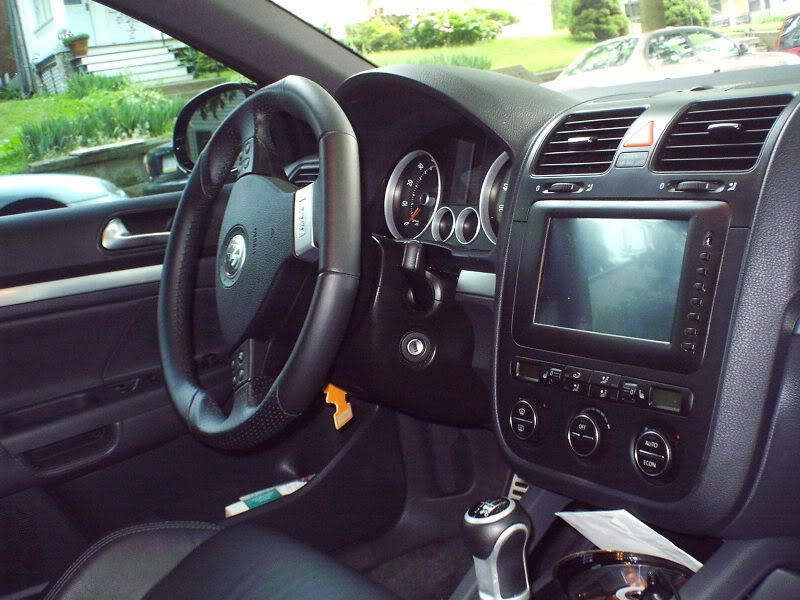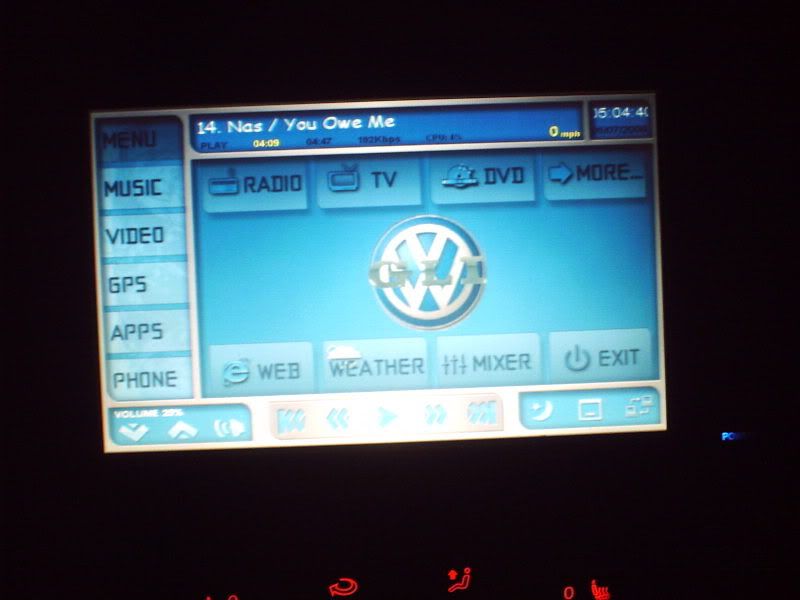 Notice my custom GLI/VW logo
DVD drive and USB hub in the glovebox, gotta hide some wires yet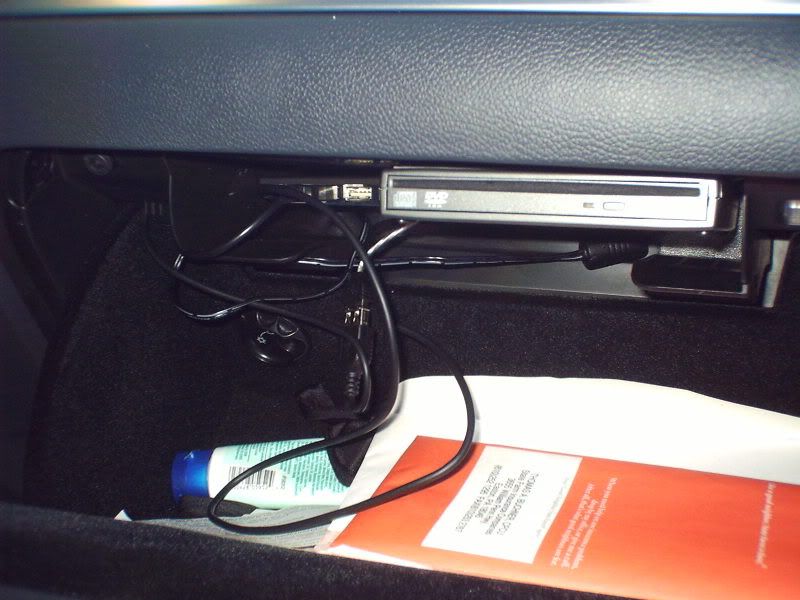 To-do's:
Gotta tear a PS2 keyboard apart, and use it as a dummy. Compaq Mobo's don't have a Bios option to turn the error off, and the 10k resistor mod didn't work.
Need to rig up an antenna for the Wifi card for the rear deck. I can't have all kinda antennas hanging off the car like some redneck in a Ford pickup.
Fix the hibernation issues that I'm having. It's not such a big deal, the PC still cold boots in under a minute, and I can live with that if need be.
Still gotta figure out what to do about a keyboard. Now that everything works I don't need it that bad. I might rig up something crazy down the road.
I need to get the OBD2 diagnostic setup too. This car uses Can-Bus, so it needs a special $300 Vag-com cable. I'm tapped out, so that's gonna have to wait.