I just purchased this Vue about 2 months ago and ever since, I have wanted to put in a carputer! This is going to be a long process, but lets get started!
Step 1. I measured my DIN size to see what I have to work with. I'm pretty new to this, but with 7X4 opening, I believe this is a 2 DIN setup (please correct me if I'm mistaken)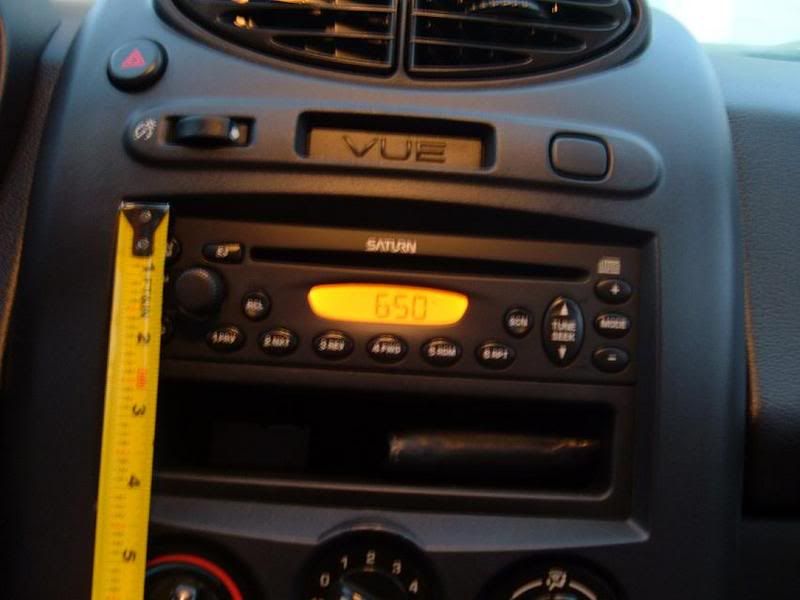 Also, if anyone has experience with installing a carputer in a Vue (I did a search and found very little info on this car), I'd greatly appreciate some direction!
*******TOTAL PRICE TO DATE********
1. Jetway Mboard - $169
2. Lilliput 7 inch touchscreen LCD - $175
2. Western Digital 60 Gb 2.5 Laptop Drive - $58
3. OPUS 120 watt DC - DC Power Supply - $93
4. XMD1000 satellite radio module - $34
5. XMD1000 Serial Data Cable - $19
6. Clarion 400W amplifier - $40 (great deal off Ebay)
7. StreetDeck Software - $200
8. 2005 Saturn Vue wiring harness - $15
8. 1/4 inch plexi - $19
9. slimline DVD - $15
10. Misc hardware - $70
Total: $917