Well I am a newbie to the whole caputer thing and I'm one of those people that love entertainment. Earlier this week I found out some crushing news on my car forums that pretty much told me that there will be no iPod integration into my existing factory Bose Navigation/Xm unit and that really upset me pictured below:
I also researched to see if there are adaptors that can tap into the video of the Nav unit and unfortunately there is none so far so I guess I will have to mount a LCD touchscreen.
So while sitting in the car, I noticed that I have some good locations for a carputer install and figured why not give it a try with a Mac mini. I pretty much got the idea from a friend here on the forums (psedog) and it WILL be a very unique setup indeed.
First of all, let me get this off my chest about people "bashing" or "hating" which is one of my pet peeves. I am an enthusiast to say the least with my car and I spend a lot of time in it every day so I want to be as comfortable as possible. I do not want anybody telling me how unnecessary this may be since I already have Navigation with Bluetooth phone connectivity and that its a waste to do this just for media. The car will be made into a show-car eventually and this is just part of that.
When I originally started with the car...I went with a Luxma Visor monitor on the passenger side and ended up putting a Playstation 2 (slim) in the glovebox. Pictured below.
I will be keeping this setup but I may remove the visor monitor as it is a pain in the butt and the computer monitor will be mounted on the headliner just above the map lights. The space is approximately 4.5" H x 9" wide at the narrowest point which looks to be perfect for the
Xenarc 700YV touchscreen
Location pictured below: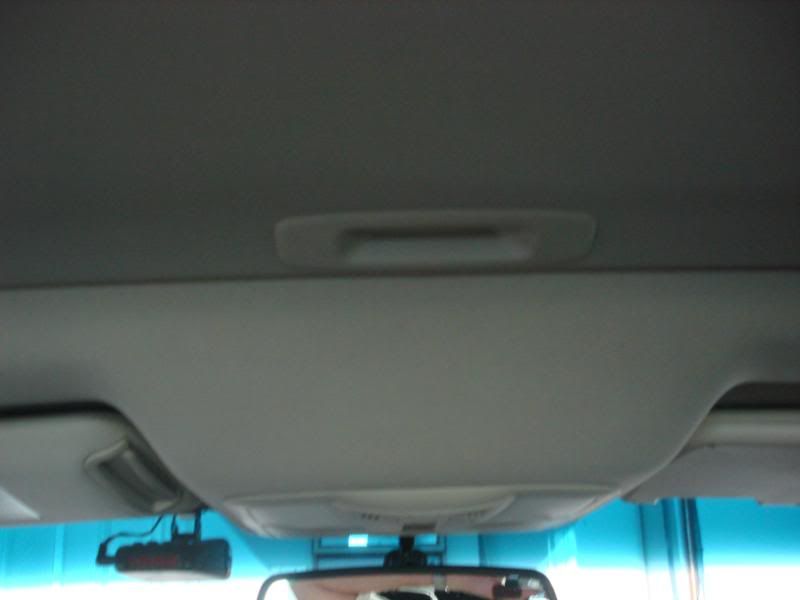 I haven't decided if this is going to be a recessed mount which would require me to cut the headliner (and to be honest...I don't really want to do this if I ever decide to go back to stock) so I may go flush and fabricate a bracket to reach around that spot and mount to a metal plate behind the headliner which would be simple to do. Hopefully, mounting option will be decided when I actually have the monitor in my hands soon and when I go out and price how much to replace an entire headliner from the dealer.
As far as the Mac Mini's location...
Since the computer will be running my entire iTunes library...I decided to do a swap/relocate with my in-dash CD changer pictured below.
This gives me a few benefits. 1. Access to the IR for the Apple Remote, 2. Easy access to the Combo drive, 3. It should blend-in seamlessly with the interior with the brushed metal casing.
Since I won't use the CD Changer that much...I will simply fabricate a DIN sized case for it and relocate it to either the glovebox or under the passenger seat and simply extend the single wiring harness for it.
I did think of other options with mounting the touchscreen in the lower dash console in front of the mini but I either don't have space to facilitate "hiding" the monitor or even making it look real good and be able to get to the computer. Putting the computer in the glovebox also is not an option for me since I want to preserve using the IR remote and voiding the warranty just to relocate it did not appeal to me plus I prefer it in the dash. I will be fabricating a case to house it in the DIN location for the CD changer and will post pics when its up and ready.
Please feel free to comment on everything and I'm planning on purchasing the
Carnetix CNX-P2140
this Monday plus the monitor so if theres anything different I should do...please let me know. Thanks