Well I finally got my computer up and running in the truck last weekend so I figured I can post of some pictures of my 6+ month computer and audio build that still has quite a bit to go but finally getting fully functional.
Here is what I got.
OPUS Solutions 320W PSU
Shark 10.4" Touchscreen LCD
This is what got me started on the whole project
Gigibyte GA-M61SME-S2 AMD AM2 socket mobo
AMD Athlon 64 2.4GHZ 45w single core
Kingston ValueRAM DDR2 800 1GB
Pioneer Slim slot load 8x DVD±R DVD Burner
Fion Digital 5.25" slim external enclosure
Adesso USB touchpad
USB Brando Mini multimedia keyboard
Dang looks like they got some other nice keyboards now
Backup Camera
BU-353 GPS antenna
iGuidance4 GPS software
Road Runner with bunch of skins, mainly using DFX4.0
Few other misc cables and hubs
Items to still get:
Visteon HD Radio with Mitch's cables
TV tuner card
TV antenna
Wireless card and wireless network for the house
Wireless antenna
Bluetooth dongle
SCT Xcal3 to tune engine and OBDII data log through USB
Onto the good stuff, PICTURES...
First thing I ever did in planning for the Computer was to relocate the heater controls as well as build a spot for my Alpine 9887 HU, factory switches and trailer brake controller.
The unmolested lower dash
Removed the lower cubby door for the new pod, and with some trimming put the heater controls where the factory switches and brake controller used to reside.
Started constructing the pod to hold things (this is my first ever attempt at FG and it came out decent but could use some work in the future.)
After sanding and filling and sanding and a little bit of painting it was ready to go back in the truck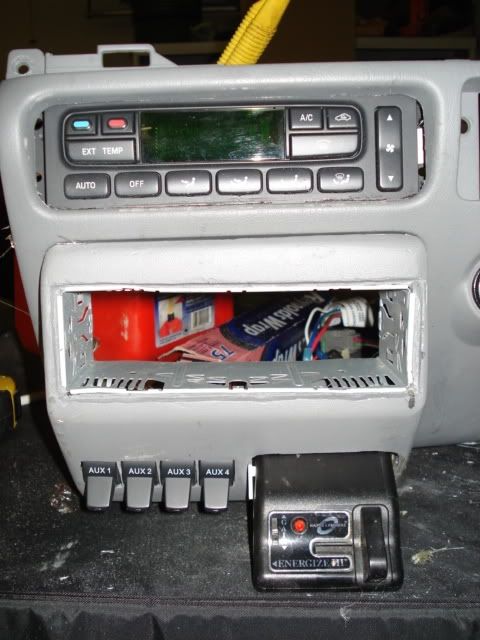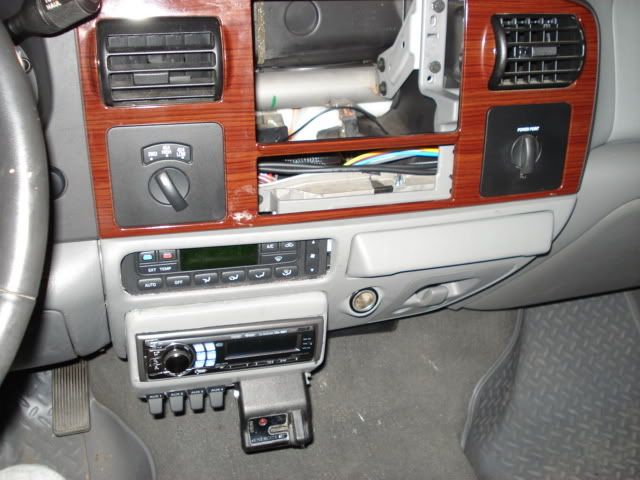 Next part was actually getting the computer components installed. They are built into the amp rack that I built for behind the back seat. There wasn't enough room to put subs behind the seat so the amps and computer live there and subs will go between the front 2 seats replacing the jump seat in the middle.
After lots of measuring and designing in AutoCad I came up with my final design and got started building. Gonna be a real tight fit.
Dry fit after testing layout to get it all to fit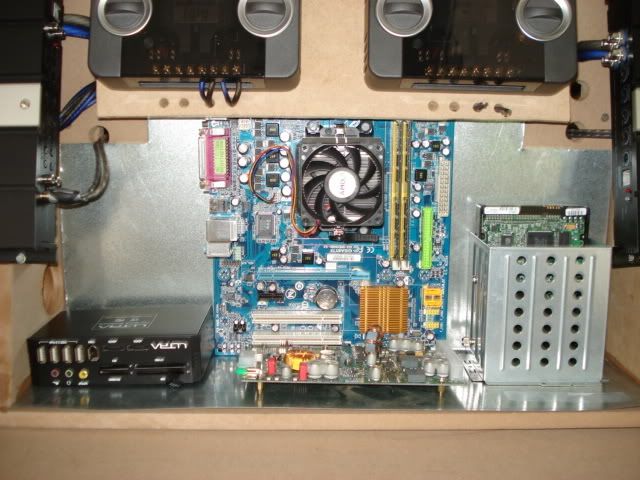 Getting it into the truck and checking how the wiring will work
Built a beauty panel to clean it all up
Almost there
Tight fit but its finally in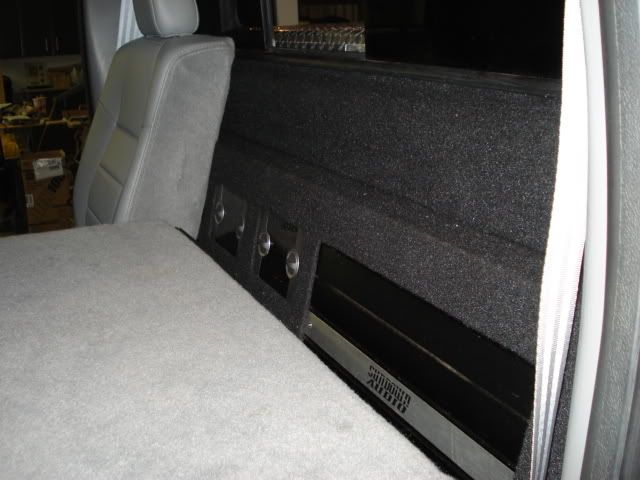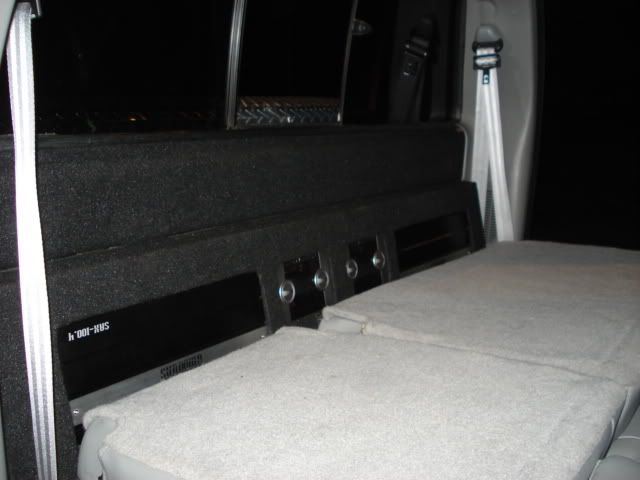 With the amp rack in and the computer having a home it was time to move ont cutting up the dash and getting the screen and dvd drive mounted.
Least I know it all works before I cut the dash.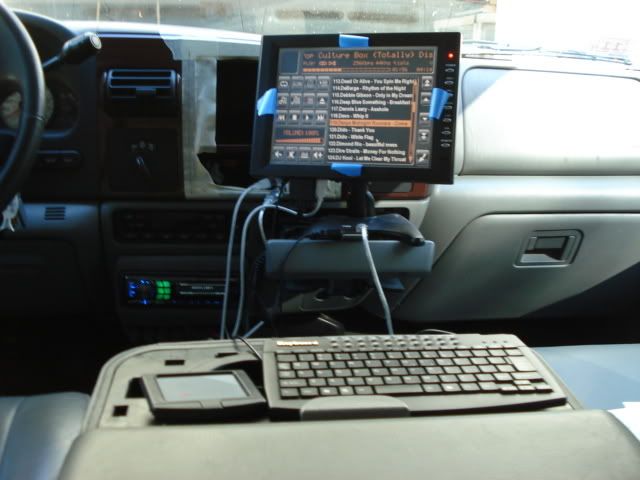 Trickiest part and where if I mess up I am really screwed. Wood grain dash, cut once with some sanding and hope it all works out for the best.
Taped it off and measured about 50 times and marked it up. Its a little trickier than it looks since the dash has a very slight curve to it. Cut it a but small with plans to file it out to its final opening and size.
I was hoping to get the screen, disc drive and a USB hub all in this spot but its just not gonna work. However the screen and drive will fit so its not all bad.
Had to do some work on the back side of the dash to make room for the screen as well as to make the curved dash match up to the straight LCD panel. On top of that had to fill in the final 1-1/2" of open space below the screen and mount the drive.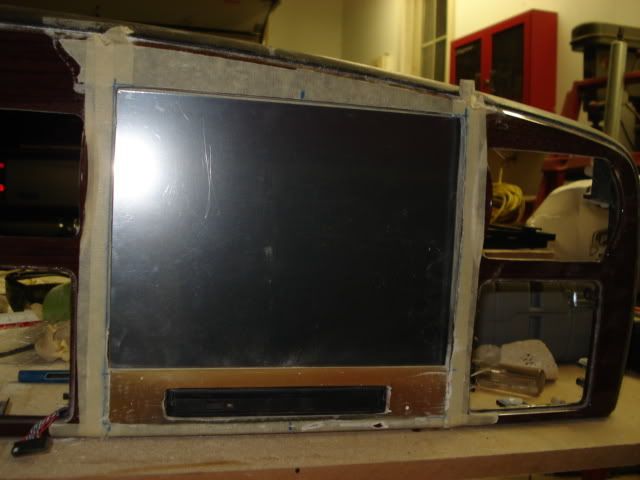 The 2 horns that sick out in the dash to locate the factory radio are pieces I REALLY didn't want to trim. Worked out pretty good though, with the dash in place they are just touching the back of the LCD panel and actually holding it in place quite nicely. Its very solid to the touch.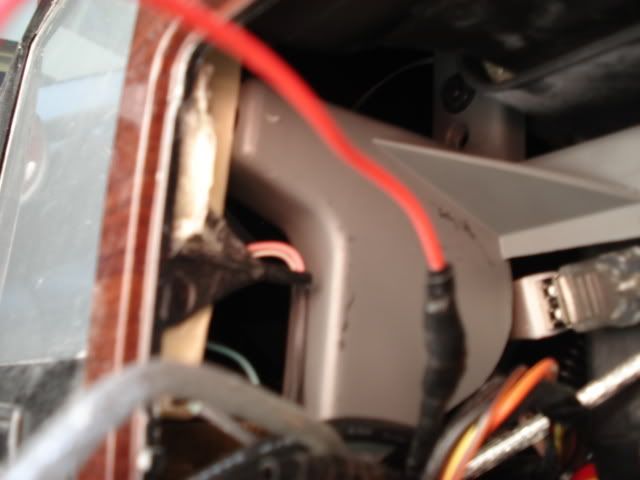 Finally got things "finished" on the dash. Not too sure about how happy I am with the final product but its good enough for now. The wires and hub sticking out of the right hand hole are very temporary for now. Had to rush at 2am to get power to the disc drive so I could format the computer thanks to Windows activation and crashing. The wires have since been rerun, however I haven't built the filler panel for that slot yet so I can mount the Hub power/rest switches and other items.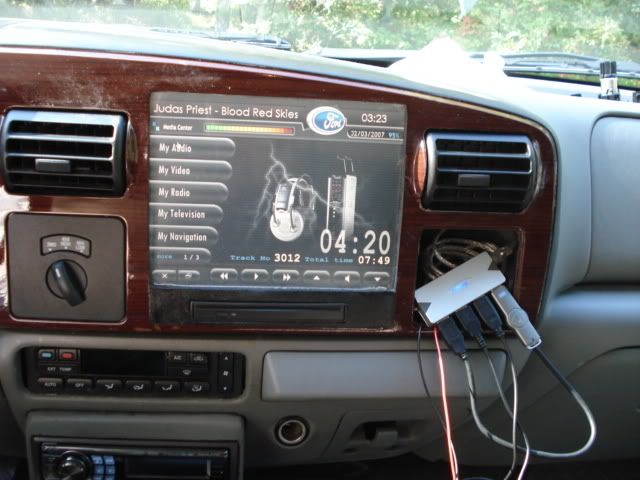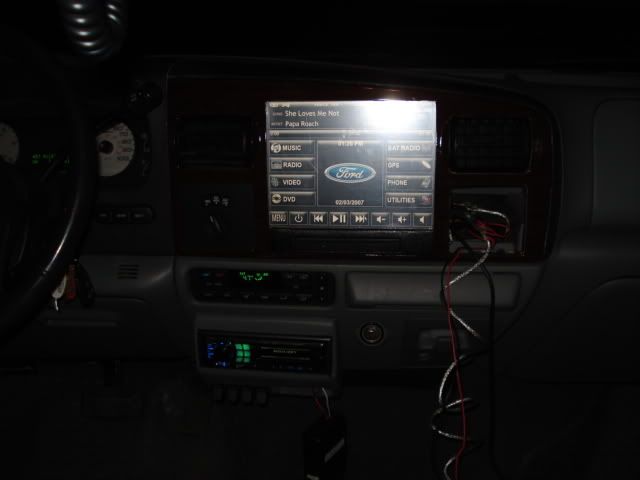 Flash always brings out the worst details
The screen is powered from the regulated 12v output from the OPUS 320w and the disc drive is powered by hacking into the 5v wire on the HDD connectors (used a Y so I didn't cut the OPUS harness.) I do plan on powering up 1 or 2 more hubs so I may get an OPUS 15w POL.
I got the BU-353 installed last night but not iGuidance yet. The antenna seems to work good though. Only way I could really test it was with the gauges in RR, it was showing 5-8 satellites most all the time, only problem was the speedo was pretty far off. Sitting still it would fluctuate between 0-1 mostly on 1mph, then when going 40mph it would tell me I was doing 65 and at 50mph it said I was doing 80. The error in speed seemed to get worse as I went faster.
Well I guess thats about so far. Its been running like this for about a week now. I have plenty to still do and plenty of components to pick up but its finally off the ground and no longer a dream.
Let me know what yall think and if you have any recommendations for Wireless setups (card, router, and antenna) I would be all ears, looking to get the most range I can. Also TV tuners and any other little gadgets I can add. Hoping to tackle the HD radio next after I get the GPS working. Seems cheaper to add HD radio to the computer than to the Alpine and I think it will be better running it on the computer and the Alpine can just be my back up.