Ok. I have always wanted a PC in my car. Now I have the chance I am going to go for it.
[VEHICLE]


2000 Chevy Blazer LS 4 Door 2WD w/ optional 4WD

Pics (click to zoom):




She is not much, however she will get there. I am also getting aftermarket lights to spruce her up a bit.




[CURRENT SYSTEM]




I have a Sony Xplod CDXGT71W headunit. It's advertised stats are 52W per channel, 208W peak. It features an animated display which displays song name, artist, track, album; XM ready; 2 button backlight colors; motorized face; It plays WMA, MP3, and AAC (which I believe is the same as ATRAC3); It has front aux 3.5mm input; front, rear, and subwoofer pre-amp outputs; The only hiccup I see is that it doesn't have rear input. Only AUX in the front, however I can always get a different HU, or just run the 3.5mm jack into the dash.
Pic (with my old Carputer, lmao):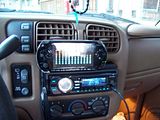 My Subwoofers are 12" Pioneer
TS-W3041C
800W max
400W nom
Pic: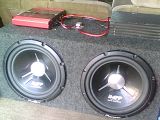 My Amps are mix and match:
1.) Radion D-420MX Mosfet 200W 2 channel with mono/stereo switch
2.) VR3 200W max 2 channel
I am considering getting a new amp and using those for surrounds.
Pics (sorry they are pics from a Sidekick LX):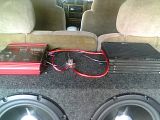 [COMPUTER]
I own a MSI K9MM-V mobo
AMD Anthlon 64 X2 4200+ @ 2.2GHz
2GB DDR2 RAM
2 x 160GB HDD (1 x SATA; 1 x IDE)
8-in-1 flash card reader
DVD-DL multidrive
Windows Vista/Mac Apple OS X x86 dual boot
Windows XP guest OS on VirtualBox w/ Vista as host
The motherboard is not that big, It's micro-ATX. The measurements are: 9.555 in. (24.5 cm) in lenght and 8.100 in. (20.6 cm) in width. With the GPU I have installed I would say about 5 inches deep.
Pic of the motherboard:
[PLANS]
I want to install a
8" Lilliput
center dash. I would like to also move the HU to a new location and have it fabricated into the dash, perhaps on top of the dash, or down below between the cupholder and ash tray.

I want to install two 5.25" inch bays into the glove box or center console.

1.) Hotswappable HDD bay

Pic:



2.) DVD Drive

I will invest in a wireless keyboard with built in touchpad for controls beyond touch, however, Windows Vista has extensive touch capabilties.

Pic:



The system has a built in sound card, so I thought I would just run it into the AUX input in the front, until I figure out a better option since my HU doesn't have rear input. Since I am going to relocate the HU I can perhaps hide it or something. I don't want to buy any adapters, or I will just get the new updated HU in this series and sell my current HU to make back some cash.



[BUDGET]
I have $1,557 put to the side, however because of unforseen circumstances I can only spend $978 on this build.