.:Update 1JUNE10:.

-- I have had problems with the touch head unit

1. The fans in the head unit are extremely loud.
2. The unit changed modes sometimes after hitting a bump.
3. Sometimes the unit will not turn off. Even after shutting the car off needing a swift beating into submission to let it know who's boss.
4. Sound transfers to different speakers making it louder for different sides and spontaneous times. NOTE: This could be due to the fact that Best Buy is a terrible company and gave me a bad harness but thats another story.
UPDATE 1JUNE10: Removed *****y touch screen head unit re-installed factory unit. Ordered EBY701 and replacement top dash from 4WD.com part #DAYKJ71020 pictured below
Also ordered a mount from Ram Mounts to mount monitor on replacement top dash.
----- Fix For Problems experience -----
-
1. Get rid of crappy Chinese head unit.
[COMPLETE]
2. Install single din head unit made of good quality.
[CANCELED]
3. Install VMI70 (
http://www.short-circuit.com/product/VMI70.html)
[CANCELED]
--Result: Problem should be fixed
[IN PROGRESS]

------- Parts Left to Get --------
1. VMI70
[CANCELED]
2. 1Din Head Unit
[CANCELED]
3. DC-DC PSU
[RECIEVED]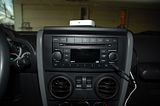 This is a pic of the stock head unit.
The crappy touch screen head unit. This unit is a CID 650.
NEVER BUY ONE!!! THEY ARE GARBAGE!!!
Moving computer install to under floor compartment in rear pictured below.
/\/\/\/\/\/\/\/\/\/\/ Some Pics of the outside \/\/\/\/\/\/\/\/\/\/\