February 2010. As I have been expecting, the hardware developments have solved many of the problems of killing your PC with an iPhone. The announcement of the iPad presents a new 'Smart' device, much more suited for the car.
You can read about my current iPad install here.
It solves the issue of touchscreen control and screen size that are present with an iPhone solution. What is lacking is what to DO with the connectivity to the net and that has led to the development of the OSDash project. OSDash is a set of services that can be accessed for mobile users. It is developed by the mp3car.com community.
Find out more about OSDash here
.
Updates:
February 2010 - This project has led to the OSDash project. Announcement of the iPad solves the issues of both screen size and touchscreen control.
May 2009 - Late May 2009 - Sheeva plug computer (runs Linux) has arrived. I'm working on learning Linux in order to set up a helper computer that the iPhone can use to interact with external hardware such as relay boards, OBDII, XM Direct and so forth. A thread on the Sheeva was started here
May 2009 - Sheeva plug computer arrives. Used to help the iPhone interact with external hardware. Info here.
April 2009 - Bluetooth touchscreen for netbook purchased for experimentation.
April 2009 - Sheeva plug computer purchased to help iPhone connect with outside world.
April 2009 - Mp3Car sponsors project by lending me an iPhone
Early March 2009 - Video output has been solved. Working now on trying to understand how to interface the device with the real world - either control from the touchscreen or an external device like a Powermate.
Index
A video of my findings to solve the video output problem: Post 44
[MEDIA]http://www.youtube.com/v/LcGXHE1yh7Y[/MEDIA]
How I'm currently using the iPhone in my car and why it gets a grade of 'C+' so far.
Using a helper computer so the iPhone can interact with the outside world.
Getting a bluetooth keyboard and mouse working on an iPhone Post 303
Discussion about the new iPad introduction. URL="http://www.mp3car.com/vbulletin129649-post312.html"]Post 312[/url]
Original Post
I've decided that the time to kill
my car PC
is NOW. The stars are all aligning behind devices that are more powerful, smaller, cheaper, and connected than ever before. They are currently known as smartphones and I intend to try to kill my car PC by replacing it with one.
My reasons for thinking the way I do are
set out here
. My inspiration for killing my car
PC is here
.
The device I'm going to try to use to kill it is here.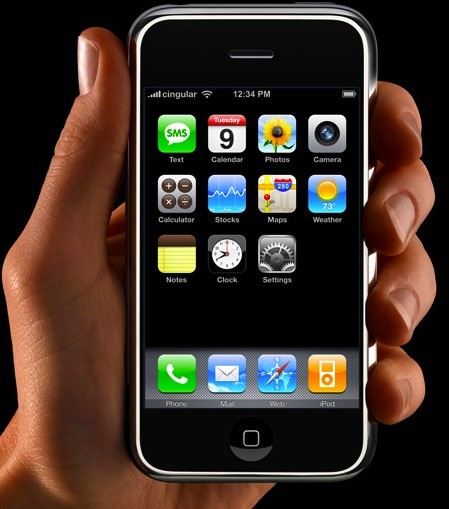 The device I'm going to kill is here. Actually, that's the previous installation with an Epia M10000 mini-itx mobo but it's basically the same stuff with an Intel D201GLY mobo, an 80 gig HD, and all the other stuff everyone else has like XM, GPS and so forth.
Actually, I'm going to try to kill two devices. First is my car PC, second is my car Mac. Yes, I have two car computers and I'm not going to explain to you why. This is the Mac.
I'm going to use this worklog to track just how successful I will be in replacing the car PC with a smart phone.
Why iPhone?
Actually, I don't own an iPhone. [Edit: mp3car sponsors an iPhone for this project now!] I love them, but they are expensive and I haven't had a need for one. Until now. Heh-heh. I'm going to prototype and use an iPod touch to get me started and later, as I need to add capability, I'll switch to the iPhone. But, because I'm fundamentally cheap I'm going to use what I have on hand, which my lovely wife gave me for my birthday just a few months ago. Little did she know what was in store for it.

As for why the iPhone vs. something else, well again, I already own the iPod touch, which is very, very close to the iPhone. Also, the number of apps that are being developed for the iPhone is a very large number, and lastly the iPhone is a global device that works in 75 countries so it seems like a good choice and likely to be a lasting platform -at least in computer years.

Others (chronoguy) have done something similar with other devices like the HTPC. I'm going to do it with the iPod/iPhone.
Why do you think this will work?
1. Actually, I'm not sure it can be done. I AM sure that the time will SOON be ripe for this and frankly, I'm a little weary from endlessly configuring my PC to work in my car.

2. I'm too slow on the uptake to figure out all the bits and pieces of my PC and sometimes it seems like just when I'm getting it to work like I want, it goes unstable and I end up searching the forums to figure out why. Each time I add a layer of functionality to my PC, it adds another layer of complexity in supporting it. I'm spending way too much time trying to get it to do stuff other people already have their PC's doing. If I'm going to spend that kind of time, it is going to be on something new.

3. Something new. New challenges to define, new problems to solve, new technologies to learn. I don't know enough about mobile phone tech and the web and its time I get a trial by fire.

4. Maybe I'll inspire a new section of the community. I'm going to need help. I don't have the hardware and software skills to do this but I know this community does. Pretty much every time I post a question about car PC's I get good answers from hobbyists, developers, and both software and hardware engineers who can answer almost anything I need to know. I'm hoping some of them will get interested and come along for the ride.

How will you do it?
Baby steps, baby steps. My first attempts will be crude. I will go backwards in terms of capabilities. I'm certain I'll be frustrated and stuck for long periods of time before I find a solution, but I'm going to employ the techniques used by the ancient generals of burning the transport ships after the army arrives so the only way to survive is to win the battle. I'm going to force myself to go cold turkey.

When ice station zebra (that would be my back yard) gets warm enough, I'll pull the computers out of the car and start over with an iPod in mind. The only thing I'll leave in it is the LCD display. All the other wires, power supplies and cables come out.
Meantime, I'll need to:
1. Jailbreak my iPod Touch. Here's a video of how to do it as of Feb 2009. [Edit: Blackra1n makes it even easier. Google it.] Done!

2. Buy an ipod to composite video cable to drive the screen display. Purchased today. Will arrive in 4-5 days (chose default shipping, I told you I'm cheap) Video review of the video output options for iPod/iPhone. Done!

3. Start looking into the iPhone SDK to see how gnarly it is to do stuff on your own.

More posts as the project continues.
***** Attention! There is a mp3car wiki page on this
topic here
If you have something to contribute, please add and adjust as necessary. ******