so like the title says, my daily driver, and never ending project:
one of the most current pictures of the car,as of 7-5-09, outside hasn't changed at all...
I had been wanting to do a car computer for a while, but just never had enough time or money for it.
I started off with a intel 945gclf motherboard, 320gb hdd, m4 power supply(i really liked the 'smart' usb monitoring features), gps reciever, and then, after having problems with the m4(wouldn't power on), so i eventually returned it, and got a dsatx. i also have installed a 'smaller' usb wireless keyboard, and a usb wireless internet dongle.
for audio, i started with a sound blaster audigy card, but then had issues where it would not respond using a flexible pci extender, so I moved over to a usb x-fi 5.1 card, and am now having problems with the drivers causing a BSOD(specifically ks_aud.sys). so am looking at some other solutions.
I planned on mounting everything behind the display in the dash, even created a bracket to hold everything, but then decided that it would have been near imposible to hook anything up when there was only 1-2" of clearance behind the mo-bo.
so I quickly changed gears and put everything under the passenger seat, most of the components are mounted on a piece of plexiglass, with only the usb soundcard mounted behind the display, and usb wireless card, gps receiver, and keyboard receiver, behind the digital clock on the top of the dash.
the build is not finalized right now(audio card drivers causing a BSOD) here is the progress so far:
the plexi board with 320gb hdd, dsatx, and motherboard:
dvd r/w drive mounted in the center console-with power and hdd lights installed in bezel. Also visible is the usb ports and aux in:
the reset and power buttons mounted to the underside of the dvd drive: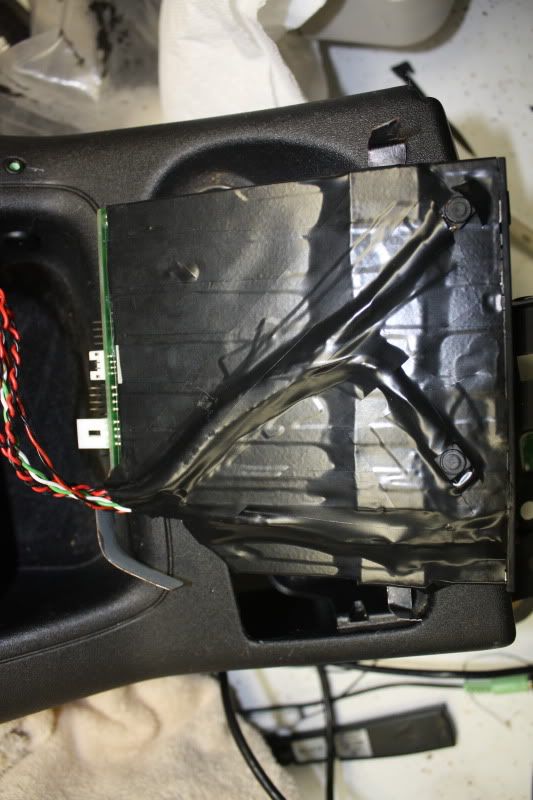 a severly dremeled ide connector from a old cd drive for power, hdd, and reset lights and switches:
using AudioCat cabling for dvd-r/w drive power, and cat5 in use as power/reset/hdd cabling-- uses 2 rj11 jacks plugging into old modem ports(best use of a modem so far) that is wired to the mo-bo pins:
after starting to mount the whole thing in the car-- i found a bolt point to sercure it, and decided to drill it, with too much force, and a dull bit, but recovered: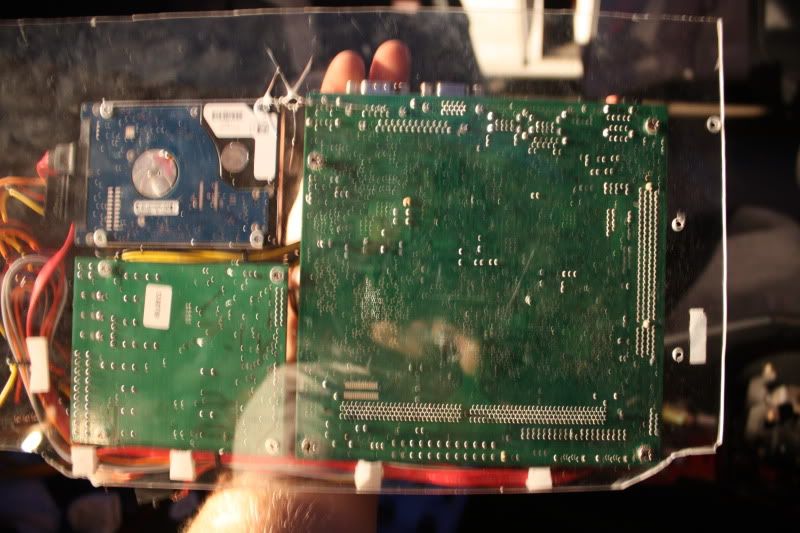 some pictures of the wire routing before and after carpet: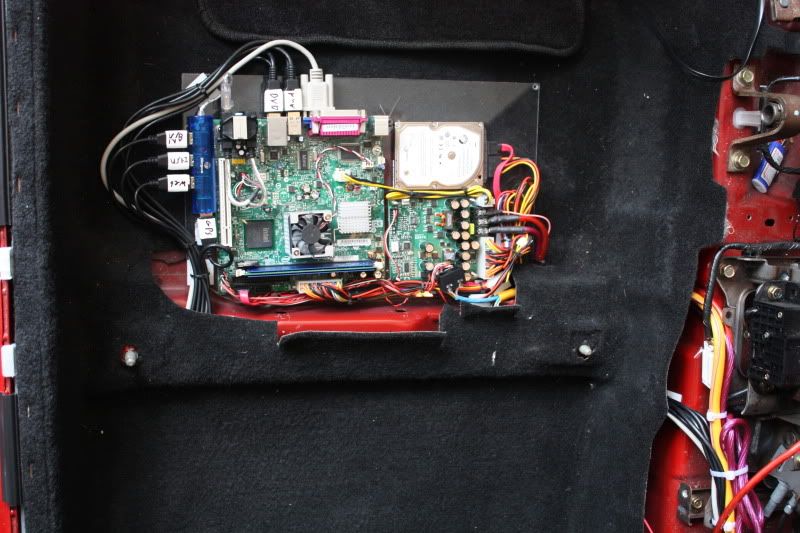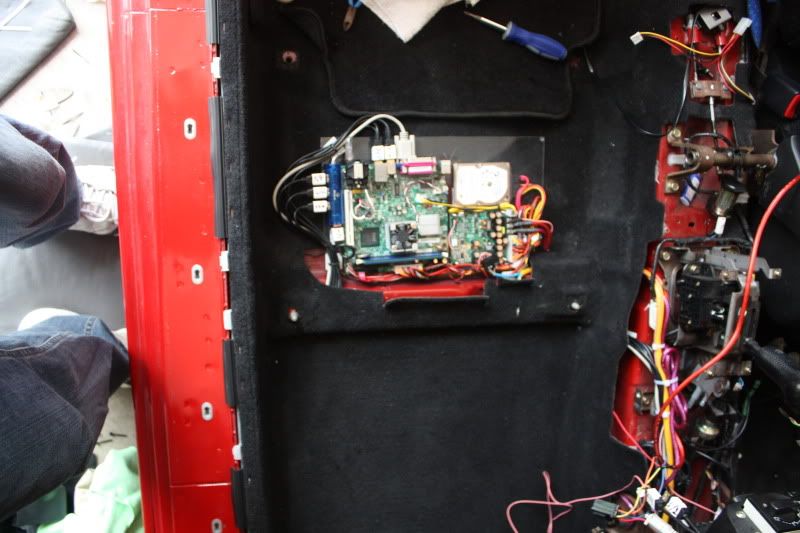 that is about it for now-- more to come later