Hey ya'll. I've been lurking for a weeks learning w/e I could. I have been curious about the idea of a putting a computer in a vehicle ever since I received my drivers license 5 yrs ago. I've been building computers for about 8 years now so it's nothing new to me.
My father and I run a performance shop in Texas near Galveston. I've started a build on a show truck for the shop and was looking for something different to make the truck stand out from the crowd. My step mom recently shut down her businesses, so we have a few monitors and pcs laying around. I came across a dell optiplex sx260 & a sx270 the other day and ever since have had this idea stuck in my head. Well I finally committed Saturday and ordered a 7" Lilliput touchscreen off eBay.
Here's some specs on the truck to get started.
01 chevy ext short bed.
5.3L w/ 2004 corrvete Zo6 cam, chromoly pushrods, patriot valve springs, billet timing set, new injectors, jba shorty headers w/ a full 3" true dual exhasut and race series mufflers.
Lifted 17"s on 40" tires, FOX reservoir racing shocks, Custom heim steering setup, train horns, under body leds, and the list continues.
The interior is completely stock for the time being which is next...
CarPc setup I'm planning to put together....
1000w inverter on remote continuous duty 200 amp relay
Dell optiplex sx270 w/factory psu for now in a custom enclosure
(2.4g p4/ 40gb Hd/1 gb pc3200/ creative x fi usb sound card/usb external dvd/rw )
Liliput 7" touch screen
usb blue tooth adapter
usb fm/am radio receiver
usb gps receiver
2*15" Dell lcd monitors w/ psu (made by acer)
wireless logitech keyboard & mouse for diagnostic work
Car stereo spec..
Polk momo 6.5" components & 1" tweeters w/ xovers
Polk db651 4x6 rear plate components
Boston acoustic 5.25 componets & 1" tweeters w/ xovers
2* 10" Hx2 Rockford Fosgate Competition series speakers 1000w RMS
Memphis 3 way x-over
Memphis 1000.1 amp
2*Kicker 350.4
Also plan on mounting a second d4 heavy equipment battery under the bed.
The plan is to mount the liliput 7" into the front dash where the factory 1.5 din radio is now. The amps and subs will be housed in a custom enclosure under the rear seat. I'm hoping to be able to mount the 2 15" lcds in custom frames from the ceiling on mounts that will allow it to flip down and swivel 90* for shows as well as lock in place for passenger viewing while driving. I'm hoping to relocate the psu for the monitors under the back seat somewhere. The pc enclosure will go under the driver seat.
Well that's the plan anyway. Anyone have any experience using vga office monitors? Can they take the vibrations of a vehicle? I hope to build a second pc to replace this one so I can add 2 video cards for multiple monitors viewing different images. I would also like to figure out how to split the sound signals so that when a passenger is watching a movie w/ head phones in the back I'll be able to still have my music up front. I think it may just require a simple software modification since I'll essentially have two sound cards.
This entire system is being built on a very tight budget and 95% of the parts I've had lying around the shop or sourced through friends. This actually an after thought on a complete build plan. The deadline is Oct. 9th. It has to be on a trailer headed for a show the next morning. Ugh what was I thinking....
Any constructive criticism or advice is greatly appreciated.... I think I may be in over my head on this one...
This will be my daily driver now since I sold my current truck to pay for this build and hopefully do some advertising to help bring in customers in this failing economy. BTW this is all out of my pocket the shop is NOT paying for it in any way.
Here's a few pics of the truck.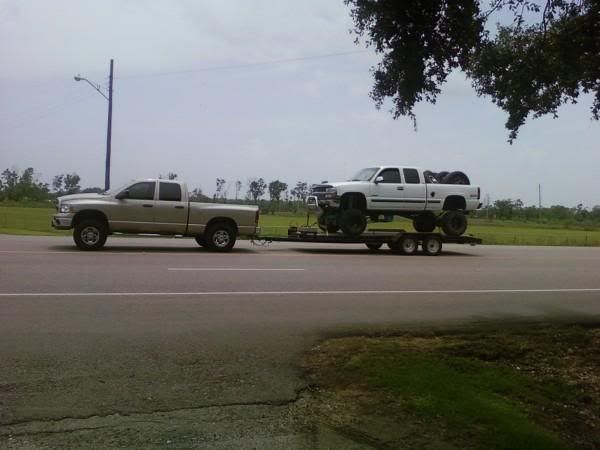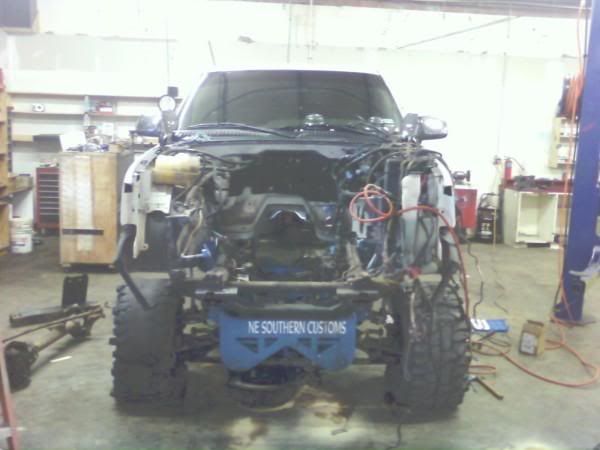 You can the tires that belong onit n the left of this pic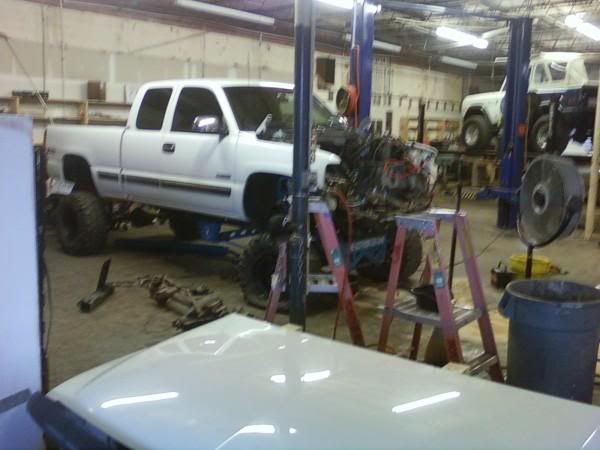 That's a 4' ladder next to it for a perspective. Its also on flattened 35'' tires to get the motor out. It will runs 40" tires when it put together. Also everything blue is soon to be lime green and silver. These are pics of how it sits this evening... O and the interior is gutted completely for sound deadening and interior work.