alright, this is my design -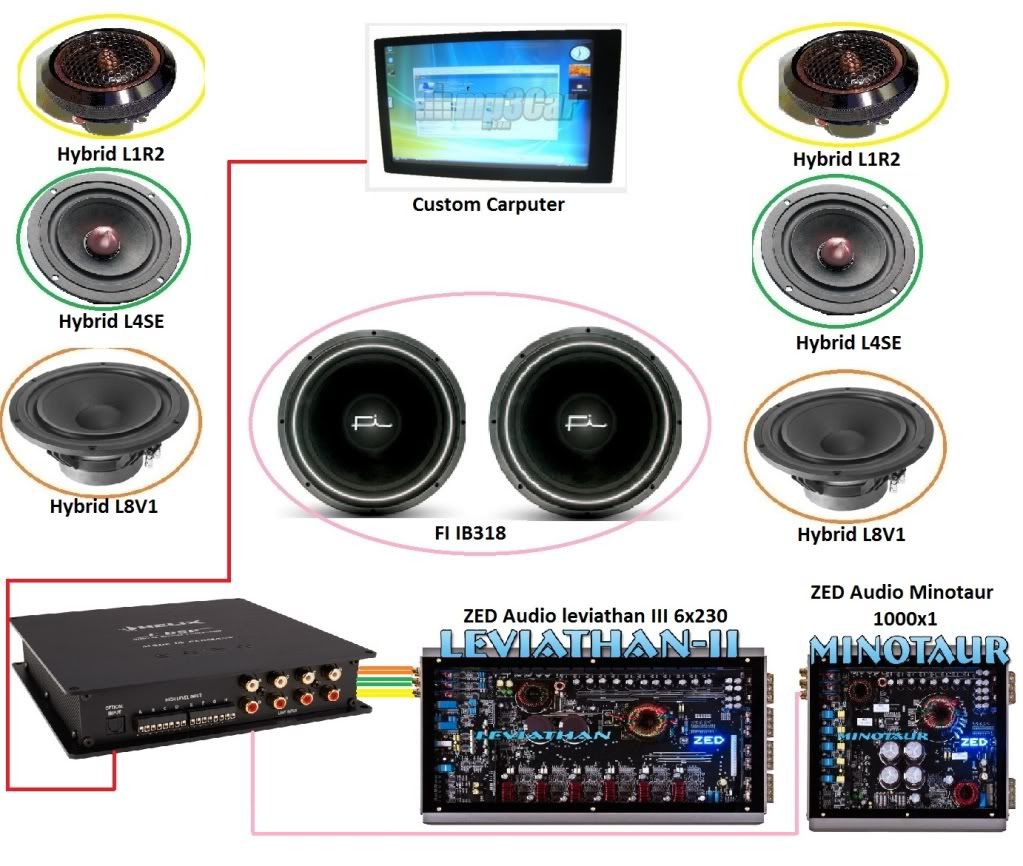 processor, is still in the air, i need to find one that has a knob for volume control. might be looking into something like a bit one.
this is the gear list ----
~ Helix C DSP Digital Sound Processor

~ ZED Audio Leviathan 6 channel amp 6x230 watts RMS

~ ZED Audio Minitour single channel 1000x1 watts RMS

~ Hybrid Audio L4SE

~ Hybrid Audio L1R2 Ring radiator tweeters

~ Hybrid Audio L8V1 9" woofers

~ FI IB318 (2x) 18" infinite Baffle sub's (500 watts to each)
Preassembled Black Double Din LCD Frame with 7" Lilliput 669GL-70NP/C/T-HB-RV HDMI DVI High Brightness
hard drive for the OS and software ---- their will also be a 1.5 TB media hard drive, I've yet to figure out how to power all of the perifials. might get tricky.
Newegg.com - Kingston HyperX SH100S3/120G 2.5" 120GB SATA III MLC Internal Solid State Drive (SSD) (Stand-alone Drive)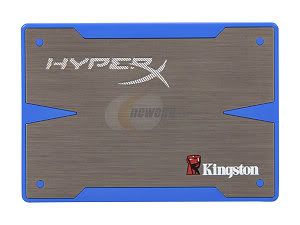 motherboard, i went witht his one for it's size, and features, plus its just an exceptional system. what i didnt know when i ordered this, was it came with a media remote! a very nice one, with a mouse toggle on one side with volume and tracking, and a full keyboard on the other side, very slick, very well designed. 140$ for the features given is just extreme. very good system.
Newegg.com - ASUS F1A75-I Deluxe FM1 AMD A75 (Hudson D3) HDMI SATA 6Gb/s USB 3.0 Mini ITX AMD Motherboard
the CPU, well really its an APU, a GPU + CPU in one. it's a new thing AMD is working on, if you really wanna know more, the video explains allot on the page.
Newegg.com - AMD A8-3850 Llano 2.9GHz Socket FM1 100W Quad-Core Desktop APU with DirectX 11 Graphic AMD Radeon HD 6550D AD3850WNGXBOX
8gb DDR3 1866 dual channel ram, DIMM's not SO-DIMMS like the other version of the asus motherboard.
Newegg.com - Kingston HyperX 8GB (2 x 4GB) 240-Pin DDR3 SDRAM DDR3 1866 Plug n Play Desktop Memory Model KHX1866C11D3P1K2/8G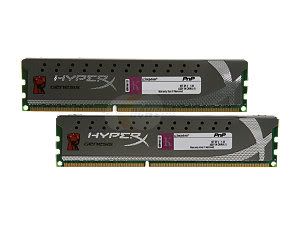 slot style DVD rom (writes dvds too)
Newegg.com - Sony Optiarc CD/DVD Burner 8X DVD+R 8X DVD+RW 6X DVD+R DL 8X DVD-R 6X DVD-RW 24X CD-R 24X CD-RW Black SATA Model AD-7690H-01 - CD / DVD Burners
external sound card, not needed but why not
Newegg.com - Creative Sound Blaster X-Fi Titanium Fatal1ty Professional 70SB088600002 7.1 Channels 24-bit 96KHz PCI Express x1 Interface Sound Card
power supply, I might be switching to this new 250 watt power supply that recently came out.
M2-ATX (160w) Intelligent DC-DC Car PC Power Supply

radio interface
Mp3Car BoomzBox HD Radio USB Controlled AM/FM Tuner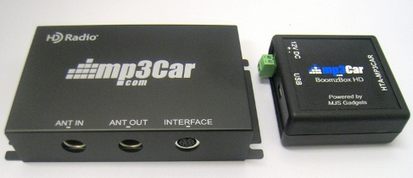 this is how i'll be attaching the DVD slot drive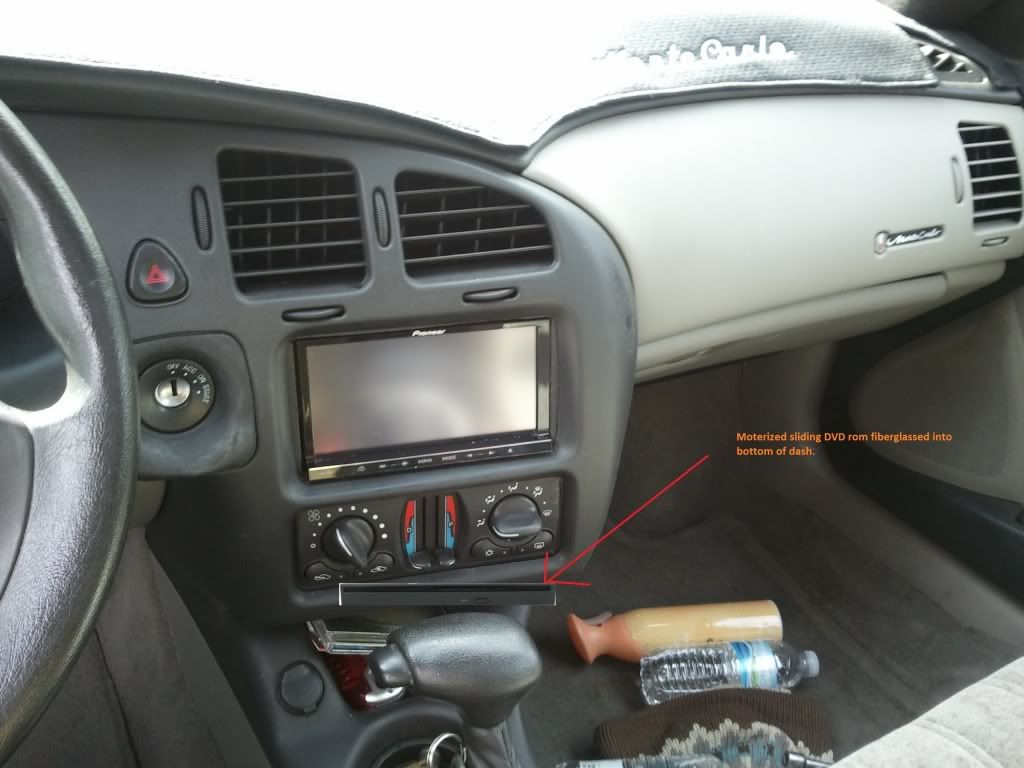 the screen should fit right in, but im still considering fiberglassing the hole to make it larger so i can get a larger screen too, i'm not sure.
now, the questions. from what i'm understanding, i was planning on using optic, because its a great transport, BUT now i'm reading and hearing that all the sound processors on the market can't digest the volume control data off of optic lines, so i might be limited in the sound processor i use from this. if anybody has any ideas or knows anything, please don't be shy.