12/1: Please note that updates to the original post are in red *CLICK HERE FOR NEW PICS*
1/27: UPDATED PICS ON PAGE 2 (OR CLICK HERE) WITH THE P1900 INSTALLED AND THE MAC MINI MOUNTED UNDER THE PASSENGER SEAT
3/28: In case nobody read that far, my truck was broken into on valentines day. All my stuff was stolen out of it and it's been in the shop until TODAY (see this post for more details). So my new car pc project begins tomorrow.
Ok, so I've been working for about a week or so, and I've gotten part of the way along with my install, so I thought I'd start a worklog. Also, since I'm having a bit of a problem with the screen install, I thought this would be a good place to ask a question.
First, description and pics of what my setup will be and what I've done so far.
carpc: a 3year old hp ze4500 lappy (celeron 2.3, 256mb ram, 40gig hdd dvd/cdrw)
Since replaced because I killed it (see below). New PC is Actually a 1.5 core solo mac mini. 512mb ram 60gig hdd and dvd/cdrw
touchscreen: ex-audio (lilliput) 7"
sound blaster 24bit external usb sound card (works great)
MA Audio M489i 4 channel amp *shrugs* I got it for $75, the guy said it was an okay amp so we'll see Actually, this amp is great and seems to put out way more power than my stock speakers can handle, which means I may have to upgrade to better speakers
netgear usb external G wireless (thank you woot.com) Replaced by internal wireless and bluetooth of the mac mini
gyration mouse and keyboard (also works great...except sometimes the mouse has to be retrained ($35 refurb from woot.com)
holux gr231 external usb/bt gps
Replaced with delorme POS USB mouse GPS after I lost the Holux when i moved
So far, I've got a slipstreamaed xpsp2 reinstall on the hp done
the screen attached to the oem bezel thing from my truck done
The monitor is now totally in and the mac mini is "installed" and working, though not mounted and i still haven't got the p1900 power supply I've been meaning to buy for almost 6 months, so I just use a $30 inverter from FRY's which gets the job done more or less. All that is now done too
and that's about it lol
now then, pics!
Look down to the bottom of the page for updated/better pics showing the mac mini installed, and page 2 showing it installed under the seat with the p1900
here's the screen on that day it arrived via ups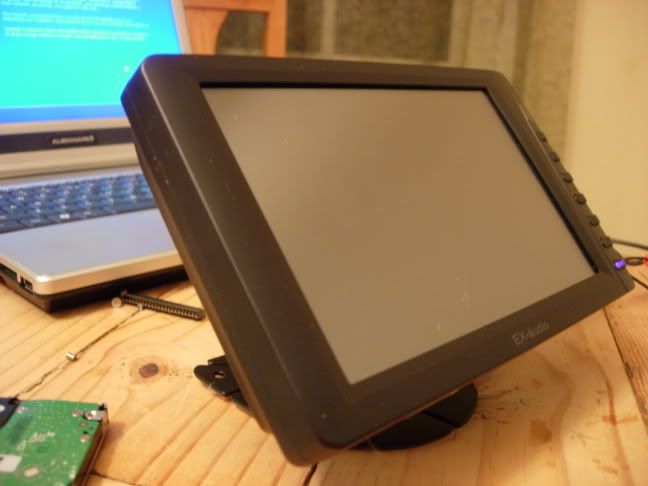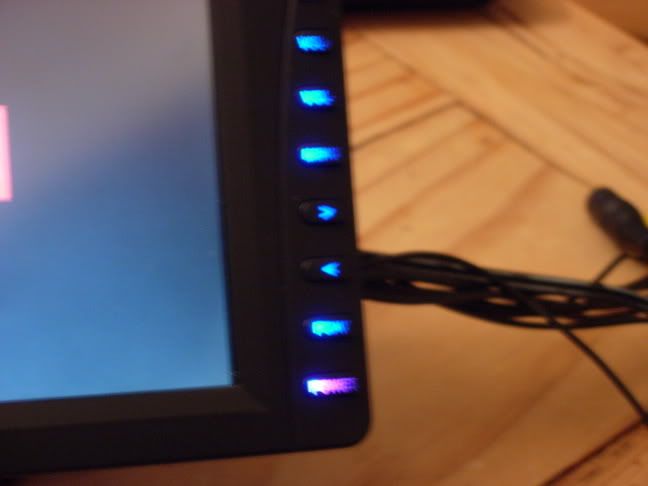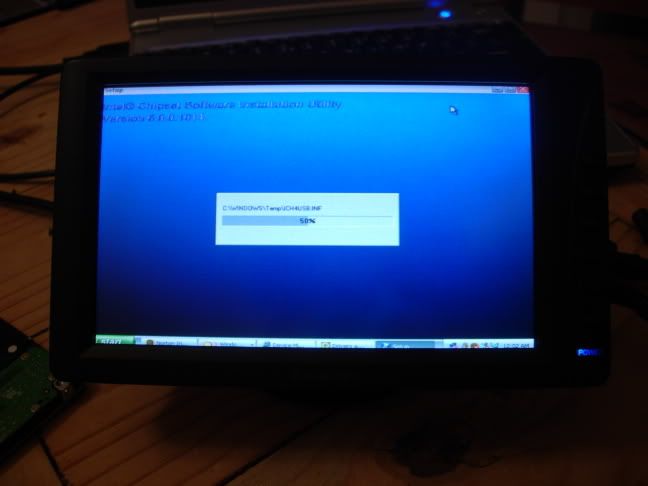 here's the "done" shots of the bezel after being sanded and painted to accomodate the bigger than double din size of the screen
I sanded with 150 dry, 400 and 600 wet sandpaper, used bulldog adhesive promoter (makes paint stick better to the plastic) and a flat enamel rustoleum spraypaint. the result is almost exactly OEM, but not quite. With one or two more coats closer to the bezel, it could have been perfect, but it was close enough and I didn't want to have to strip it off and start over had I messed it up.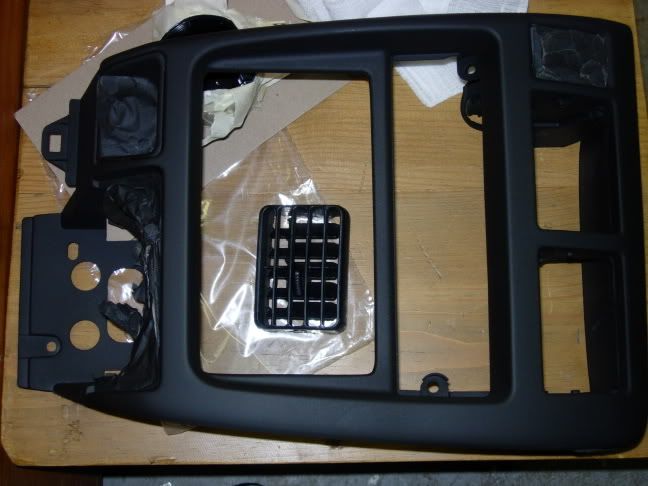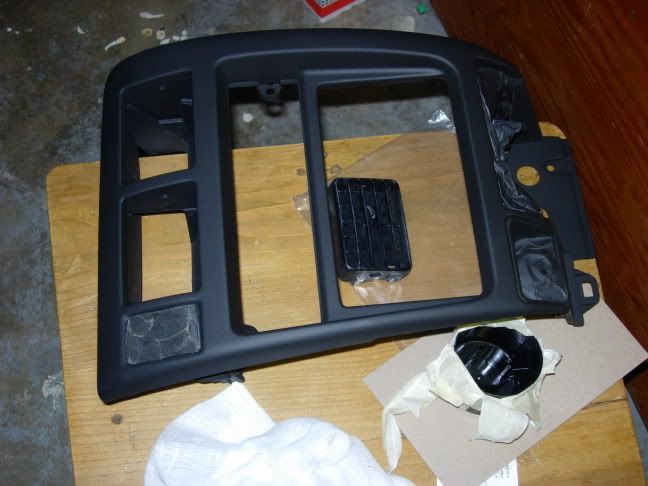 here's the shots of the two together in their final preinstall state. i used some sort of "plastic concrete" I think it was called. Dries like solid plastic in 5-10 minutes. excellent as a glue or as filler since it's easily sanded and grinded, yet very strong.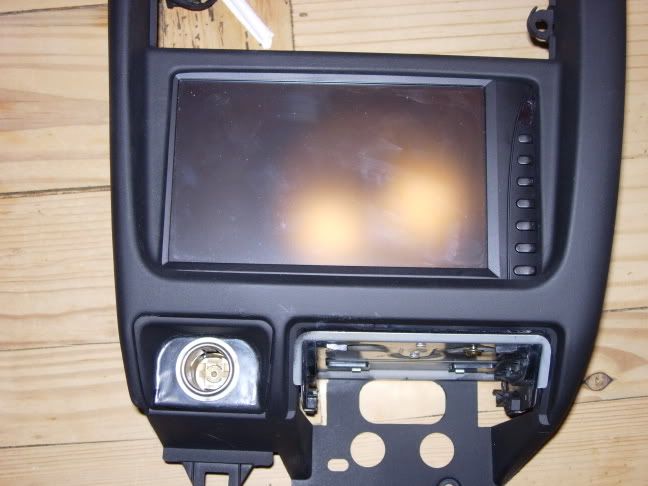 and here's the plastic concrete stuff holding the screen to the bezel. i was really suprised to see how strong the bond is.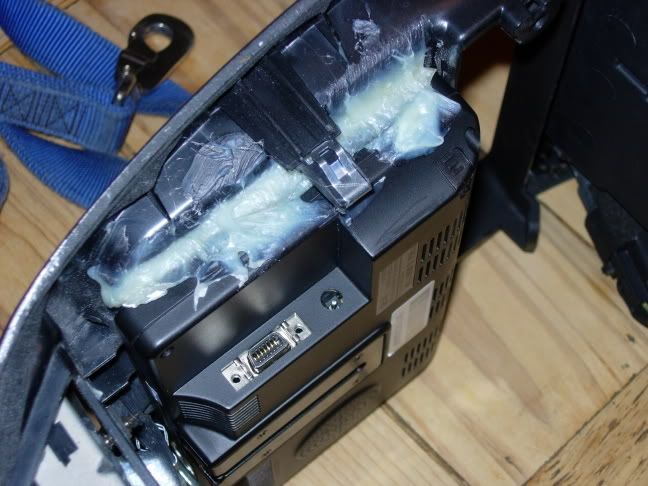 now, the reason I did it this way instead of fabricating the screen into the bezel itself are twofold:
1. it was easier
2. if I need to replace the screen, it's going to be alot easier this way
so, basically, it was easier
big props to my dad for all the help he's been giving me with this project. (yeah, I'm 26 and I still need my dad's help sometimes)
if anyone is still reading this far, on to my problem. Today, I tried to wire up the screen to one of my power ports (my taco has 3 including the cig lighter). the problem is that it works fine if I use the included adapter (cig style), but when I cut the wire and tried to wire it directly to the leads coming out of the power jack, it blew the fuse in the little box on the power cord. This happened twice with 2 different (but identical) fuses. I have no idea why this is happening, anyone who could shed some light on this would be my new best friend. Fixed
Okay, that's it for now, flame/praise away