Welcome to the work log of my 2006 Subaru Forester 2.5XT! I hope you find it educational.
Summary of Car Entertainment System
The A/V sources of this system include a CarPC (more on that later), an Alpine DVA-9861 DVD Head Unit, and a Game Console Wall Plate which allows any video game console to be connected. These are viewed on a touchscreen monitor and two headrest monitors, each with their own infrared headphones. The monitors and headphones get their inputs from a Clarion MSS-430 multi-zone source selector (additionally, the touchscreen monitor is connected directly to the computer with a VGA signal). The source selector has four A/V inputs (Head Unit, Computer, Game Console, and Backup Camera). This allows each monitor to independently select between the three A/V sources (the Backup Camera has not yet been installed).
Each A/V source also provides analog and/or digital audio to an Alpine PXA-H701 sound processor. This sound processor is controlled by another head unit, the Alpine RUX-C701. This allows the vehicle sound system to select any audio source. Digital audio ensures the best quality audio signal. The preamp outputs from the sound processor are fed into a Phoenix Gold R9.0:5 5-channel amplifier. This powers the Boston Acoustics SX60 component speakers in front, SX55 coaxial speakers in back, and an 8" Kicker Solobaric subwoofer in the trunk.
The computer uses a Core Duo processor and an Aopen i945GTt motherboard. It has an 80GB 7200RPM SATA hard drive, with 2GB of DDR2 RAM. I use a modified Ampie case with a fan controller and extra cooling. The computer is powered by a CarNetix P2140 DC Regulator. The regulator is also used to power two USB hubs and an Airlink AR360W3G 3G Mobile Router. This mobile router allows me to use my laptop cellular card to have constant internet access, as well as create a "mobile hotspot" in and around my car.
Current Diagram:
Completed:
Installed Headrest Monitors:
Created Subwoofer Enclosure:
Dynamat (RAAMmat) Trunk:
Dynamat (RAAMmat) Floor:
Dynamat (RAAMmat) Rear Hatch:
Dynamat (RAAMmat) Doors:
Create Recessed Floor in Trunk for Components:
Installed Shelf for Trunk Components: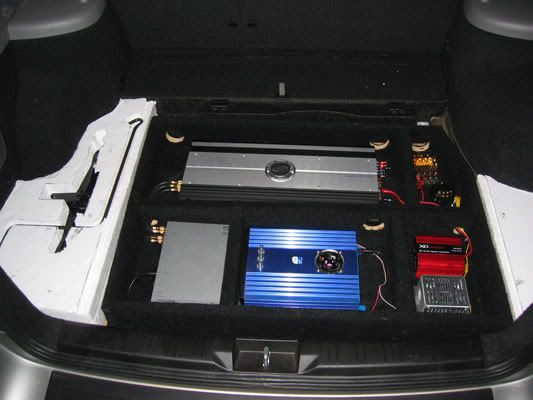 Installed Kicker Solobaric Subwoofer: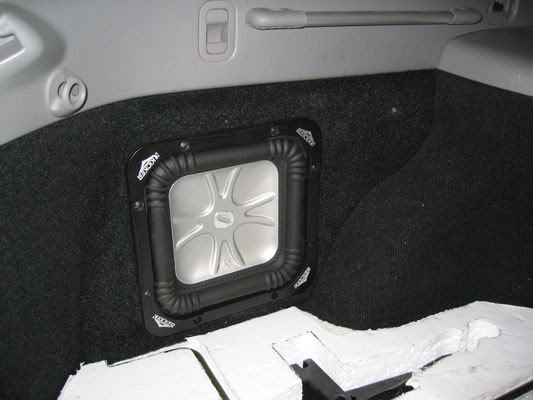 Installed Boston Acoustics Speakers:
Installed Touchscreen Monitor:
Installed Front Shelf Components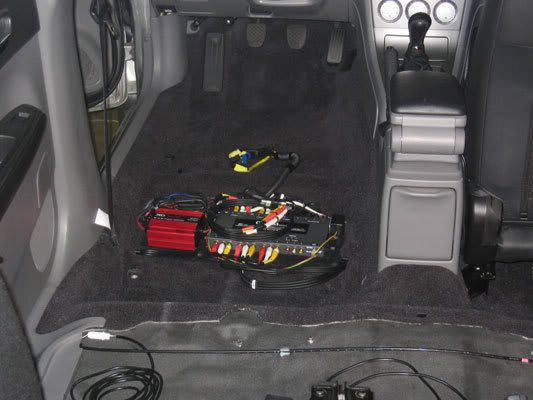 Wired Up: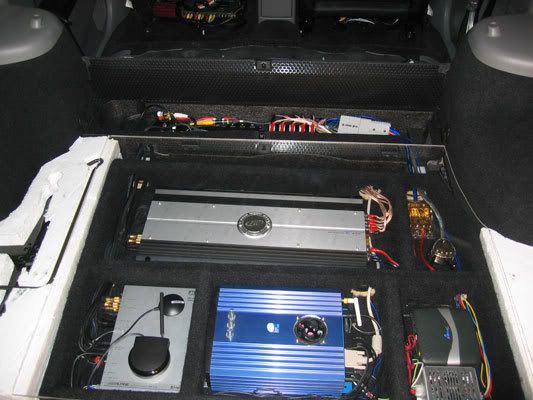 ...and Ready to Go!
To Do:
Configure Computer Software (User Interface, Navigation, etc)
Install Subwoofer Back-Plate
Mount Front Seat A/V Remote to Storage Compartment Lid
Mount Back Seat A/V Remotes to Armrest
Neon Lights on Amplifier
Wire and Mount DVD+-RW
Flush-mount Lilliput Buttons
Inverter Kill Switch (or Use ACC for Inverter On)
Ground Inverter Game Plate
Headphone Solution for Front Seat
Backup Camera