Well I've been lurking for a while, doing a little work here and there on my PC, planning/installing, re-installing, re-wiring, taking pics every now and then, but now I'm finally posting because I think I have enough material.
"Stock" dash (with Kenwood X817):
For a while I was toying with the idea of a fold out monitor in the bottom DIN slot because I didn't want to do any fabrication. The sound would come from the PC to my Kenwood via aux-in, and out into the stock Infinity amp/Basslink. I wanted to utilize the X817's preouts because that made it drastically easier.
Regardless, I ordered my barebones to set up. Picture of bench testing (see specs of system to the left):
Ordered M1-ATX, continued bench testing....sorry no pic of that setup.
Then the DL065A came out! It seemed like a perfect solution because I didn't want to fabricate.......only I didn't have room for the Kenwood anymore. I didn't want to put it into the clock pod, like some in the Club3G community have, because eventually I'd want 5.1 sound and the stereo would take up the center channel speaker's space.
I finally got the monitor and installed it.....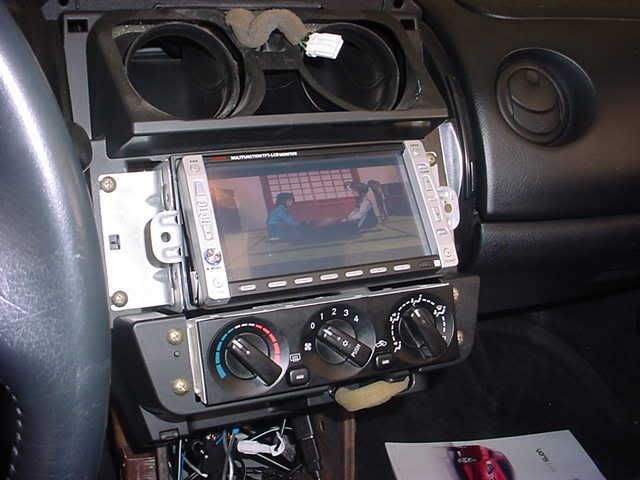 The way the stock Mitsubishi din brackets are setup does not really allow for creative liberty in mounting....so I had to devise a new way. Couldn't take pic, sorry.....but I used two PC case screws in one of the mounting holes on the monitor. This made my monitor sag a little....didn't really like that, but I didn't want to hack up the monitor....yet.....