I finally got around to buying a better amp for my subwoofers. I had a pioneer GM-5300T, this amp was only feeding my subs 125 watts rms each. I bought a Kenwood-KAC-8103D, this amp is feeding the subs 250 watts rms each. I am using it with 2 JBL GT4 12" subs which take 250 watts rms each. They are wired to put a 2 ohm load on the amp. I am not sure how big my enclosure is because I bought a prefabbed one and I am not very good at building stuff like that. I would estimate each sub has about 2 cubic feet of air, maybe more. The enclosure is sealed. My carpc has a sound blaster live 24 bit PCI sound card.
Here are some pics of my equalizer and amp settings.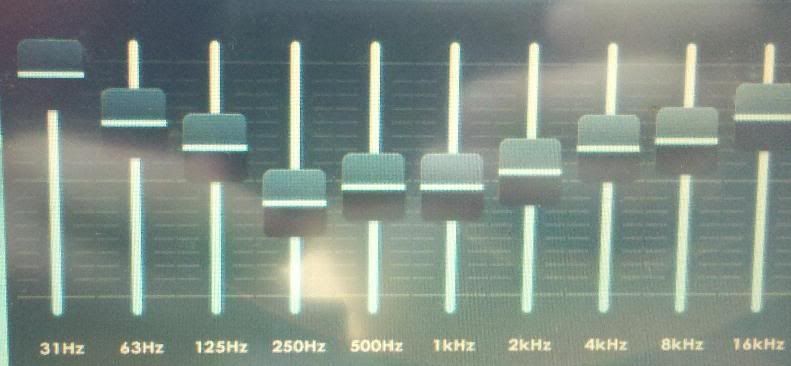 The problem I have is I was expecting a lot of bass. More bass than I would have even wanted. Maybe I am naive, but I am disappointed. I listen to music like megadeth, so I am wanting loud drum hits and loud bass guitar notes. I actually cant tell much of a difference between my old amp and my new amp. If I turn up any setting any higher my amp goes into power protect mode. So even at high volume, and low gain everything is still not very loud.
I have upgraded the big 3 wires, checked all of my connections, and everything checks out. I am using 4 gauge wires all the way to the amp, and 6 gauge wires to the subs. The amp gets about 12 volts, but when idle it drops to 11.5 on hard bass hits at max volume. I would assume driving down the road it gets 12 volts, but maybe I am wrong.
I am not an expert, or anything close to it, so can someone give me some pointers and explain what I am doing wrong? Am I expecting too much from my system?