This is my first here even though I signed up a while ago. I currently own a 1990 Nissan 300ZX and am in the process of putting her back together. I stripped the entire interior as I'm laying down sound deadening (loud HKS exhaust) and doing a lot of major work on the car. I don't have a stereo system YET but I figured while everything is gutted what better time is there to run my wiring to the trunk area for a future setup. I'm contempt with an 800W setup as I don't want to go overboard.
I purchased the following:

50' of 2/0 Power Cable (battery will be relocated to the trunk)
2 AMP Kits (just in case I needed extra wiring)
Copper Eyelet Terminals for the Power Cable (2/0 Gauge)
17 FT RCA Cable (braided; long so I can route as I please)
My whole thinking pattern is to have the wiring sticking out the trunk and tucked away so that in the future it would only be a matter of connecting the stuff I have and not having to tear into the interior. I did some research online and know that you're not supposed to run wires next to each other (AMP, Speaker) for the feedback so I drew up a diagram of my thinking pattern. Please feel free to make modifications w/ MS Paint or whatever you use.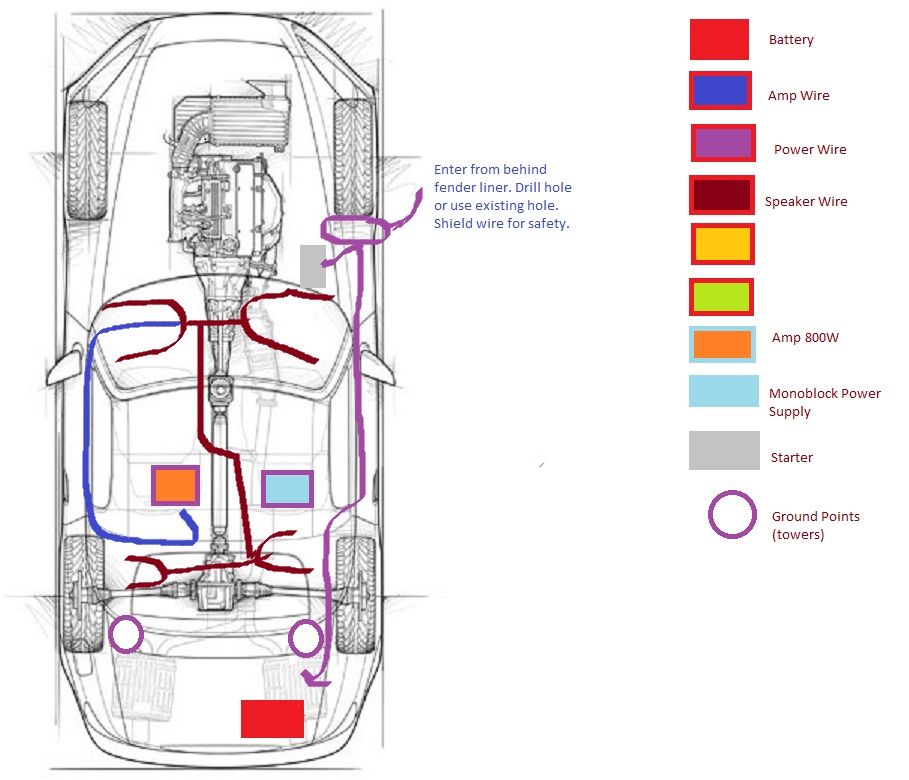 I'm basically looking for direction. Currently the car is set up with Pioneer speakers all around. I'm laying down the sound deadening first and running the wires on top. Any help would be appreciated.