this thread is a copy of my original post in
this thread
, i decided to post this here primarily because it seems the biggest hurdle in audio processing is to get something to work--in my own setup, i found that once i had gotten this far, it was much easier to experiment, and test new ways/plugins because there is always a default working setup to fall back on..
the basic setup:
just a word of warning-- on this computer, i could not seem to take over the onboard audio ports, but the board is from back in '06/'07, so support is a little slim-- i was using whatever driver win7 loaded..
so, i plugged in one of my usb cards-- a creative x-fi..
anyways, enough rambling:
so to reiterate what needs to be done:
download and install vac, and then set it as the primary audio output in windows
download and install a audiomulch(console is very similar though, so if you would prefer to use that, i can help you there also..)
download the karmafxplugin pack(karmafx.net), and select it to install to the audio mulch vstplugins folder(program files->audiomulch->vst plugins) there is ways to setup plugins to be stored in other folders, but this is easier for the time being..
i am not affiliated at all with karmafx, but their plugins have been the most reliable, least cpu-intensive, and most importantly, least glitchy. many of the other plugin-packs i have tried tend to have glitches all over.. for this demo, i feel it is easier if everyone uses the same plugin package to eliminate problems with specific plugin installation/configuration.
after opening audiomulch, go to EDIT->SETTINGS.
under settings, click on audio driver-- it should be set to "windows multimedia":
now go to AUDIO INPUT, and set it up like the picture for VAC:
for audio output, setup your audio card, and its respective channels: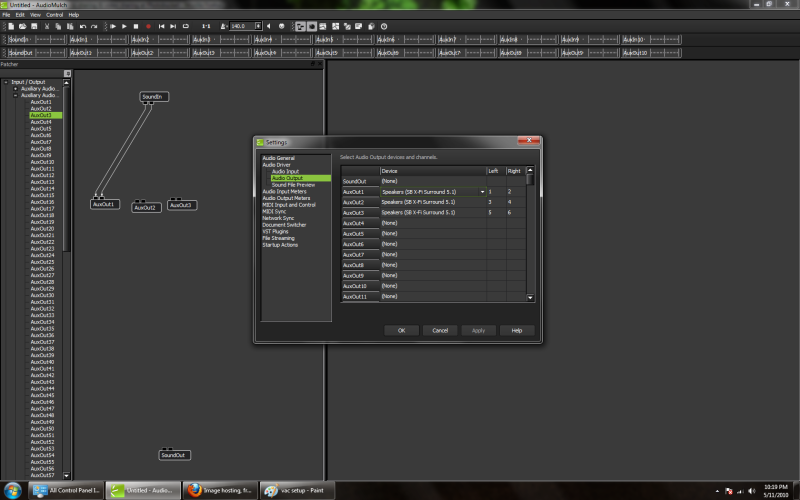 click ok to exit out of the settings window, and you will have the basic screen-- under the inputs/outputs area, you can drag the input/output plugins onto the layout screen, and then connect them by clicking and dragging between the 'nubs' on them-- this will create 'wires' between them...
if you set it up like i have on the screen shots, you will almost have re-enabled audio on your computer..
there is a speaker button in the top row-- right above auxin4 on the screen shot that need to be enabled-- after enabling that, you should have a computer that with audio that acts normally-- if you 'ding' the volume slider in windows, or play a song, it should come through fine now..
now to get to the more complex stuff
for the karmafxplugins:
you should see it near the bottom of the list on the lefthand side under vstplugins: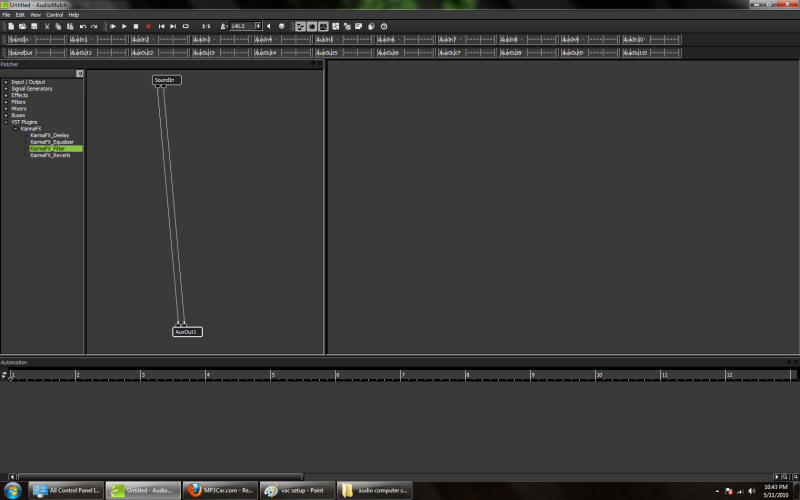 drag it onto the screen, delete the 'wires' connecting the input and output, and then reconnect the input/output to the plugin. it should look something like this: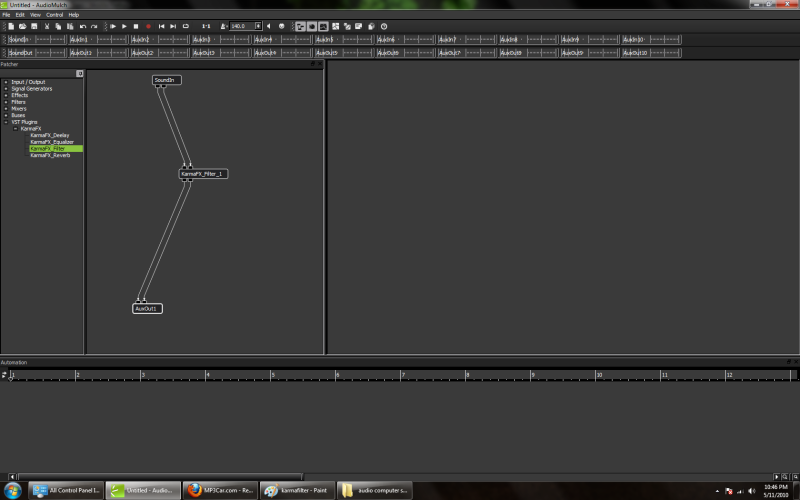 now double click on the plugin, and it will pop up with the adjustment menu on the right hand side-- that you can use to tweak till your hearts content(i assume that you have a enough experience with stereos, i don't need to explain all the knobs, but in case you run stuck, there should be a manual that was included with the plugins-it will be in the vstplugins folder):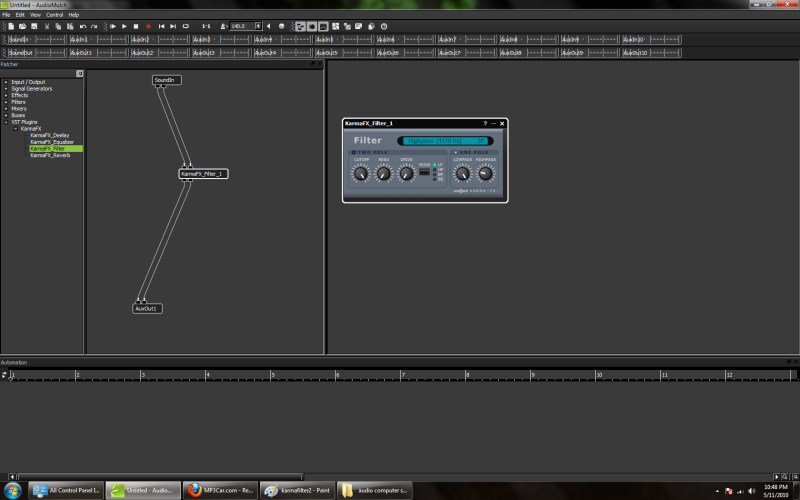 and that is it- any other plugins are going to be setup almost the same way, so if you can get this far with out a problem, i think you should be fine-- everything in audio processing is going to build off of what we did here.
it is not as hard as it sounds, it just takes a lot of time to setup..