Ok, so I cut up my kick panels to modify them (cut the center out, spaced it off the rest of the panel and used fiberglass/fiberglass filler to make the new shape) to make room for the extra travel of the 6.5" subs I put in place of the 5.25" woofers.
Anyway, long story short, I had the grills taped off but accidentally went over it with my orbital sander and went through to the plastic. Here's the damage: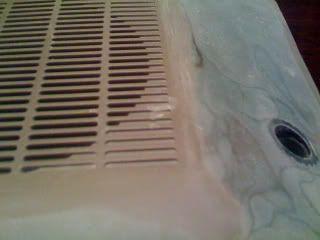 I know it's a rough picture, but basically, I dug down into a couple of the raised slats between the slots that allow sound through. Anyone have a good idea of how to build this shape back up and what product to use?