I am about to install the carputer in my 98 GMC Savana. That's a full size conversion van with plenty of room to do mods. I intend to install a Uniden
scanner
, a
Yaesu
ham radio, and a light switch box with attached microphone.
I have attached some photos of possible locations:
This is what my dash looks like.
- The OEM radio sits where the red circle is. I intend to replace the OEM radio with a fabricated 1.5 din case with an LCD screen in the front to go there.
- The green circle represents my HVAC controls. I am considering removing them and making the HVAC interface part of the carputer, provided the controls are electronic and not mechanical or vacuum. Something could go there if that is feasible.
- The black circle is the factory CD player which is physically separate of the OEM radio, but it's connected to it. I might leave it in or I might install the DVD/CD player mp3car sells in its place.
- The white circle represents grooved slots to hold change and miscellaneous things. I could install something there if need be.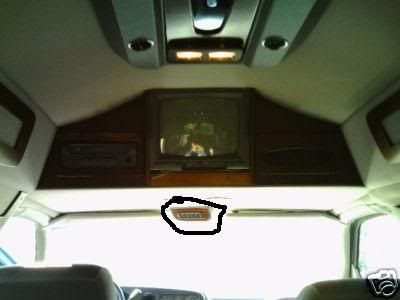 This is the overhead console. The black circle represents light switches which control the limo lights in the back. I could relocate these switches elsewhere if it becomes feasible to put something there.
I figured I would present this question to the more seasoned fabrication/installation experts to get some good opinions/advice. Thanks.