I've got the case for my car pc made now and have the motherboard mounted in it (the holes at the back were a nightmare with no back plate!!), but my next big hurdle is going to be mounting the screen and I was hoping someone could help with ideas.
I want to have a slimline slotload dvd drive inside the main unit, (already have one) but that means the screen will have to be able to move in one direction or another to give access to the drive.
It'd be very interested to know if anyone else has done this and if so how they went about it and what sort of fabrication was involved/or any other bits they bought to help with this.
Pics attached so you can see what I have so far in case that will help.
Thanks in advance for any useful suggestions. The only thing I have surmised so far is that the screen will probably need to slide/fold downwards as the motherboard is at the bottom of the case & it'd make sense to have the drive at the top therefore.
Cheers!
Jim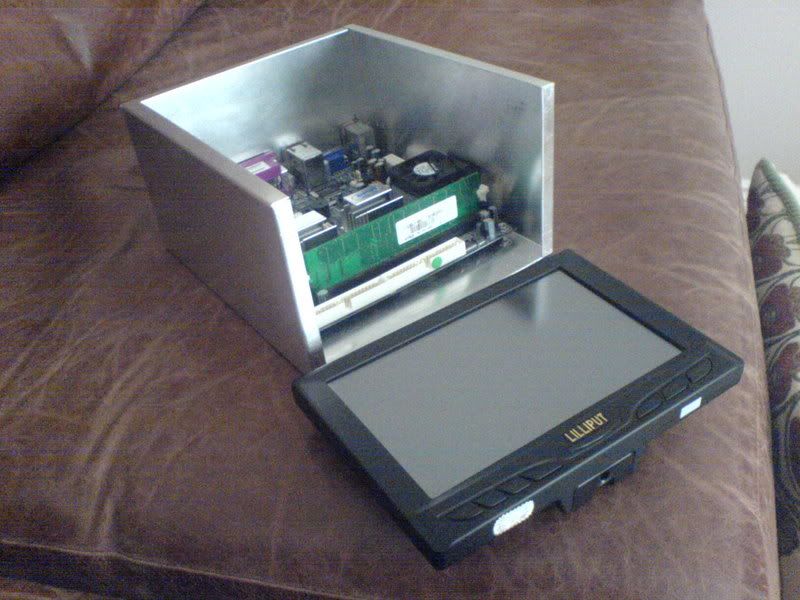 The other thing I was wondering about was the VGA connection on the back of the board - it'd be nice to have it all inside the case but how easy is it to do this? I'm a bit scared of breaking the mobo by trying to remove the vga connector & soldering the wires directly in.....
What I think would be a good compromise would be if there is some kind of small 90 degree adaptor for the vga socket so that the socket would effectively face upwards from the back rather than straight out, at least then the plug can go down the rear panel instead of sticking right out. Hope that makes sense!