Well my topic might be a bit fuzzy but here is what I was thinking today while driving...
I'm using StevieG's access control (think it's called that) to get access to my CarPC and on my ignition I have 3 different modes...
1-is simply power but no lights and so on,
2-is "normal" driving mode with all light on and etc.
3-is "startup" mode, ie, holding it there will get the engine started, I think u all know what I mean...
A cool thing would be if I didn't get any power to the 3d mode before entering the correct code... would be easy enough to setup... made a little sketch to maybe better explain what I mean: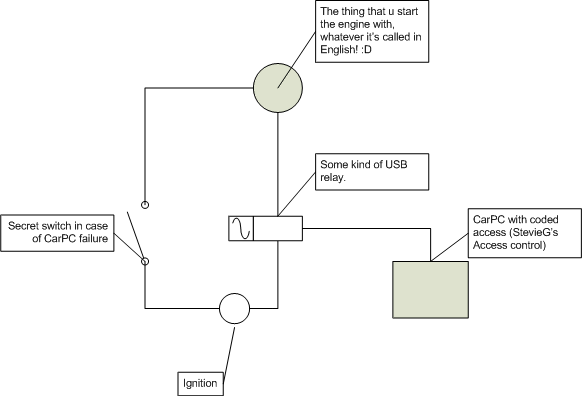 the super secret switch is just hidden away somewhere incase the CarPC dies... should work since the car only needs power in step 3 to start the car so it wouldn't do anything if the pc died while driving or something crazy like that...
what u all think, possible or maybe even made, tried searching but I could only find threads about starting the engine with the pc... I only want it to be impossible to start it with the key without first entering the correct code!