Hey Guys! Its been a long time since I've been on here and it feels good to be back
I finally have enough scratch saved up to attempt what many have, and it would seem all have failed. An OEM carputer install in a first gen Lexus RX300. This car is notoriously difficult to deal with but here is the proposed hardware:
98% certain:
Zotax ATXION-S-E 1.8 ghz dual core with ION graphics
4 gigs of 800mhz Ram
64 Gig Crucial C300 SSD
MO CO SO Black box
Visteon and MTJ custom USB cable
any mic (since I have the realtek audio on this board with noise and echo canceling)
Elm Scan 5
Bluetooth
Car2PC (Toy2)
Centrafuse
Windows 7 64 bit
Not so certain:
Mini Touch 700 (still shopping, may go capacative)
M3 ATX. Had this guy lying around from an old build. Wondering if the ION chipset + the mini touch 700 + all of my peripherals will overload this guy.
Now here is the crux. THERE IS NO SPACE FOR THE MONITOR!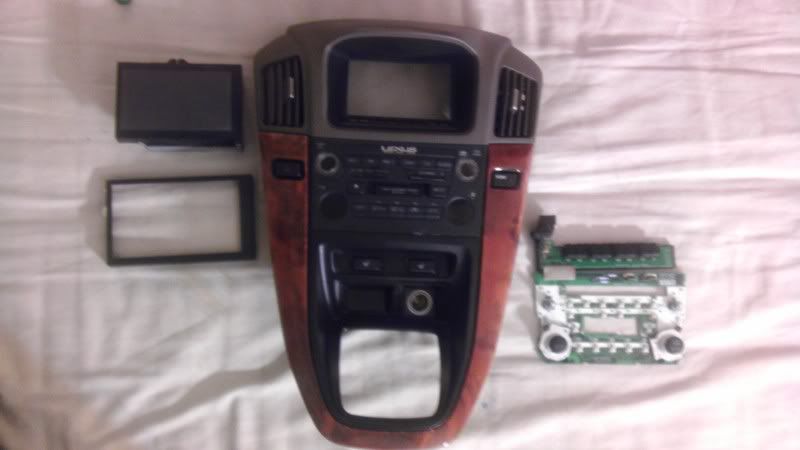 The plan is to cut the hole up top where the stock screen is bigger (measurements done) and stuff a 7" monitor in there and bondo it up. HOWEVER
I will need to relocate the stock screen and those buttons because they display AC setting and other important data.
I have contemplated placing the stock screen where the seat heaters and cig lighter are, but it won't fit because The hole in the bottom is where the shifter goes.
I am stuck, but WILL NOT GIVE UP UNTIL THERE IS A FUNCTIONAL, OEM LOOKING CARPUTER IN MY CAR.
HELP!
M3 ATX power supply