I would like to get some feedback on the Espresso PC . Im still trying to debate what route i want to go for my acutal computer for my carputer.
Intel 810, Video Memory 11MB(shared Memory)Support up to 1280 by 1024pixel...........Will that be good enough for a 7" lilliput?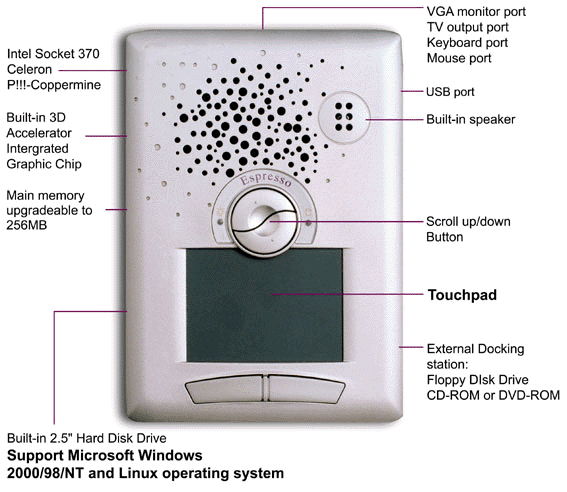 The Espresso Pocket PC is an astonishing design of tiny dimensions 6" (150mm) x 4" (106mm) x 1.25" (32mm) ~ a postcard size. It is a fully featured PC that fits easily into any compact office and home environment. It is also a perfect solution for custom usage and environment. Weighting around 1lb. (460g) , the total "travel weight" of the unit is around 1.95lb. (880g) that includes the power adapter (250g) + Carry Bag (170g) + Pocket PC (460g). It lets you travel light! The unit uses the Intel i810 chipset and supports Intel Celeron processors. It supports up to 256MB PC100 SDRAM and up to 18GB 2.5" notebook hard disk. The unit is compatible with Windows 98, 2000 and Linux. With all the built-in features like sound, Video with TV/out, touch pad, parallel, serial and USB ports. It gives you the full power of a workstation. The docking station with CD or DVD ROM and floppy drive give you a lot of convenience and flexibility. It is definitely the best choice for mobility and space saving.