Hey guys,
Im trying to build a very simple single relay card for just an experiment using this design: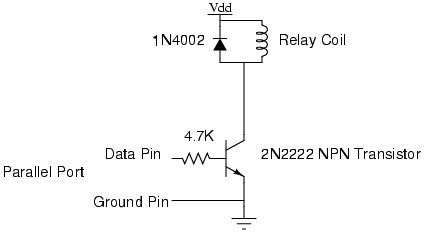 I have built the circuit but I am having some problems with it- its not working!!
From what I can tell from this schematic, the + pin 2 on the parallel triggers the transistor, feeding ground from pin 18 to the relay, activiating it. I have a 12V source on the other side of the relay coil.
I am getting 3.3V coming off pin #2 on the parallel port. Ive used a multimeter on various parts of the ciruit to try to figure out why its not working.
Also, Im using a reed relay if that matters.
When as soon as I hook the 12V source to the relay coil, it trips - i get continuity between the in and out on the relay. When I put my + probe on the 12V source, and - probe on the ground, i show about 7V, which I dont understand becaue the parallel port is set to off. This is why the relay is engaged.
I cant figure this out, Im about to give up, so if anybody can throw me some ideas that would be great. Thanks!