I have my XM direct unit mounted internally in my case, and have it wired up from the mini-din cable directly to the on board com port with its little plug.
I have read through all the posts regarding V1 and V2 versions of the pinout, and am still unable to get it to work either way.
Currently, the XM direct goes to the com port on the motherboards as follows.
8 pin mini-diin to db9
pin 1 = pin 2 Data Receive
pin 2 = pin 3 Data Transmit
pin 3 = pin 5 ground
I tried connecting it as a v1 and a v2 style but neither seem to work (refering to the left most picture of the serial port header on the mobo). Do I have the send and recieve pins backwards?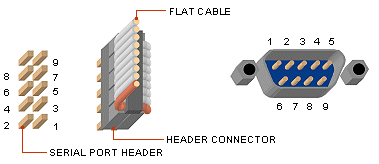 Also, is there a test program I can use to see if it works without using satradiox? I can no longer find frodos test app.
Lastly, since this is all internal, where do I ground the shileding?
Any help is appreciated.