Hi there,
I'm new to the forum so please forgive me if this question belongs into another category.
I'm trying to connect a PC to my Audi Navigation Plus via its RGBcsynch input and managed to get a stable picture: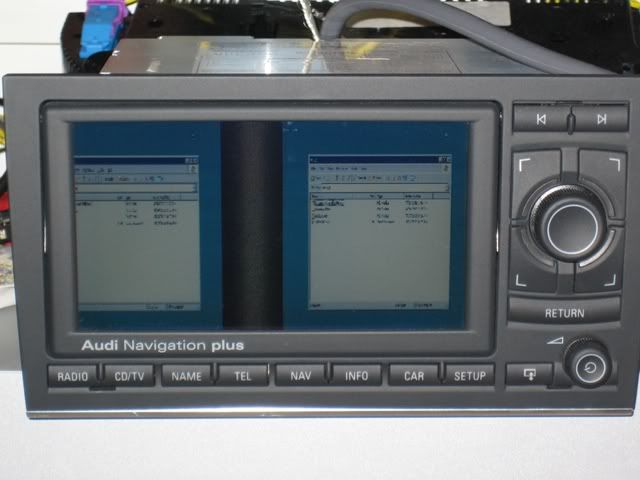 As you can see, the picture is split in half and much to small. The resolution I had to pic to get this picture was 800x600 but the native resolution is something like 400x234. Unfortunately do I not have any information about the h/v frequencies required by this display. All I know is that it's RGB with Composite Synch.
I tired to use Powerstrip and got this 800x600 screen with the following settings:
PowerStrip timing parameters:
800x600=800,48,128,80,600,1,4,23,32950,304
Generic timing details for 800x600:
HFP=48 HSW=128 HBP=80 kHz=31 VFP=1 VSW=4 VBP=23 Hz=50
VESA detailed timing details:
PClk=32.95 H.Active=800 H.Blank=256 H.Offset=32 HSW=128 V.Active=600 V.Blank=28 V.Offset=1 VSW=4
Linux modeline parameters:
"800x600" 32.950 800 848 976 1056 600 601 605 628 +hsync +vsync
I'm controlling the PC remotely via Timbuktu Pro (similar to VNC) and I'm able to get a 400x234 desktop set up. While the video card seems to be able to support this resolution, the refresh settings seem to be way off and the navi doesn't display anything but stripes.
Can anybody help me and tell me how to proceed from here? How do I need to tweak the Powerstrip settings to get closer to the native resolution and still get a visible picture?
Thanks a lot,
Dirk