Yet another product idea born here on the forum. :-)
Introducing the IOPoint-USB, a new USB controlled 16 digital output device featuring isolation between the USB and the outputs and high current drive capable of directly driving solenoids, motors, lights, blowers, fans, LEDs, relays, and more.
The outputs are isolated from the USB side to protect against ground loops and voltage transients on the car's 12V power that could damage the computer or cause it to reset.
Each output is capable of driving up to 9 amps at 12V. This means without a relay, you will be able to drive solenoid valves, fog lamps and other lamps, accent lighting and LEDs, DC motors, and more.
Output connections are made using quick disconnect terminals. These high quality terminals are very sturdy and provide a convenient and secure connection when installing in the car environment. Quick disconnect terminals also allow you to remove the device easily if you need to pull it out of the car and do some experimenting in your workshop.
For really heavy loads, you can always add a relay or a contactor to drive the load. This will be necessary if you want to use the IOPoint-USB in your home to drive 120VAC devices, for example.
16 LED indicators clearly show which outputs are active. 1 USB Power and status LED shows when the USB is connected and the driver is initialized.
I have a limited quantity available for order now (2 to be precise), and 20 more PCBs I can build up if there is enough interest. We're offering the PCB's assembled for $129.95 each. Here's a photo of a unit: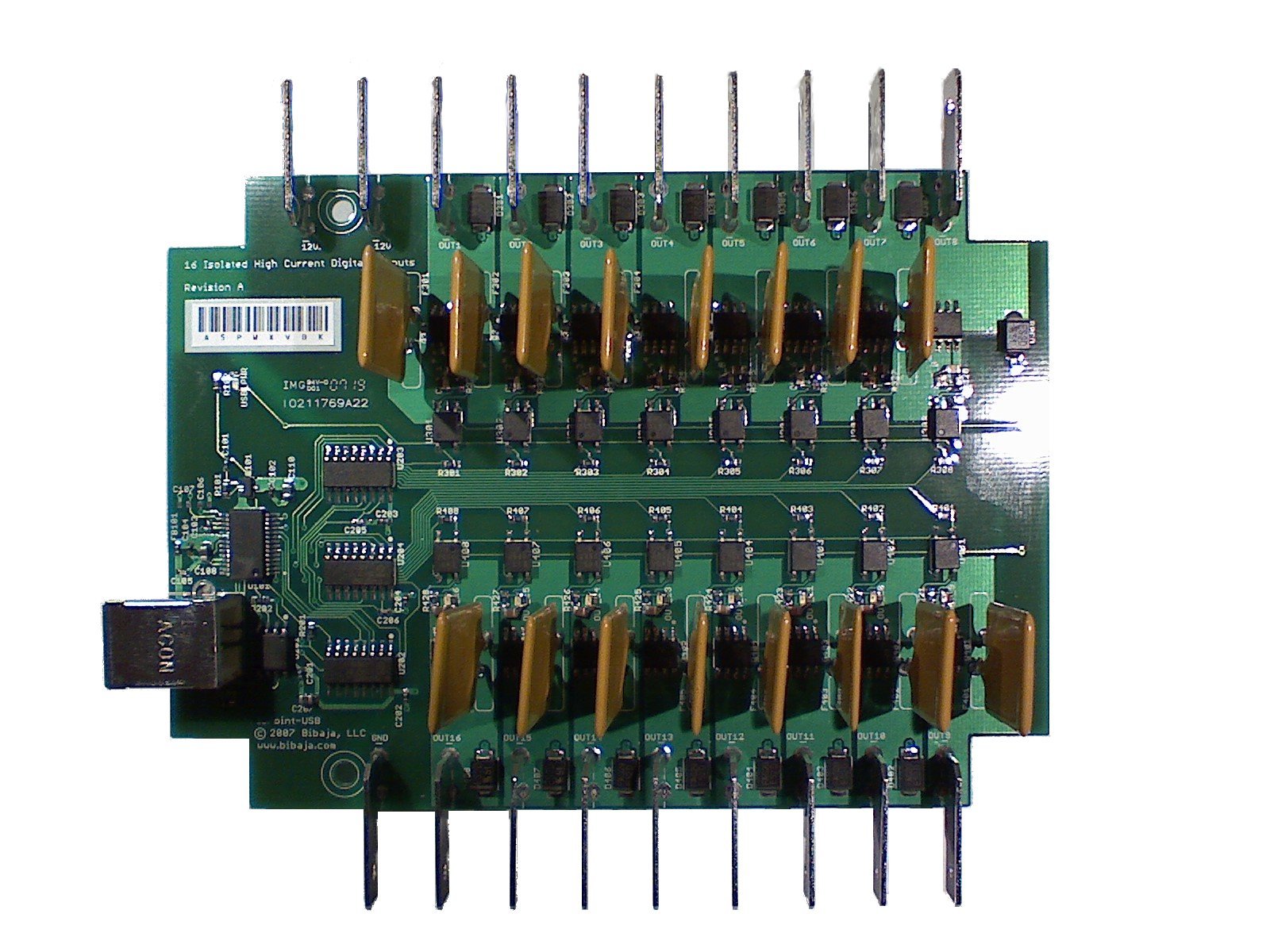 You can place an order for the units now through the website:
http://www.bibaja.com/cart/index.php...products_id=15
If we run out and you are interested in buying a unit, please PM me to let me know so I can gauge the interest in the product and order enough parts to build them for those interested. I plan to build up the units in about 2-3 weeks from now after I get an idea for how many people will buy them.
Also, if there is enough interest, we will make an enclosure for the product. I found an enclosure that is a good fit for the product. I purchased one enclosure and milled it out by hand to fit the completed PCB. Here's an image: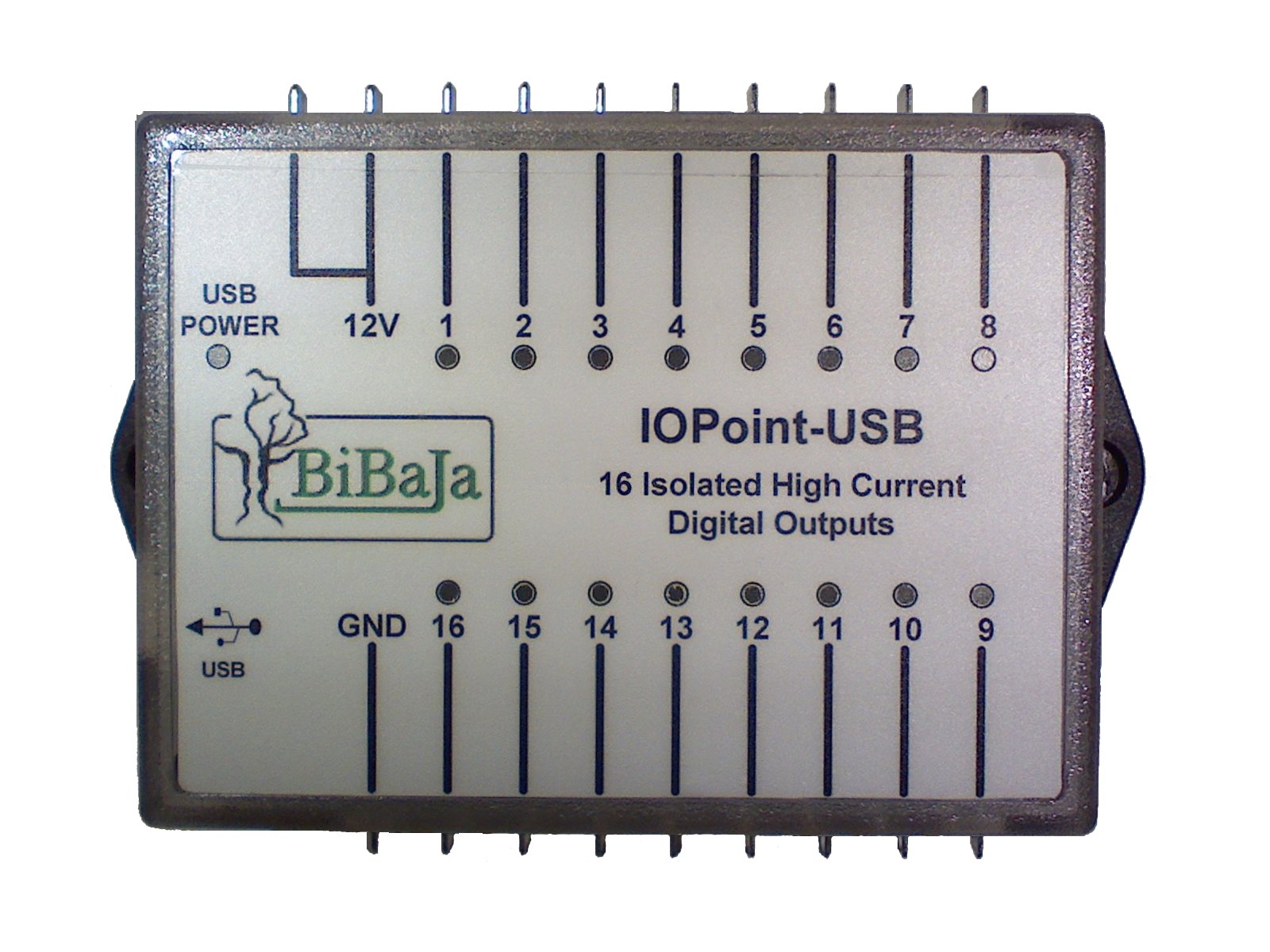 The production enclosures will look almost identical to this model.
Please let me know if you will be interested in buying a case too. I will need at least 20 people interested to make the cases worthwhile. Our asking price for the case will be $20 each. That's essentially what it will cost us to order the cases machined and labeled.
Visual Basic, TCL, and C Open Source examples are available on the product's web page. The product is supported on Windows and Linux at the moment. The product uses the FTD2XX driver, so anyone using a Mac should be able to download the driver from FTDI's website and follow the user's guide for the IOPoint-USB to make the device work on the Mac too. I'll glady post your example code if you'd like to contribute it.
Product's web page:
http://www.bibaja.com/products?page=iopoint_usb
We welcome your comments and suggestions! :-)
Thanks!
Mark Stubbs
http://www.bibaja.com