Assembly so far is almost complete...just have to do some wiring for the fans, fan controlers, pump and monitor (off the relay), and connect the M2-ATX power supply.
Here are some pics of it bleeding out the air in the lines...
System is a Abit NF7-S (rev.2.0) with FSB at 400Mhz (1Gb, 400Mhz DIMM's) with AMD Athlon overclocked to 2.2Ghz (3200+)
Video is an ATI 9700 Pro
Audio is two ASUS Xonar PCI cards
HDD is 320Gb Western Digital (currently over 5,000 lossless WMA Pro songs + some DVD-A (5.1)
A pic of the distribution block, voltage regulators and power relay for the monitor, pump and fans...
Here you can see one of the thermal fan controllers and the power supply and pump. Green wire is the amp switch-on lead. It fires the amps after the PC has booted so there isn't a loud "pop" when the hardware is initialized...
Here is what you'll see thru the trunk floor (false floor)...this actual unit sits where the spare tire used to be. Note the fill port in the center...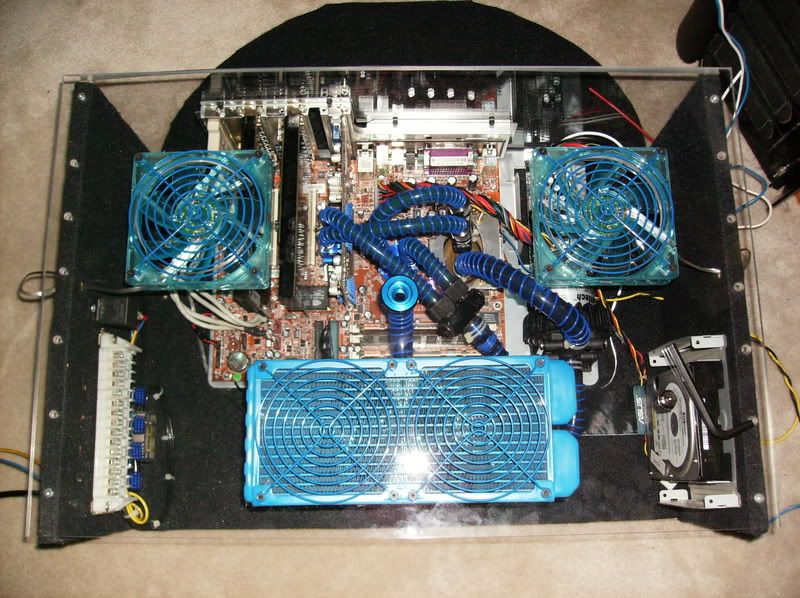 Swiftech resevoir...this actually works really well at releasing trapped air.
Another overhead shot...
A good look at the plumbing...
Later on today, I'll power up the M2 power supply and check the bootup.
This will be ready to install by tomorrow.
And here are a few shots of the amp rack, ready to install...filthy dirt!
(Mounted to linseed oiled birchwood)
The top pair of interconnects on the right are SLIGHTLY too long...I should take the time to shorten them, eh?