.
NOTE:
This first and second post will be
updated on a regular basis
as changes are made or more information comes to light.
RR Plugin testing and thread started ->
-Dab-radio-rr-plugin
New PRO board with KeyStone 8650 module is available
. This module supports SlideShow. This board will be around AUD $86, CarTFT in Germany, and Cool Components UK will be the first two companies to carry them.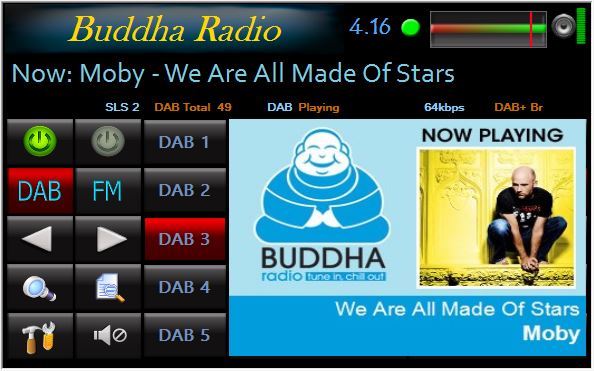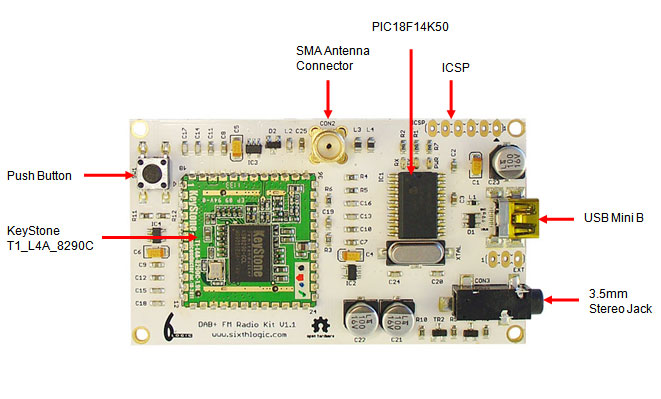 www.monkeyboard.org-dab-fm-digital-radio-development-board
First impressions are
:
1. Really nice PCB.
2. Audio quality is great on the initial listening tests.
3. Around 1.5 seconds changing stored DAB channels.
4. Instant changing of FM stations.
5. Scan next/previous station on DAB is good at around 1.5 seconds.
6. DAB to FM is quick.
7. Sig strength bit rates and most info are displayed quickly on station selection.
8. Station and song information are very quick with some stations.
After bench and in vehicle testing IMHO this DAB-FM module is perfect for a quality Car PC system.
Finally, when looking at the code I found a bug in the software where the DLL does not return if a call to openport is made to a port that has nothing connected. Essentially the program hangs. I emailed my findings to the site and got a reply back shortly after that. The problem was identified and a fix to the DLL has been implemented and the new SW is already available for download,
so really great service and support right off the Bat.
The current DLL interface has everything I need, so I may not even bother with interfacing straight to the radio module. Hopefully others who go that way will post their results within the limitations of the Non disclosure agreement for the device.
Just to clarify for some readers, the Radio module that can be bought separately is the Green Keystone T1_L4A_8290C circuit board shown in the picture above.
Advised as of 21/08/2012:
DAB+ FM Digital Radio Development Board – AUD $79 each
Keystone T1_L4A_8290C (module only, user need to make their own PCB) – AUD $25 each
Shipping within Australia using flat rate 500g satchels – AUD $6.45 (with tracking)
Shipping to rest of the world using Australia Post Registered & Insured flat rate 500g satchel – AUD $28 (non tracking)
The Demo Application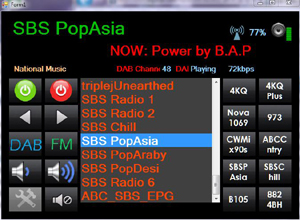 Getting Started, Schematic & PCB and Software.
keystone-dab-fm-module-programming-api
User manual can be downloaded from here.
Eagle PCB & Schematic.
VB.NEW demo software and source code as its updated from here
PIC18F14K50 C firmware (USB interface)
My Application: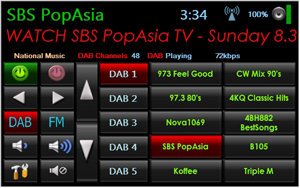 Features
:
1. Direct frequency input on FM via Keypad.
2. DAB 1 to DAB 5 selection for up to 50 DAB presets.
3. Buttons for full DAB scanned station list selection.
4. Presets for FM1, FM2, FM3 and FM4 = up to 40 FM presets.
5. FM Presets can show an FM stations Name if applicable
6. Big DAB station rescan button – saves trying to double touch a tiny text heading on a car pc screen.
7. When you RESCAN the Radio ALL 90 presets from DAB and FM are kept.
8. Any Preset not in a new scan will show as a place marker - You know exactly which Presets are active after a new scan.
9. Preset clearing: Drag the Power on button to a preset to clear it.
10. Drag and Drop from the Station name or DAB station List buttons to a preset without waiting for a station to tune.
11. Resizes to anything from 453 X 340 @ 4:3, 540 X 340 @ 16:1 and 502 x 340 @ 16:9 formats.
12. Adjustable slider to fine tune application Font Size.
13. Separate Setup menu.
14. Removable Window heading (name) for Standalone application.
15. Auto-ON Enable/Disable.
16. Station list dimming for previously allocated Presets.
17. Selectable Start and Finish Scan Channels for Station Rescan to reduce scan times by up to 60%.
18. Close / open port with Hibernate/Sleep added.
19. Setup screen for setting individual font, font size, style and colour.
20. DAB module Auto communication port detection added.
21. PID now shown and editing of full PID added. (Just in case it's ever needed).
22. SLIDE SHOW with the new PRO module.
23. BBE - EQ
______________________________________________
Application Download
****
Last update:
05-11-2013 @ 10:00 AM
1. Constantly updated as I find any annoyances, bugs or a better way of doing something.
Complete application directory - DABFMSa1App.zip
Latest EXE File only - DabFmSa1.zip
As per the original application and due to the DLL requirement of .NET Framework 3.5, my application for the DAB+ FM Development Board also requires this to be installed.