Guys,
Here is the unit I've been working on recenty: USB adapter for VW, AUDI, SEAT, Rover and BMW.
Latest version
Please check the
latest version
of the device which support any USB stick, iPod, AUX-in.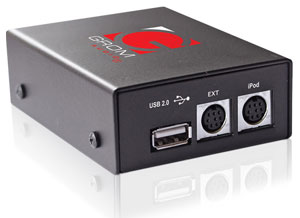 What is it ?
USB adapter allows PC to "understand" commands sent by the stock headunit from all AUDI, VW, SEAT, Rover and BMW ( !!! 1997+ models !!! )
Why ?
In many cases PC can replace CD Changer with many more functions. Like playing MP3, OGG, video or even voice guided GPS on a long road. Why bother with very limited CD Changer if you can afford PC for almost the same price ? Get more for less !
It will not require changing your car's dashboard. Not even a bit !
You can place PC anywhere you want and "talk" to it from the very ergonomic and slick headunit keybord.
Can I see the demo ?
See the demo
movie
on my test bench (3Mb).
Can WinAmp or any other frontend use it ?
WinAmp and
PyCar
will be able to communicate to headunits, send and read commands from it.
Here is the
source
for the library. It has simple interface and can be compiled under VC6. The lib file included.
WinAmp plugin source will be available later.
Which HU it supports ?
I'll name car models: VW, BMW, AUDI, SEAT
All the stock headunits for up to 2005 should be compatible. I need beta testers on different car makes to make sure it works properly.
How ?
3 steps only:
1. Place laptop PC or car PC anywhere in a car. Secure and power it.
2. Attach the adapter to your stock headunit (or CD changer cable in the trunk) and PC. All original harness is included !
3. Run the PC and get the sound from it on your speakers instantly after you switch you HU in CD changer mode !
Can it serve as a AUX adapter ?
Yes it can. You can connect your favourite MP3 player directly to your car's HU !
What else ?
There are unlimited capabilities with your pc and VAG USB adapter. Just name a few:
1. Set your disk buttons on HU to represent playlists. Get unlimited number of playlists and songs !
2. Set button for disk 6 to switch to a video mode. Get your car video !
3. Set button for disk 5 to switch over to a voice guidance if your PC has a microphone and appropriate navigation software. Get guided right now !
4. Set button for disk 4 to switch to XM radio and navigate through it by selecting tracks. Get radio digitalized !
What it look like ?
How to get it ?
Please visit
this
page:
Hope you'll like it. More fun stuff on its way !
Let me know which car makes you need so I can see if I can have it for you !