Laptop remote power on/off switch mod
This mod has helped me and I wanted to share it with the community. On 4-27-06 I posted the first hints of this project here. I've been meaning to convert it to a a how-to...so here it is.

Pictures, comments and improvements are welcome.

*The mod below also works great with my remote inverter switch mod*

Rational:
-I want to be able to turn off and turn on my laptop carputer from the driverís seat of my car.
-I donít want to hack up my laptop so it is un-useable or looks funny.
-I want the solution to be simple, clean and easy for a person of average skill to replicate.
-It has to be cheap

Parts I already had:
-Laptop - acquired for free because someone thought it was broken
-Old network cable for wiring
-Momentary on switch from some old project.=
Additional Parts Required:
Stereo audio jack female (Radio Shack $3 this or this)
Stereo audio jack male (Radio Shack $4 this or this)
Total $7

Tools Required:
Drill w/Bit
Soldering Iron
Solder
Electrical Tape
Muti-Meter

I would like to make it look as stock as stock and clean as possible. This is a simple idea, replicate remotely what the physical pushing of the power button will do to your laptop.

So to start lets gather the parts. A quick trip to radio shack and Iím ready to roll. I used the 1/8" because the nut shank on the 3/32" was too small.

Choose what is right for you. First you'll need to get to your power switch. I can' t help you there, but with a little patience and some help from Google I'm sure you can figure it out. If you can't get to your power switch that is probably a good indicator you shouldn't be doing this mod.

Laptops (typically) use a momentary on switch to initiate the boot, resume from hibernate or shutdown depending on how your OS is configured. Once the case is open locate the power switch and break out your multi-meter. Leave out the battery and AC connector and start trying to figure out which two pins "close" when you press the power button. I just used the beep setting on my multi-meter.




Once the pins are located, locate a good spot to mount the female stereo jack. I used a stereo jack because the left and right channels are insulated from each other and the common ground.

Strip the ends of some very small gauge wire, I used an old network cord I had laying around. It worked great. Fire up the soldering gun and connect one wire to each of the pins you located earlier. Make sure you use an overly long piece of wire, always easier to cut it shorter than to make it longer.

Drill the hole for the female jack in the spot you located earlier. I wanted to place my jack in the back of my laptop, but I could not get the space necessary, so I opted for the side. Test fit the jack in the hole. Create a test route for your wire, making sure it will clear all of your components once your laptop is back together. Cut the wire to length and solder to the female jack.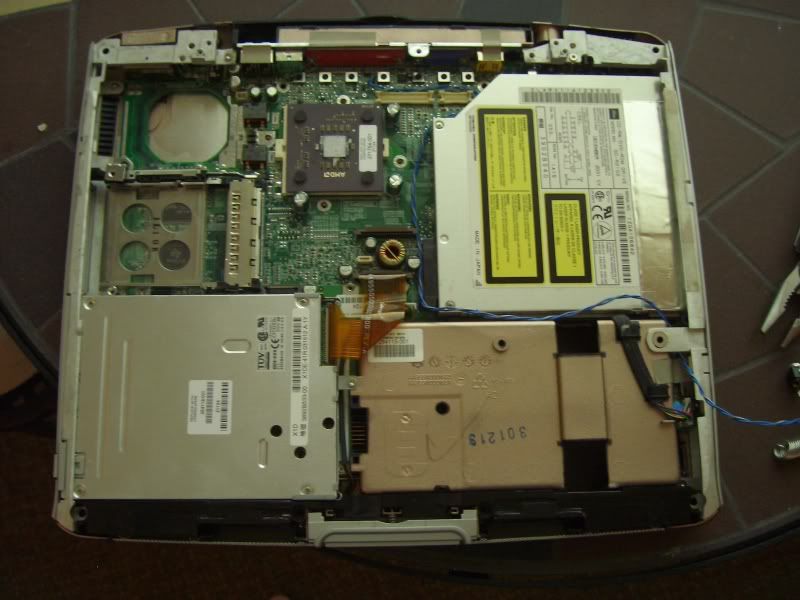 Solder some more old network cable wire to a male plug on the left and right channels. Strip the other end of the wire but make sure they don't touch. Reassemble your laptop enough to see if it will power on. Connect the male jack, put in your battery or AC plug and touch the wires together. If it fired up hold them together to see if it will hard stop it self.

If all worked as it should reassemble your laptop. Solder wire to your m your momentary on switch and mount it all in your vehicle. And now you have a custom remote laptop power on/off switch.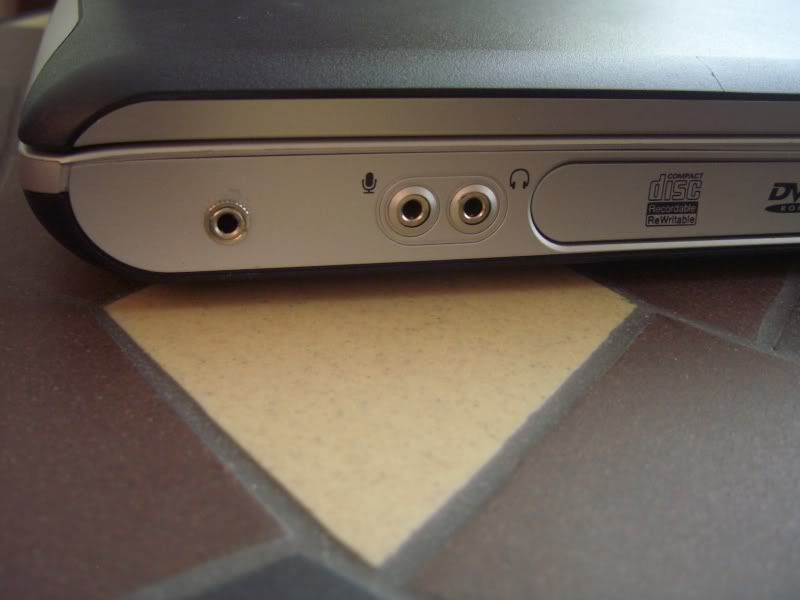 I ended up using a nicer switch, I just used the one shown for testing.

**This is a tutorial of what worked for me. I will not be responsible for any hardware failures because of this mod.**

-If this doesn't help you try this thread-

-If you are looking for a desktop power supply mod, try this-