I picked up one of these Joytech 8" PSTwo slim LCD screens a few weeks ago, and I just can't seem to get it to accept a component video signal from anything but the PSTwo slim male input. There's a couple pics for reference here:
http://gear.ign.com/articles/631/631696p1.html
There is a PS2 a/v port passthrough (female), on the opposite side of the screen, as well as a D-sub 25 pin "video" plug.
I used my meter to check for continuity between the male and female PS2 plugs, and there seems to be just wire connecting one to the other, no diodes or filter circuits.
The 25-pin a/v port: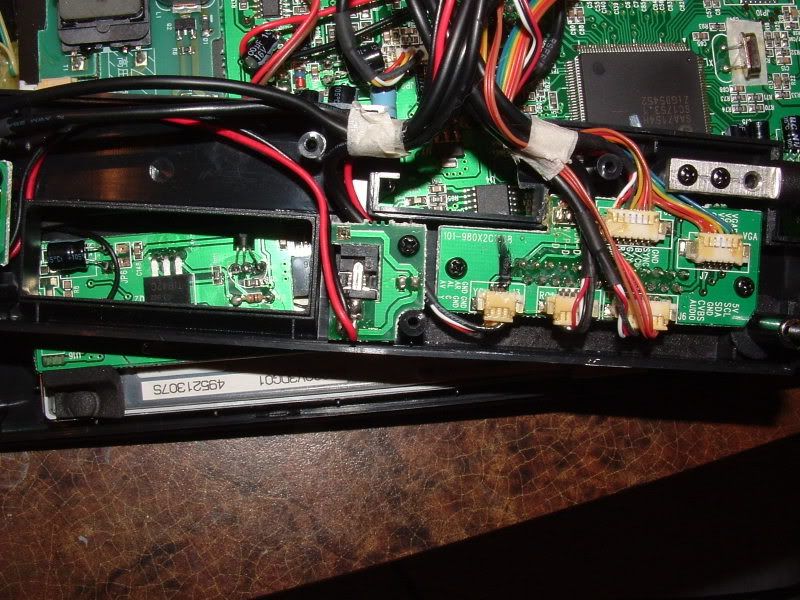 Joytech used this 25 pin connection for a peripheral that might have come out in the uk:
http://www.joytech.net/8/products/ps...Av-Adapter.htm
, which offers an SCART connection, but no NTSC component.
Upon opening the monitor, I noticed that every audio/video/power connection on the boards is labeled. The 25 pin connector seems to have SCART,VGA, Composite, and Component, but on a separate circuit than the PS2 input: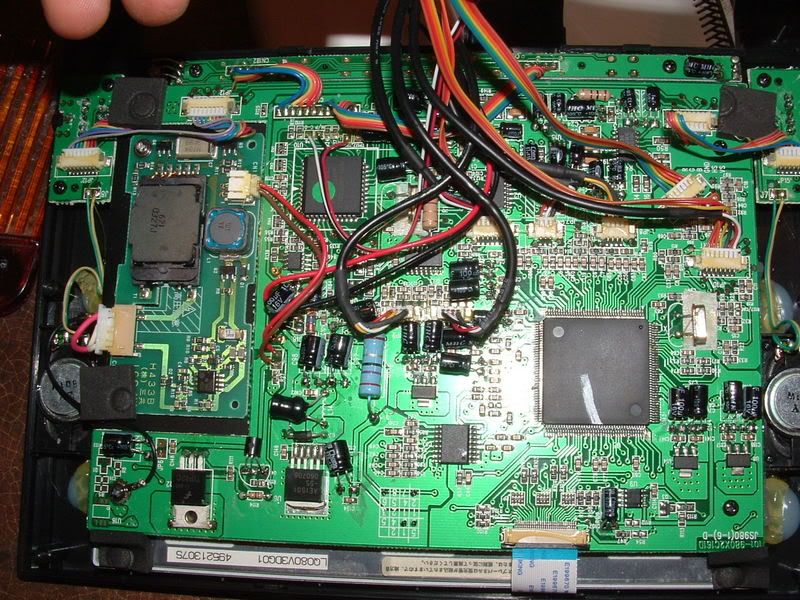 Now, I don't know if the screen is picking up some additional "sync" signal from the PS2, but logically, it shouldn't need to. My 36" tv has component inputs. Universal component inputs. This means it will accept component from a PS2, a DVD player, an Xbox, etc. The PS2 doesn't know what it's being hooked up to, so it should output the same "universal" component signal that the tv is looking for. Therefore, the Joytech monitor should be looking for that exact same component signal that the PS2 would send to another component-input display.
So by this logic, I should be able to plug a PS2 cable into the "video out" PS2 plug on the monitor, plug the RCA connections into barrel connectors or an a/v switchbox, and plug ANYTHING into the RCA connections. I have tried an XBOX and the PS2, and I get no signal on the screen from either.
I also have a "multi console" component cable, with component RCAs on one end, and a connector for Xbox, PS2, and Gamecube on the other end. I used my meter to verify that the component output pins on the RCA, PS2, and Xbox pins are all connected. I plugged the PS2 end into the screen, and the Xbox end into my Xbox, and still get no signal.
So somehow, the Joytech monitor seems to only like being plugged directly into a PSTwo slim. I haven't even messed with the 25 pin connection yet, because it's on a separate circuit from the "working" PSTwo component input, and I don't even know if it's been enabled.
Has anyone played with one of these screens, or know what I'd need to do to get it to accept a component signal from anything other than directly from a PSTwo slim?