Well while reading Anandtech's review of the Galaxy tab I found out that not only the Galaxy Tab screen is amazing, the iPad screen is actually unbelievable contrasty!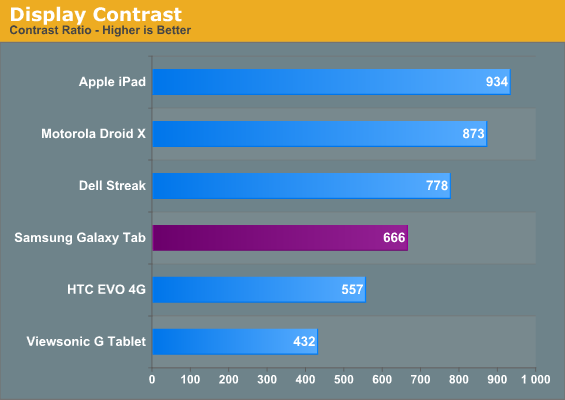 Really, I have to commend Samsung here. Thereís no AMOLED, no IPS, and no S-LCD, but they managed to put a very high quality LED-backlit LCD panel into the Galaxy Tab. The contrast ratio is a devilish 666:1, neatly splitting the difference between the EVO 4G and the Dell Streak, but well short of the iPadís stellar 934:1 number. But the best thing about the screen is that even without any of the more advanced display technologies, viewing angles are still excellent. As weíve mentioned before, viewing angles are significantly more important for tablets than netbooks or notebooks, so itís reassuring to see that Samsung recognizes this.
(
http://www.anandtech.com/show/4062/s...dtech-review/2
)
It is indeed an amazing screen, all those tablets have even when they don't seel as much (Galaxy Tab).
I've seen a couple of 1000nits screen (even
Xenarc has one
), I've seen
1500nits screen
s (with 500:1), but none with a touch screen AND those contrast numbers. (Here's a 1200:1 contrast ratio, 500nit screen
but w/o touch
).
Amazing IMHO. Either that or Anandtech numbers are WAY off, but as a layman, I can't tell.
So the point is, let's hope people start building controllers for those screens. That would be cool to see, a controller with DVI input into a Galaxy Tab or iPad screen (which sells for $90.00).