this is mostly copied over from my worklog, but figured it was more easily searchable here-- as i do not recall anyone mentioning the problem, or solution that i talk about here:
i had a brief problem where i tried to use my old 629's vga/usb cable on it, and the monitor kept resetting(it displayed a image for 1 sec, turned off for 5 sec, and kept repeating the process), but after changing out the cable for a the vga/usb cable that was included with the 669, it is working great..
EDIT: the cable has not fixed the problem, the screen still has the same issue at random times starting up. i will be connecting the screen to the regulated output of my DSATX, but need to wait for warmer temps to prevent accidental blood-shed.
and my brief review, and pictures:
the first thing i noticed was the feel of the touch screen-- on the 629, i could feel when the outside TS layer contacted the inside TS layer, on the 669, i no longer feel this, so the monitor just feels like it was better built..
NOTE: my 669 screen is only a 250nit screen-- mo-co-so/chris had accidentally sent out the wrong screen for the transflective process, so he sold this screen for a discount..
and some pictures:
keep in mind while i was taking the pic's for the 629, the sun stayed behind the clouds, so this is all mostly in-direct light that is hitting the screen.. and all these pics were taken with the convertible top up. i had the top replaced in november, and am waiting on a warm day before i open it up--they had to replace both side tension cables, and the overall top is much more taught, so i am trying to allow it to stretch out a little...(car stays garaged all the time)
EDIT: after looking over other transflective comparisons, and display images, i have decided to add the f-stop, and shutter speed used to take these pics to make a easier comparison(i used my Canon Rebel XSi set to no-flash, automatic for everthing)
this first picture is the glare i typically saw from the passenger side windows,(pulled out in the driveway, car facing west-- in case it makes a difference) :
EDIT pic info: f-stop: f/4.5 shutter: 1/40 sec ISO 200
and because i didn't feel like messing messing with manual mode on my camera to get a clear image of both the screen, and window decals, here is a clear reflection off the screen-- i can typically see this and the screen text in most cases: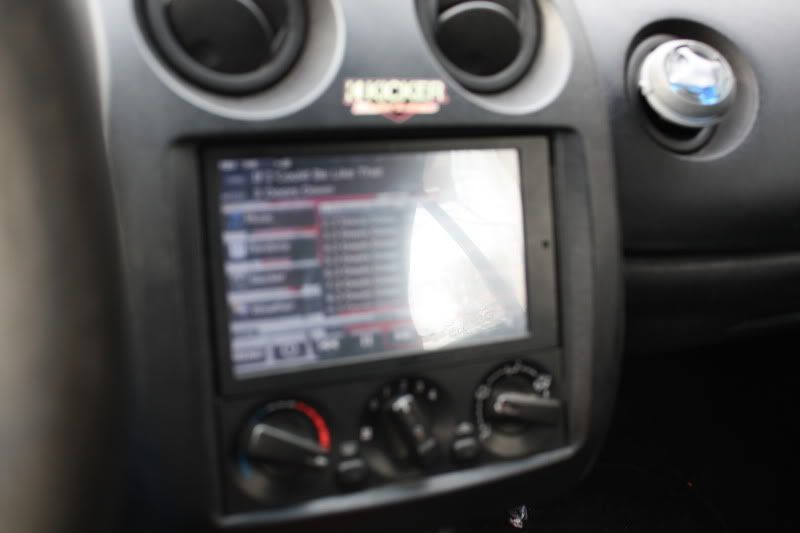 EDIT pic info: f-stop: f/5.0 shutter: 1/40 sec ISO 200
and this image is a another great representation of how reflective the screen is-- you can see my [pasty white] hands holding the camera in front of the screen, along with some reflections from what i believe is the tiny rear window: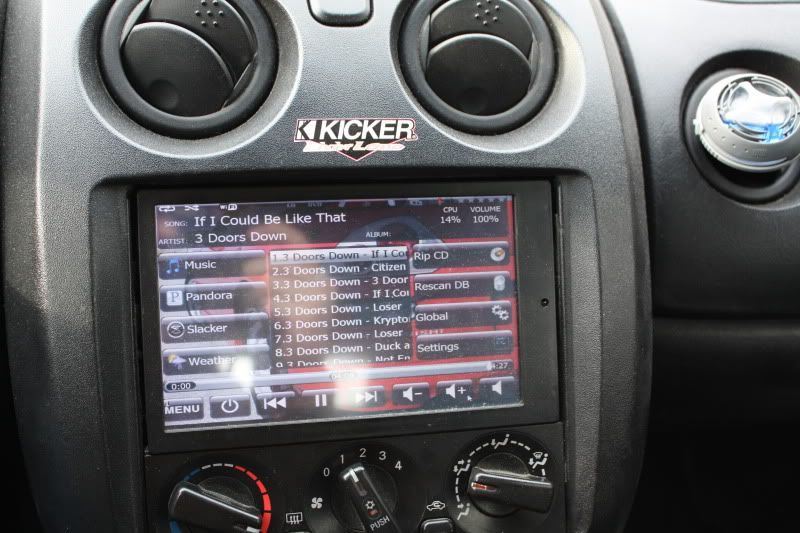 EDIT pic info: f-stop: f/4.5 shutter: 1/40 sec ISO 200
and now, very similar angles, but with the 669, and this time, the sun agreed to make a appearance this time, just to show the difference
:
this first angle is very similar-- you can kind of see the reflection of the side windows, but i can no longer make the exact shape out, or see the decals on the side window:
EDIT pic info: f-stop: f/5.0 shutter: 1/50 sec ISO 200
and this next shot, you can still see the sunlight on the corner, but aren't able to make out my hands, and rear window taking the shot:
EDIT pic info: f-stop: f/5.6 shutter: 1/60 sec ISO 400